We continue our series of interview, this time with Karl from The Pallet Company who is an active contributor of 1001Pallets. Karl started using repurposed wooden pallets for his projects since three years and already sent us very nice pallet ideas. If you think you deserve to be featured in the next interview, please, drop us an email.
Tell us a little more about you? Who you are? Where are you from?
My name is Karl Crosby and I'm 38 years old. I was born and raised in Manchester UK but have lived in Reigate, Surrey UK for the last 15 years. I've been a maintenance engineer for the past 15 years, I work in buildings maintenance which requires you to think on your feet and often look at things in a different way.
Why do you craft?
Working with pallets and reclaimed woods was for me a natural progression. I was a portraits artist for many years and was looking for new ways to express myself. I have a need to create things, its something I've always done and will probably do all my life.
How did you learn?
I'm completely self taught, I got hooked on the series "The Salvager" with Rico Daniels and thought "I can do that!". My first build was precisely 3 years ago today! I built a table made from scaffold boards in my back garden and kept on going from there.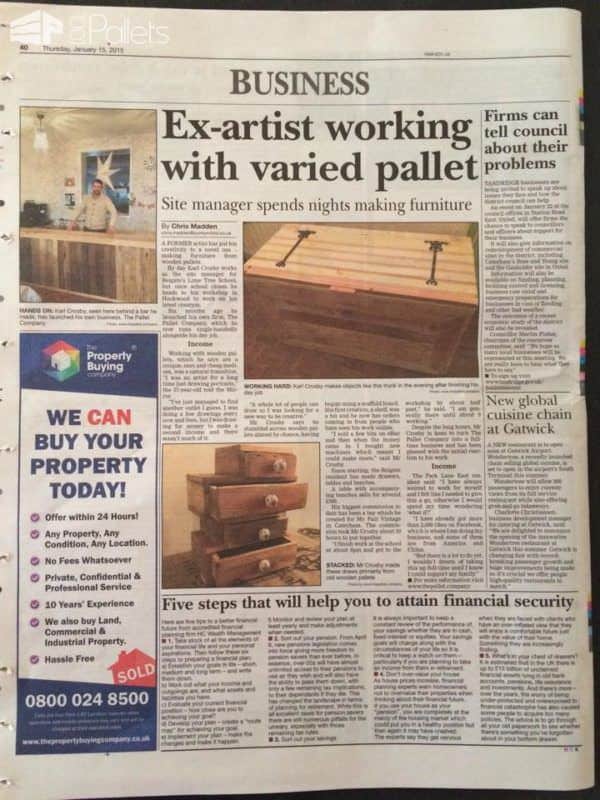 Since when are you working with pallets?
About 3 years ago, I wanted to learn but didn't want to keep buying wood. I knew what I wanted to make and just kept on practising, the key is to never give up, each time your efforts will be that bit better!
What are your can't-live-without essentials?
My favourite item in my workshop is without a doubt my mini angle grinder with flapper wheel! I use it to sculpt the wood, I tend to zone out at this point, I'm completely oblivious to whatever going on around me. The nail gun is definitely a close second, it saves so much time.
How would you describe your style? Are there any crafters/artists/designers that you particularly look up to?
I'd definitely describe my style as being rustic. I like many works from many different artists and designers… My favourite crafter is definitely Rico Daniels (the Salvager), he's basically responsible for my wood love affair. He makes some gorgeous piece of furniture.
How is your workspace, how do you make it inspiring?
My workspace is complete chaos if I'm honest. I seem to get carried away in the moment and before I know it I've made a lovely bit of furniture with a horrendous mess around it. Its a common occurrence.
What sorts of things are inspiring you right now? Where do you look for inspiration?
I seem to get inspiration from everywhere. I'm an extremely analytical person so when something catches my eye I immediately try to figure out how to reproduce the bits I like. I also love looking at the online work from my fellow crafters, there are some amazing stuff being produced.
When do you feel the most creative?
I think probably after I've been round a few interiors shops or reclamation yards. My head gets full of so many different styles and trends that I can't wait to get into the workshop.
We live in such a mass-produced, buy-it-now society. Why should people continue to make things by hand?
I think when you buy something made by hand you've bought the essence of the makers heart and soul. Theres nothing wrong with buying mass produced but I feel strongly about bring an individual and being different than the next person. I realise that its not everyone cup of tea though, I'd just hate to be classed as "normal though".
What is your favorite medium to work in?
Definitely pallet wood, its generally free and readily available. Theres so many possibilities and the mixture of grains make striking contrasts against each other.
What are your tips for people who'd like to start crafting?
Don't just think about it, dive in and see where the journey takes you. Nothing ventured nothing gained at the end of the day.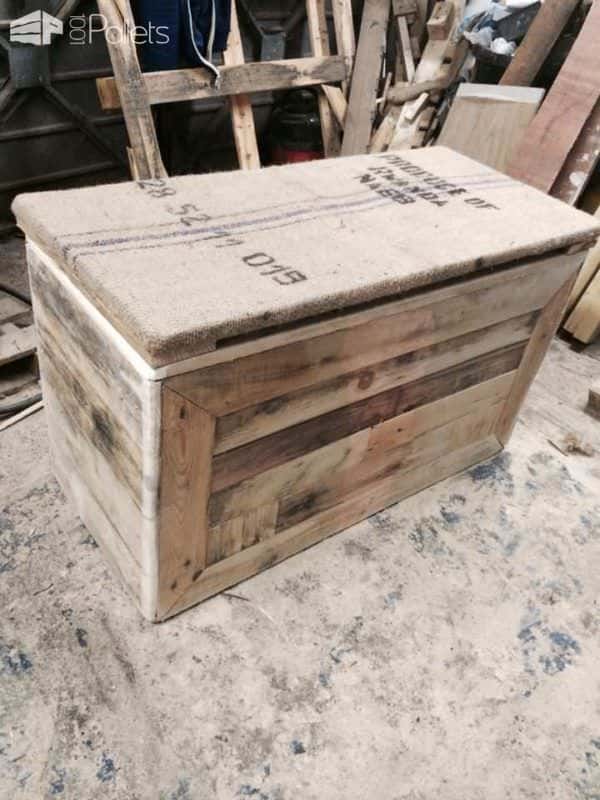 What is your guilty pleasure?
Definitely working to much! I've been so engrossed in building my little business up (www.thepallet.company) that I get little time for anything else. I have been working a full time job and running my business on top as well as family commitments. Its not for everyone but long term I hope it'll all be worth the effort.
What is your favorite thing to do (other than crafting)?
Playing with my children, I cherish my time with them. I make sure that at the least my weekends are free to have quality time with them. By the time Monday comes back around I'm dying to get back into the workshop!
What do you recommend that most people do in terms of cleaning pallets and prepping them to become something else?
Be very careful! There's plenty of information guides online that'll keep you safe. See 1001pallets for info on pallet markings.
Anything else you would like to tell to pallet community?
I'm shortly (Nov 13th) going to be leaving the relative safety of a full time job and stepping up my hours to making The Pallet Company a full time business. I'm available for commission work and furniture repair work, get in contact for more info at www.thepallet.company or +44 1737 244250.
Thanks Karl for this interview :)