Our Painted Branch-handle Pallet Tote Crate With Decoupage Accents make a great functional conversation piece for indoors or outdoors. You can make a version of one yourself, or you can check out our Etsy site and pick one up for that special friend (or yourself).
Here's how you can make your own Painted Branch-handle Pallet Tote Crate With Decoupage Accents:
First, dry brush your boards with your favorite color paint. If you dry brush lightly and go slowly, you can skip the "distressing" and save yourself all that sanding…and sanding…and sanding. Besides, all that sanding can kill the rustic look of the wood, and that's what we love right?
We always "age" our boards outside in a sunny spot for quite some time before cleaning and using them. I personally love the ones that turn to those silver-gray tones.
A Pallet Tote Crate can be used for silverware, picnic supplies, outdoor parties, and more!
My husband builds the boxes. How you decide to put yours together is up to you – make it to any shape or size you need. Add lots of dividers, or only a few! We love using tree branches for the handles. Then we stripped the bark off of the branch by sanding it off. We use screws and Gorilla brand wood and construction glues. Sometimes we leave the nail heads in the pallets, but other times we cut them flush with the surface. Once you get your paint the way you want, get your printer ready!
Add your own custom images to your Pallet Tote Crate:
Print your favorite label or picture. I prefer to print on a lightweight card stock. I got my image from The Graphics Fairy (my personal FAVE place to go for vintage style printables). Once you have your print, begin tearing the edges around the images. This aids in adding a vintage, distressed look to the final product. It is okay to tear into the image a little bit. You will see white edges around the sides, but the final steps will take care of that. You can also (CAREFULLY) burn the edges of the paper if you prefer that look…here comes one of those idiotic disclaimer statements….I'm not responsible for you burning down your house or any personal injury!
How do I attach those cool custom images to my Pallet Tote Crate:
I prefer using the Matte finish Mod Podge glue. Follow the manufacturer's directions. Brush some Mod Podge onto your wood first, and then to the BACK of your image. Place your image down and gently smooth out any bubbles or wrinkles working from the center out. Don't overdo this step or you will see the ink start to change the color of your glue. Have a slightly damn cloth ready to wipe away excess glue. Rub the edges down really well and let it dry a couple of hours (the more distressed the edges are, the better).
Distressing your decoupage shouldn't stress you out, and you'll make a great custom Pallet Tote Crate!
Try not to let the glue cover or dry around the edges because for this next step it's important that they can absorb the stain you will wipe over the surface. How much stain and what color you use are totally your preference. On mine, I used a water based stain in a sort of gray-brown color. I used Saman brand in color Iron Earth. I just use a cloth (cut up old t-shirts work great), put a little stain on the cloth and rub it over the entire project. Remember those white edges around the print you applied? Well, now they will look dirty and distressed just as we wanted! Now let it dry over night.
Finishing your Pallet Tote Crate:
The next day gives it an overcoat of the same Mod Podge. If you use the Matte finish then you don't have to worry about covering the entire surface so that it has the same sheen as the rest of the project (see there is a method to my madness! Work smarter not harder!) If you do want a sheen I love working with Minwax Polycrylic in satin. I try to work with only water-based products when possible. Now you're ready to glue on little decorations and baubles of your choice. We attached tiny sea shells to our project. I got mine at Micheal's craft store, and they came already colored in bags.
Editor's note: 1001pallets.com is also not responsible for any injuries incurred by any projects presented here. They are presented for your inspiration and entertainment only. Your safety is your responsibility. Please be careful!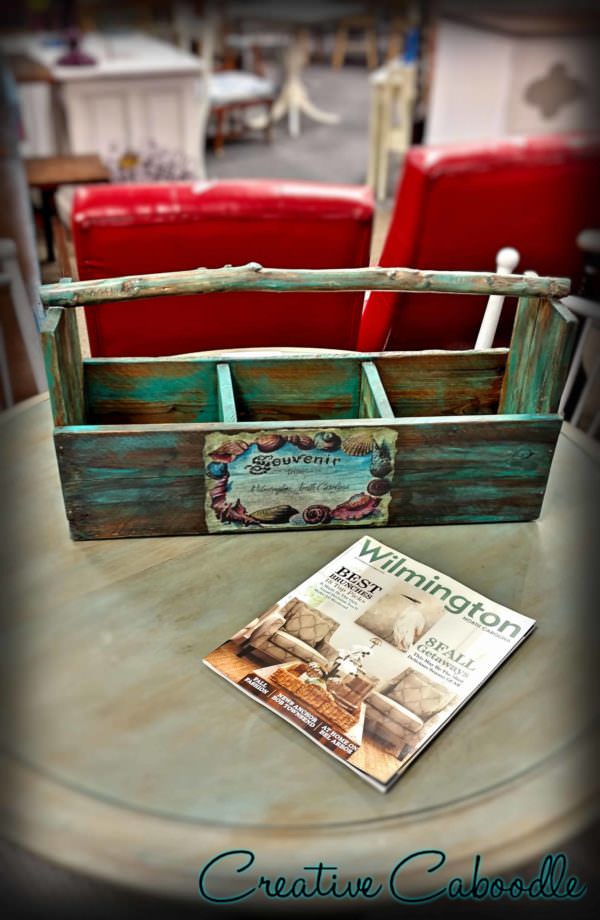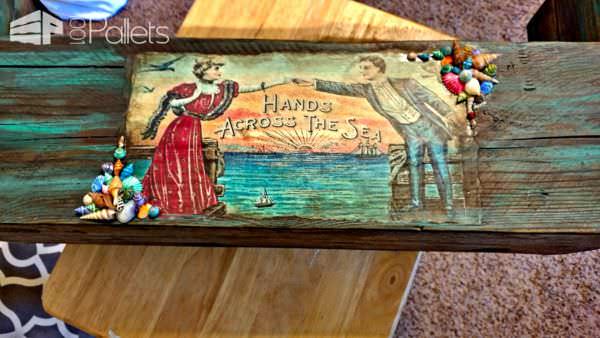 Add a little upcycled to your industrial project with this Pallet Shelf Metal Locker.