I had some pallet wood leftover from another project, and decided to make this Mason Jar Lamp Pallet Side Table! It has a magazine or extra storage rack on the side, and two handy shelves!
Upcycle those old pipes and pallet wood scraps into a stunning Mason Jar Lamp Pallet Side Table!
First the Mason Jar lamp: it only has a small piece of pallet wood left over from another project. It is 11″ long and 16″ high. I assembled this light using 1/2″ pipe and a light kit. I joined all the plumbing pieces together and threaded the cord through it (make sure you have everything in order as it goes on). The pallet wood has a hole from the top to the center and out the end. Go through the piece of pallet first and then the pipe. All the pipe was painted and sealed before it was attached to the wood with wood screws. Also added felt to the bottom so it won't scratch the table. Add a light bulb and mason jar, and you have a unique table pipe lamp for your side table.
Industrial meets refinement: make a Mason Jar Lamp Pallet Side Table!
I made this table using approximately four small pallets. We lucked out because the pallets had weathered red oak!  This was a great find, however, be warned that oak is very difficult to plane due to the hardness. It took a lot of planing and sanding to achieve the look, but well worth it! It is 18″ x 20″ and 24″ tall. The table has two shelves and an outside slot for my iPad, magazines, and patterns. The shelves are great for my baskets with yarn since I do a lot of crocheting. It was put together with some bolts but mostly screws. I covered the top screws with lugs for a smooth surface. Finally, I stained and sealed it with polyurethane. It turned out gorgeous, and the lamp looks great on it.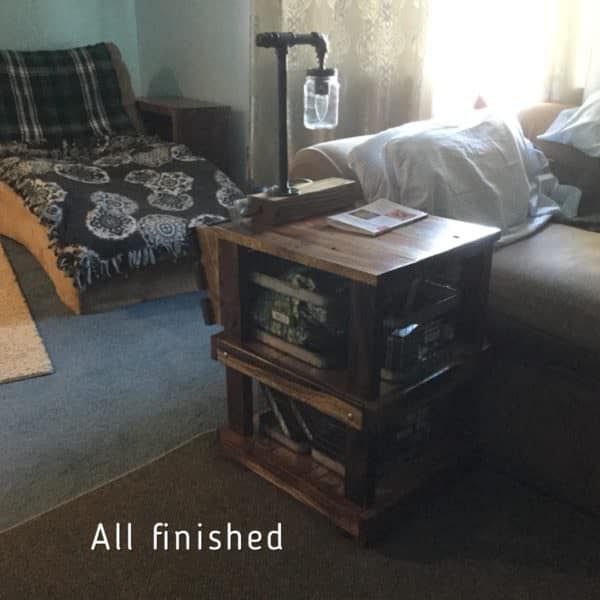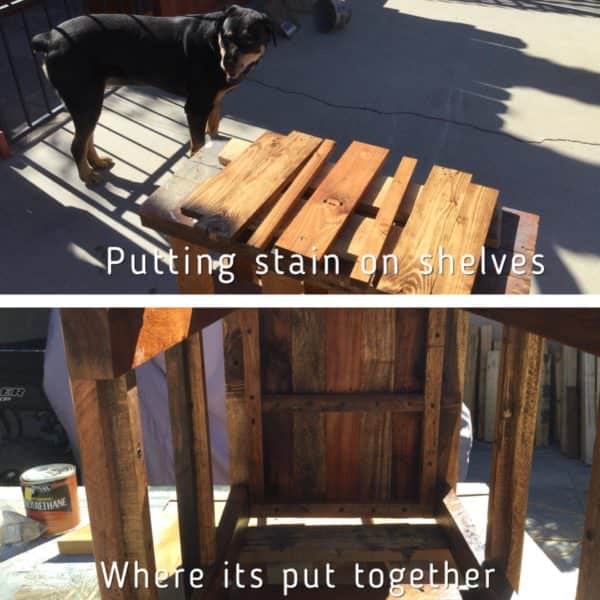 Turn pallets into a lovely message canvas! You have GOT to see this bike!