My step-son and daughter-in-law wanted an ultimate garden pallet bar to complement their decking in their party garden. I decided that building them a bar would make an excellent wedding present. I priced pressure-treated, store-bought lumber, and it proved to be prohibitive – even for a small corner style unit!
Making the Ultimate Garden Bar Using Pallets – great party decor, outdoor gatherings, and lounge areas!
I received 20 pallets delivered to my driveway by going to the local builder's merchants doing some cadging with them. I pressure-washed them (which took about 2 hours!), and I was ready to begin. As with all things, the design and size changed as ideas developed! I ended up building a full-scale beach-style tiki bar complete with galvanized steel roof for that authentic look. The roof was donated, so that kept the final cost to around £ 100! I hope you like it!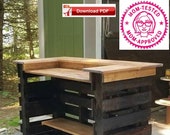 Now, how about more seating as people wait to line up at the bar?