There's a never-ending list of DIY projects you could do attempt. But if you're just getting started, you should try one of the easier ones. Creating a simple pallet wood sign out of recycled wood pallets is probably the best way to dip your toes in the DIY waters.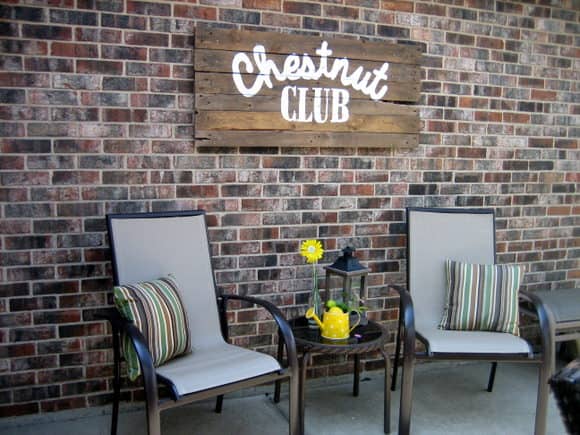 Materials needed for a pallet wood sign
Once you've got all the material ready, you could take your time to figure out the precise dimensions and location of the wood sign. Perhaps it can cover an exposed power cable for a TV or other electronic device. Either way, identify the space you want to hang it before you get started – too big and it won't fit, too small, and it will look disproportionate on the wall.
Build your pallet wood sign in 6 easy steps
Here are the six easy steps to creating a wood sign out of a single pallet:
Disassemble your pallet. Take away all the nails and sides to leave behind wooden boards that are usually 3 feet long and about 2 feet wide.
Use a table saw to cut the wooden boards down to size. Make all the sides smooth with a sander and keep the dimensions uniform.
The grit sander needs to be used on the top panels only. Polish the side that faces out, but makes sure you don't over polish it.
Glue the polished wooden boards onto the frame. Every board needs to be evenly distant from the other. Leave just enough space to be able to clean the board every once in a while.
Use a cleat hanger to hang the sign on a wall. You'll need to glue the cleat hanger onto the back of the sign, but a hammer in some nails to make sure the sign is sturdy enough.
Finally, paint whatever you like on the front of the sign. Most people prefer a motivational quote or slogan. But you could probably just let your creativity run wild and draw something onto it. Or maybe you could try to do a photo transfer on it?
Wood signs don't need to be restricted to your walls. You can hang them outside as a signpost or leave them leaning against a wall so that you can move around the house whenever you like.
Wooden pallets that come along with huge shipments usually go to waste. But they're so versatile they could probably be used for thousands of unique and creative DIY projects. The neat wooden boards can be torn down and put back together to create everything from table lamps to adjustable lounge chairs. Why let something this useful go to waste?
Examples of original pallet wood signs
Below are some examples of cool pallet wood signs for your inspiration! ;)