We needed to remodel our kid's bathroom, but my wife gave me a very specific budget. I found a creative and stylish way to stay well within budget by installing a Hardwood Bathroom Floor Made From Pallets! The total cost was less than twenty bucks!
Bathroom Floor Made From Pallets:
First, I collected 11 pallets and separated them down. I removed all the old nails and screws. Next, I prepped the bathroom floor, removing old flooring and baseboards that get water damaged from kids. I repaired any sub-floor issues that needed to be addressed and installed a moisture barrier. Additionally, I removed the toilet and covered the pipe with a paint lid to keep anything from falling into it. Next, I ran the boards through a planer to make them an even thickness. I used a flooring adhesive after masking areas I wanted to keep clean. Then I began on one side of the room and staggered the pallet joints and tones for interest. I purposely didn't patch imperfections, nail holes, and slightly crooked joints, because I think it just looked cool.
Bathroom Floor Made From Pallets Finishing and More:
Finally, I sanded it all, applied a stain, and then applied polyurethane varnish to seal it all, sanding and cleaning between coats per the directions. I haven't installed the baseboards, vent, and fixtures yet, but I had to share!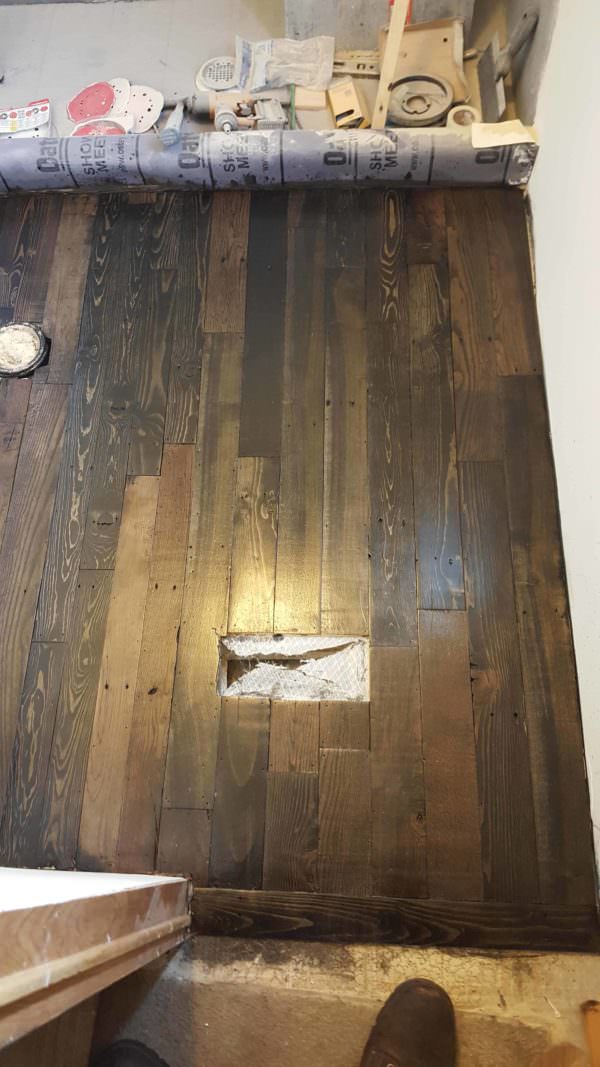 Gorgeous work! Now, how about some Bunk Beds for the kid's bedroom?