This Glass/Pallet Dining Table Uses Upcycled Dining Chairs that we sanded and distressed to create an aged, worn look. This simple project could be done to update any dining set or even to use mismatched pieces as an extra outdoor living table.
Upcycle an old glass tabletop and create a unique style with a project like this Glass/Pallet Dining Table!
First, we prepared five EPAL pallets and cut them to 67 x 47cm. Be sure they're the same dimensions so they can stack on top of one another. Next, we sanded and whitewashed them. However, you can choose any style of finish you like. After the paint had dried, we created a shabby-chic look by distressing the paint. You can upcycle the glass from an old window, or if necessary, purchase one.  The chairs were upcycled as well. We painted and distressed them the same way. Finally, we set up the table and chairs, added some home decor, and there you have it!
Per prima cosa prepariamo cinque pallet EPAL tagliandoli a cm 67 x 47 per essere sovrapposti uno sopra l'altro. Una volta carteggiati, li coloriamo del colore che piu' ci piace, magari con la tecnica SHABBY ( come nel mio caso). La piana del tavolo potete ricavarla da una vetrina vecchia, spesso i vetrai ne hanno in magazzino di usate, oppure nuova di misura 160 cm x 90 cm spessore minimo 4+4 mm oppure un cm o superiore. le sedie, sempre di recupero le carteggiamo e le verniciamo del colore che volete magari SHABBY e il gioco e' fatto.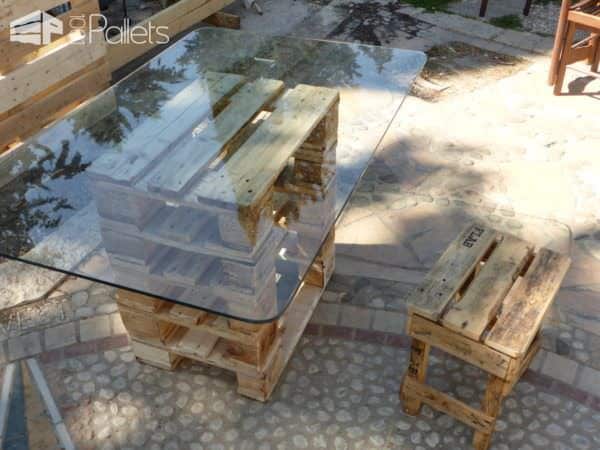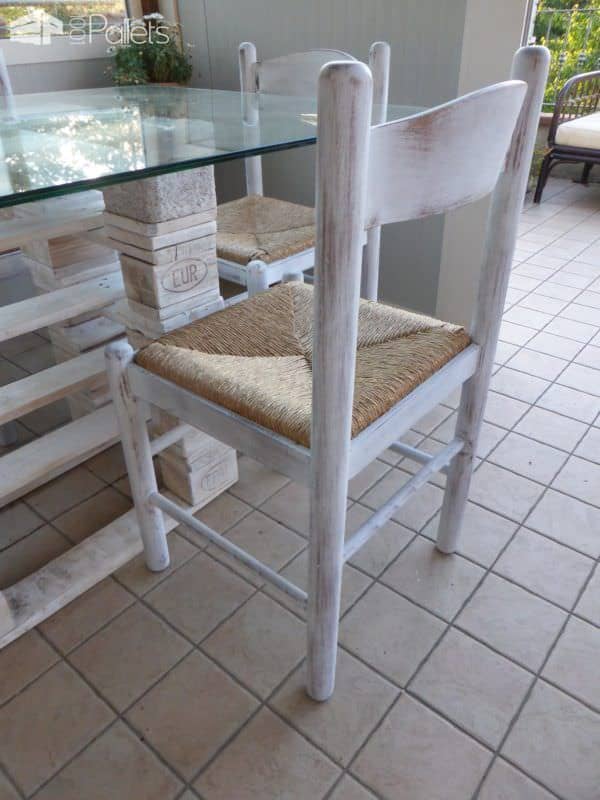 FLAB pallets do a great job again. Their unique creations will surely inspire you to make your own cool creation! Want to make a bit more counter space? Make yourself a handy rolling Pallet Microwave Cart! Turn Kitchenware into Lamps like a tea kettle, coffee pot and more!