Welcome to my Urban Greenhouse Tutorial! When I was asked to do this project I was pretty excited. Not only do I have the perfect rooftop for such a project, but I've been in the mood to incorporate more plants into my already pretty Zen lifestyle.Here, I'm going to tell you step by step how I created this look and also lay it out to where you can easily do the same… or do something completely unique; it's up to you what you take from it. My only hope is that it inspires you to create and share.
Like most of my projects, I started with a sketch and quickly learned I needed to make some measurement adjustments, such as the width after adding the PolyCarb panel to it, but this gives you a rough idea of what I was going for…
Materials and Tools I used:
1 Broken down pallet, along with whatever scrap wood I had on hand
8ft Tuftex PolyCarb panel- Cost roughly $25
2 4ft Wooden Closure Strips
1 Box 2-inch Neoprene Washer Screws
1 8 ft strip 2-inch flashing
Drill
Tin Snips
Nail Gun (with compressor)
1 1/2-2 inch brad nails
Drill bit 2/16- 3/16 larger than the Neoprene Washer Screws
Mending Plates (though I Highly recommend using a Kreg Jig instead, if available)
3/4 Hex Bit
Pencil/Marker
Jig Saw
Tape Measure
Miter Saw
Table Saw
Hinges for lid
Spare Paint- Keep it Light
White Spray Paint
4 Self-Drilling Screws
I started off by purchasing my 8×4 piece of Tuftex PolyCarb at my nearest Lowes, along with the Neoprene Washer screws that are needed for the panel, and the two Wooden Closure Strips. You can find all three together in the same section, so you won't need to run all around the store looking for each piece~ Thanks, Lowes! For greenhouses, the Tuftex website recommends the Polycarb Panel and warns against using the other panels they provide, such as Seacoaster, which is Not meant for greenhouses. So be sure to grab the correct one before spending your hard earned money.

My greenhouse needed to be roughly 3 feet long for my space, and the Tuftex panel is 26" wide, so I cut it into Two 26" long pieces using my Tin Snips. The panel can also be cut using a Utility Knife or a Circular Saw with a plywood blade set in reverse.
Note: I used my Tin Snips, but if you have any wrist issues, you might want to use the Circular Saw instead.
Once my panels were cut, I overlapped them by One Corrugation (Which is the minimum and maximum for overlap) to get my final measurements for the lid, which came out to 49.5" wide and 26" high.
Making the Lid Frame
For the lid frame and base of the greenhouse I was using scrap pieces of wood I had in my garage, because of this, I ended up using some 1×2's that were long enough to work. I cut down Two pieces at 26" for the sides, and Two more at 49.5" for the top and bottom, adding One support for the center at 24". I used wood glue, brad nails and mending plates on each corner and center.Looking back, I should've used my perfectly wonderful Kreg Jig I had sitting right
Looking back, I should've used my perfectly wonderful Kreg Jig I had sitting right there… Lesson learned for the next one. A Kreg jig will definitely create a stronger joint than the mending plates and brad nails, but it still did the trick, and it's just for my rooftop. So if you don't even have a Kreg Jig and want to be crafty with what you have, this is for you!… I'm o.k with my choice, yep, I'm totally fine with it… Ahem, moving on…
Closure Strips and Flashing

For the closure strips, they only need to be placed on the top and bottom, and Not the sides. Based on the size of greenhouse you're making, you can purchase as many closure strips as you need and either cut them down at the hardware store or wait till you get home. Tuftex also provides Foam Closure Strips, but to avoid over drilling and cracking my panel, I went with the wooden ones they offer. They're slightly more expensive, but it sure beats having to go buy another panel if you accidentally over a screw. The strips need to be light in color to avoid overheating with the panel, so I spray painted them white and ended up brushing on some white on the lid frame as well… Sadly I thought of that After it was already put together~ To save some time, it's probably best if you just go ahead a spray your lid frame at the same time as your closure strips, you'll thank me later. With the closure strips ready, I used my Tin Snips to cut down my Flashing to match the width.
Flashing only needs to be placed on the ridge, so I only used 49.5".
Putting It All Together
I lined everything up on the lid frame, with the two closure strips at the top and bottom, and two panels overlapping by the one corrugation required. Then, using my drill bit (Make sure the one you use is 2/16-3/16 larger than the screws you're using, I'm telling ya, the last thing you want is to get this far and then crack your panel when you're finally putting it together) I predrilled every other corrugation, which needs to be done to avoid wind uplift. Once my holes were predrilled, I used my Neoprene Washer Screws and secured them using my 3/4 Hex Bit, and as mentioned before, was extra careful not to over screw.
Again, I'm trying to save you money and more trips to the store; you're welcome :)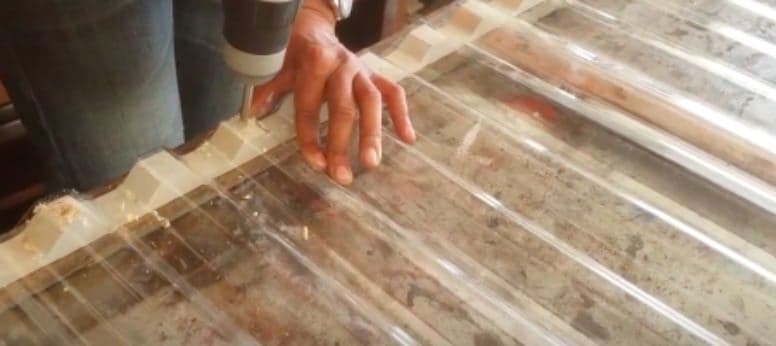 Note: Screws should only be installed on the crowns of the corrugations, Not in the valleys.
Building the Base
Note: I have an abundance of 2×4's from old pallets, but if that's not your case, you'll need to buy a couple 2×4's and whatever wood you'd like (fencing boards work nice and are relatively cheap)
Cuts
2 2×4's to 38" and 2 2×4's to 42" The top of the lid should be at least 4 inches higher than the bottom, to give it the angle it needs
6 Front and Back Boards to 49.5"
Bottom shelf (multiple at 20")
Support boards ~Two strips at 45", Two pallet boards at 24" and Two support boards for the floor at 20")
Floorboard for the plants to sit on (44×20")~ For this I used my table saw and cut one large piece from scrap
Sides ~Four pallet boards at 24" and Two pallet boards cut at a 20-degree angle for the top)~ I used my Jig Saw for this, which I don't think I mentioned in the video, my bad.
Installation
I started off by securing my 2 precut 2×2 strips at the front and back. Inserted a 20" support board at each end to place my 44×20" board onto. Then secured everything into place using my 1 1/2 inch brad nails. The side pieces were then nailed into place starting at the top with the precut angled pieces, and working my way down, to make sure the top would be squared with the lid. Next, I measured how high I wanted my shelf to be and attached the 2 24" side support boards and placed 2 2×4's on top of them running perpendicular. I nailed all my precut 20" shelf boards to the 2×4's using my 1 1/2 inch brad nails.
With the base done, I set my lid on top and made any needed adjustments before attaching the back hinges and adding the precut flashing. There are several sizes of flashing, and since I was using frame strips that were only 1 inch thick, and Closure strips that were also 1", I chose a 2" flashing that would allow my hinges to give me the opening allowance I needed for the lid. I attached the flashing only to the top ridge (to stop rain water) by using 4 self- drilling screws.
Prettying up your greenhouse
With so much spare paint in my garage and so many colors, it was hard to choose which one I wanted. Since I was using the PolyCarb panel, I knew it had to be something light, so I picked one of my light teal colors that I love so much and haphazardly brushed it on. I like the rustic worn look, so I didn't want to cover too liberally and instead wanted to leave it looking like it's been sitting in the sun for a while.
That's it! I was finally ready for my herbs, and I had my own little greenhouse I could enjoy for seasons to come.. complete with a shelf for storing my potting soil and nick nacs!…. I hope it somehow inspires you to grow something, build something, or just create something. Either way, Thanks for stopping by!
Check out the video about building this small stand up greenhouse that doesn't take up much space. Using TUFTEX PolyCarb panels with recycled materials.