This is a two-compartment locking Pallet Storage Bench. This storage bench has an approximate 70/30 split and was made ENTIRELY from used pallets. We made this pallet bench after packages were stolen from our front porch. I didn't want to pay for an ugly, plastic locking box that wouldn't compliment our 1928 California Bungalow.
Don't worry about perfection – jump in and build your own Locking Pallet Storage Bench in any style you want!
Yes, it's far from perfect, but I'm a nurse, and have never done pallet projects until this summer, and am learning!
We paid $17.00 for the stainless steel screws used on the front areas! No, that's not a typo! We found two pallets that were obviously nicer. We think they're red maple – but I've yet to identify the wood 100%. I used those unidentified, beautiful deck boards when I felt inspired by one pallet stringer board. It had a large amount of live edge still intact. It had bark and tree limbs obviously still intact instead of just a couple of knotholes. We loved it! The old bark even had those wormholes still evident.
What if you don't have all the cool tools? Psh – you work around it and get that bench (or any other project) built!
So… without a planer or any fancy tools other than a 10″ miter saw, a table saw, orbital palm sander, along with an impact & screwdriver set I bought myself recently (Makita LXTs that are lighter for a woman's hand/wrist) I created this. This bench is primarily a pine frame with oak faces, and a couple of other random types that I can't identify but could tell were different by the smell and texture as I sanded. I stained it with a leftover light cherry stain from our oak floors and sealed it with leftover urethane we had from remodeling our house as well.
Find any motivation that works for you. I went with a Craftsman approach to make my bench.
I made a point of using the forklift supports for the armrest handles and on the bottom/sides of the bench. Additionally, I purposely chose imperfect boards. I liked the knotholes, odd textures or unusual edges. The whole point of a craftsman-style home is to let the natural beauty of the wood shine, and too-perfect isn't beautiful to me. The most difficult part is that I DON'T have prior construction knowledge. I don't have all the cool tools. I don't have a real stable area indoors to build, so I'm at the mercy of the elements. However, it's good enough, and I like its rustic charm. My neighbor offered me 400.00 to buy it, so it must not be too terrible! That was a terrific ego boost and is encouraging me to learn more and to keep having fun with pallets.
Now for a few pictures: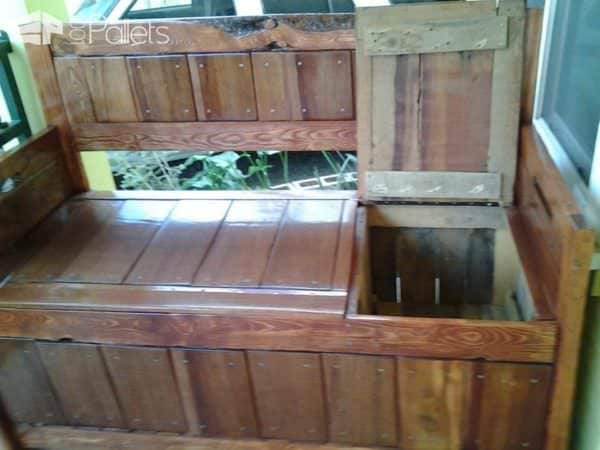 Turn Cigar Boxes Into Art.   Create a veneered Pallet Briefcase!