Would you like to get a unique look in your room? But couldn't you find the perfect table to fit your needs? Let's create your own style coffee table from pallets and spend less than $30. Are you curious how can you do it? Check and enjoy this tutorial! :)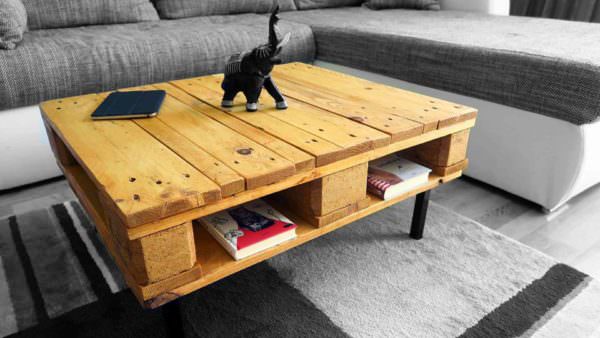 Materials needed for this project:
2 EURO pallets
4 metal legs
Safety tools
Power tools: jigsaw, sander & screwdriver
Stain & rag (why wipe stain than to brush it?)
Need half of one pallet:
Firstly, you need only half of the first wood pallet. Then need 4 narrow slats for the top. For this work, use a jigsaw than a handsaw to make sawing easier.
IMPORTANT:Measure carefully the place between fix slats because it could be different by each side. With correct measuring, you could avoid any fit problem.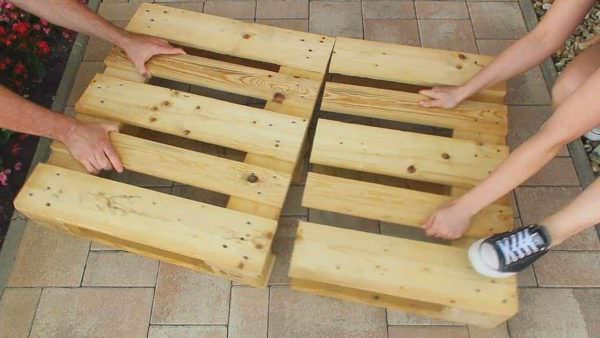 Saw four narrow slats for the top:
Use some planks from the second pallets. For this table, we need 5 full sized slats and a narrow one.
You could unjoint the pallet easily with a help of reciprocating saw. But more than enough also an iron saw for the rusty nails – only saw them and the slat will get off.
Sand the surface completely:
I think you're also probably thinking: "Ohhh no, I hate sanding…".
So yes, sanding wood can get boring… BUT the final result compensate for that!
For sanding work, we used 80 grit paper (The higher the number, the finer the grade. Lower-numbered grades denote coarser sandpaper.)
More information on wood sanding tips for your pallet projects.
Stain the surface:
The most entertaining part of woodworking is staining! YES! I love it.
I tryed this technique first time. It's more efficient to wipe stain than to brush it. And you're less likely to have color problems. There isn't any stripy surface!
Fix all slats with nails & screws:
Almost the last step to fix all detached slats to the top and the bottom with nails and screws.
We used screws fixing the bottom planks – the connection is even stronger!
Attach the legs:
We changed the usual casters to metal legs. It gives a classy look for the coffee table!
Don't forget to check the video below or on YouTube!!! ;)
I hope you like it!