To please my goddaughter, I wanted to build her a hut on stilts from recycled wood pallets, here are the details…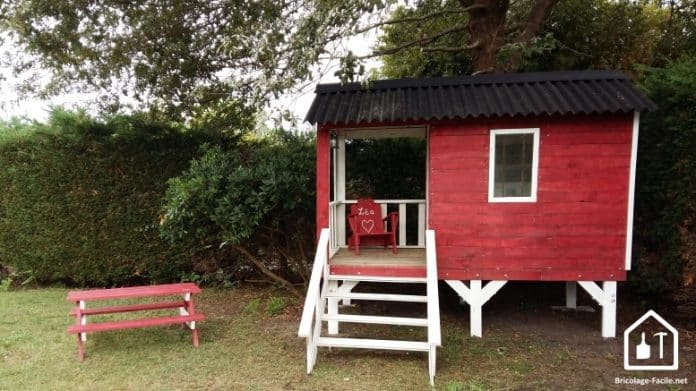 The objective
His favorite color being red, it was not difficult to choose the color of the hut. For economic reasons and by will, I decided to work with as much salvaged material as possible. For example, the floor, which is 270cmx130cm, is made only from pallet wood.
Recycled materials
It wasn't straightforward to find the planks the board; fortunately, I found pallets to transport windows. Here is the type of pallets I had fun dismantling :
The tools needed for construction
Here are some of the tools you will need:
Tape measure
Square
Drill and Screwdriver
Jigsaw or radial miter saw (the best)
Eccentric sander
Painting
Screws…
The main stages of realization
Dismantling of pallets
Floor construction
Mounting the walls
Roof assembly
Painting
Fabrication of the stilts and staircase
Final assembly
Disassembly before assembl

y
A great classic, for this realization, I needed the boards, so I had to dismantle the pallets, it takes time, but it's the obligatory route.
The floor
If you have collected pallets already at the right size, you can use them as a base for the floor and attach planks to fill in the gaps.
The walls
On the floor, we need to fix uprights of the desired height, on which the planks of the walls will, in turn, be fixed; remember to leave space for the windows.
For the windows, precisely, I managed to recover some, which I modified so that they are more adapted to the hut.
Don't forget to do the body grades too; you never know.
The roof
The structure of the roof is also composed of recovered pallet board.
Sheet metal is when it is purchased for a better seal.
Painting
As I told you before, I decided to paint this hut with a red pallet, with exterior wood paint, at least 2 coats are necessary.
The stilts and the staircase
For the 6 pilings (or 4 for a version without the balcony), I used the thickest parts of the pallets, for greater resistance. The staircase is like the rest of the hut, with single planks, but cut at 45°.
Final assembly
Nothing very complicated, the hardest is already done, it is enough to find the good site, with a rather hard ground, to be able to support the weight of the hut, then one places (it is better to be two) the stilts and one fixes the hut there.
So that she could have light, I took the opportunity to install a lamp with a small solar panel.
Final Result
And here is the final result…