Use pallets to create some fun in the sun for your kids or grandkids. Or, adapt this pallet mud kitchen for a handy adult-version muck sink for your garden or backyard area. You need four pallets and only one day to assemble this great project!
Mudpies, outdoor "cookin'," and mucky good fun! Build your kids a pallet mud kitchen!
First is gathering and preparing the materials:
Gather your materials. I sourced a second-hand sink from a local source.
Dismantle some pallets: Take a sturdy pallet, on the "load side" leave the end boards and one board approximately 60cm or 24 inches from one end. The board at 60cm is the height of the kitchen.
The sink is 95 cm or 3 feet long, and the pallet is 120cm or 4 feet, so you need to make a frame to support the bowl. Adjust to fit the basin you upcycle. I did this by removing the clips that are used to fix the sink to a worktop and bolting boards at right angles to the worktop.
Then I used some old stringers cut to 60cm to provide the legs to support the sink and the board at 60cm to hold the other side. We now have a mud kitchen.
Next is fitting out the Pallet Mud Kitchen:
I added faucets that will be attached to a garden hose:

Optional: Add a drain pipe and let the kids water the nearby shrubs or trees while they play!
Or, place the project on a well-drained area, such as a graveled part of your yard.

I added a bottom shelf and a door with two large gate hinges as added decoration.
Then I painted a piece of scrap plywood with black chalk paint for the kids to write their recipes.
Finally, I cut down an old wooden curtain dowel rod as a towel rail.
My lovely wife woodburned a personalized sign for the children.
We included a drain plug on a long chain so the kids can do the dishes without losing the stopper.
Sit back and watch their faces as they get covered in muck!
The complete mud kitchen. We upcycled a kitchen sink that had the built-in drying rack for a large, fun surface for letting those "mudpies" to bake in the sun.
The black panel is chalk paint so the kids can write their recipes or messages to each other.
A piece of curtain dowel rod makes a perfect paper towel or yard towel holder. Large gate hinges support the large cupboard door.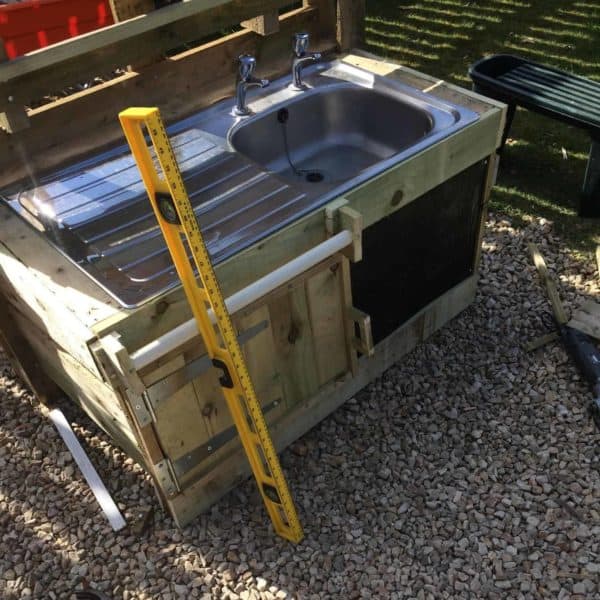 This mud kitchen features a storage area for the kid's pots and pans, or other mud-fun items!