We had an ugly pine cabinet that held our audio equipment, but it didn't fit our decor. It HAD to go. We used a Besta cabinet into this Retro Pallet Cabinet with only one pallet and a few simple supplies!
Customize an ordinary shelving unit with pallet wood like this Retro Pallet Cabinet!
Here's what you'll need:
1 x Pallet wood cage that held wood for wood burner – Free
1 x Ikea Besta TV bench and two doors – £40
4 x Hairpin legs – £25
Glue, panel pins, stain, beeswax, etc. – £15               Total – £80
I built this project in about 16 hours. First, I dismantled the pallet, removed the nails and sorted it into usable pieces. Next, I measured the Besta unit and cut the wood to length to cover all four sides. I applied Gorilla glue onto the deck boards and attached them with a nail gun. Then I sanded all of the wood and stained it using a Medium Oak. I also used Dark Oak Colron Danish Oil and sealed it with beeswax.  Finally, I installed the four heavy-duty hairpin legs and checked for level.
Your Retro Pallet Cabinet can be a work in progress  –  change it to suit your style!
For the time being, I have used the Besta door, but I am making a pallet wood door with a grill to allow better air flow onto the amplifier. However, it doesn't look that bad with the Besta Door. I cut the other door down and turned it into a shelf.
I put a power strip on the back and cable-tied all the cords up, so very little is/was visible underneath the cabinet.  Additionally, I drilled some access holes for the cables in the hardboard backing. The fun part was moving the amplifier, CD player, and records into the new cabinet! All I have left is to tidy up the cables and replace the skirting board.
What would I do differently next time: Have a 1cm overhang on the top at the front, so the door is flush.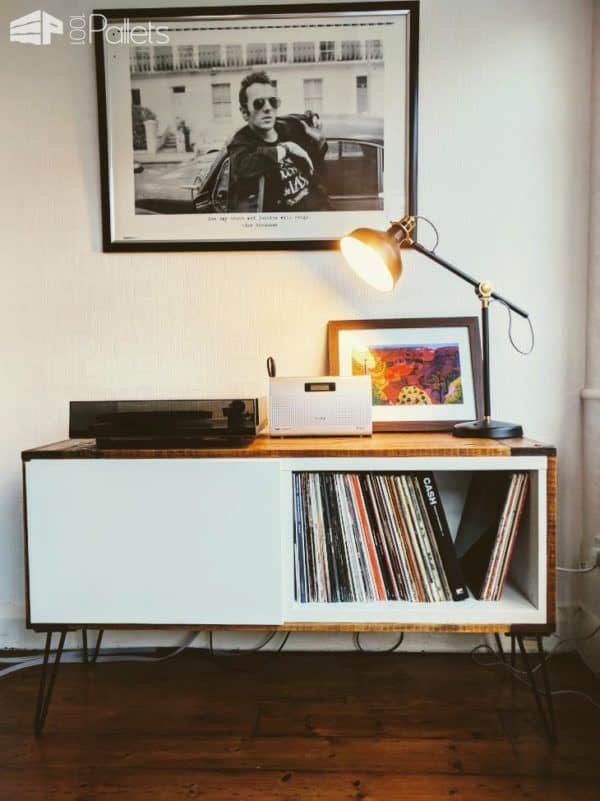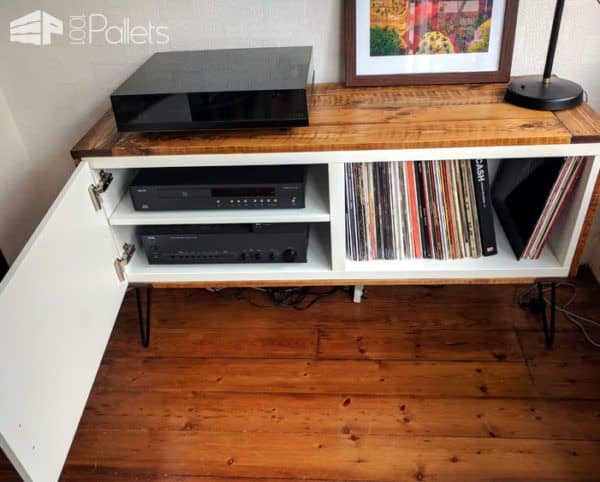 Here's a great Outdoor Lounge Set Idea! Turn an old barrel into a fountain!