I made these Pallet Closet Doors as a gift for my daughter. Additionally, I used somewhere between 6 to 8 pallets on this project. I wanted straighter boards with different colors and texture to make the doors fairly plumb since they pass one another.
Pallet Closet Doors – a significant upgrade from those boring, cheap interior doors houses have!
First, I used a Sawzall reciprocating saw to dismantle the pallets. Next, I used my table saw to cut off the ends with nails and cut the boards to consistent lengths. Additionally, I used a miter saw for the angle cuts. This project would have been easier with a planer, but I had to make do with a power sander. I used 40, 120 & 200 grit sandpaper, which turned out to be pretty quick.
Getting down to business: Make these Pallet Closet Doors in your hallway, coat closet, or spare room closets!
I made the doors to the following dimensions: 60″ wide x 72″ tall. I laid out three horizontal boards, then placed the vertical boards on top, allowing about 1.5″ of clearance for the top and bottom rails/guides.  Then I attached the boards from the back side so the hardware wouldn't show. I installed the screws in on a slight angle to prevent any penetration through to the front, but you could use slightly shorter screws to prevent that problem.  I didn't want screws on the front because I felt they'd detract from the natural beauty and character of the nail holes and other defects.  Additionally, I used a 2′ x 4′ drywall square to align the boards.
When you make decorative trim, as I did on these Pallet Closet Doors, finding the angles can sometimes be a challenge at first.
I wasn't sure how to get the correct angle for the cross boards. First I used a protractor, and all the angles were a little different. So I clamped a board into position and used a straight end to mark a cut line. I believe the angle was approximately 39.5 deg., which turned out great for all four boards. These boards were attached from the front side.
Finishing these Pallet Closet Doors – Satin Brushing Lacquer worked WELL!
I applied two coats of Satin Brushing Lacquer were put on. It did NOT leave brush marks, and manufacturer's directions said,"No sanding required between coats." It worked beautifully, dried fast, and enhanced the color and grain of the wood magnificently. I hung the doors upon sliding rails with a guide rail along the bottom. The cross boards formed a diamond shape! I then switched the rollers on top, which changed the doors from front to back and vice-versa. This made the "X" design that I wanted.
I was proud of the way they turned out – so I admired them while having a can of beer and went home.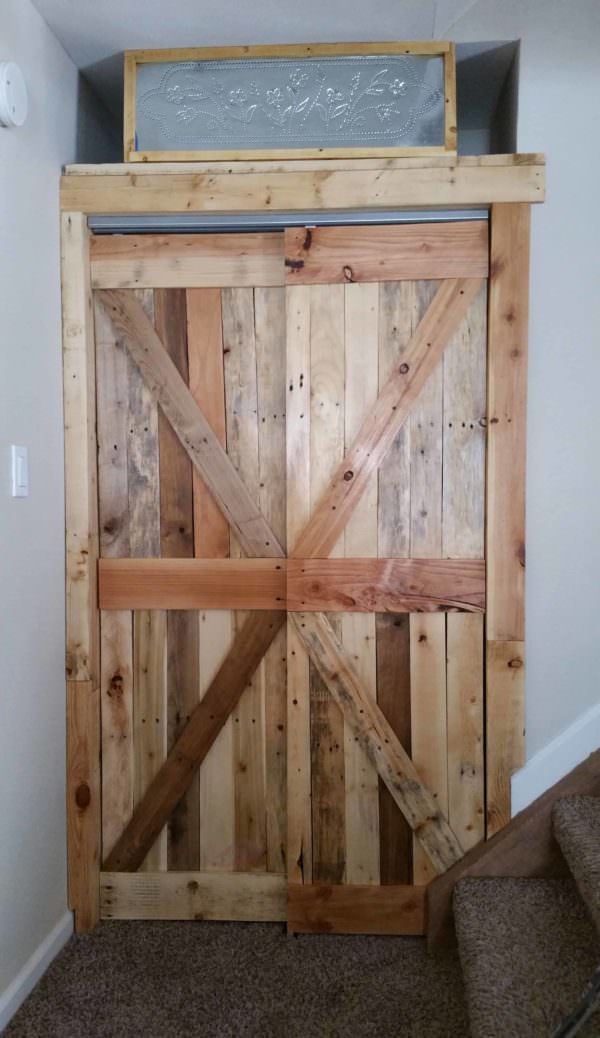 Beautiful work, and very inspiring! Here's another idea for Sliding Barn Doors using exterior decorative hardware!