When you're not overwhelmed by more pressing emergencies, like the need to call in a 24-hour plumber, Van Nuys, to save your home from water damage or the need for rapid NJ sprinkler system installation to save your back from the effects of manual garden watering, then you might just get enough of a respite to think about getting creative with some new furniture.
If so, then first consider the advantages of naturally sourced or recycled furniture, but you may also want to try your hand at making some homemade furniture yourself. And one of the best ways to do it is to repurpose excess wood pallets, which you can get at a bargain rate from certain warehouses and other dealers.
Here are 7 great ways to reuse pallet wood to make your own furniture, saving both money and the planet simultaneously!
Outdoor Or Indoor Lounging Benches
Stack a couple of pallets on top of each other and add another pallet for a back, and you can easily cobble together a very functional and sturdy lounging bench. Make it as long as you like, and bend around corners of your porch or living room as needed. You can keep the "rustic look," paint it or cover it with cushions and pillows.
Rolling Coffee Tables
A simple pallet or two, a little paint, an attractive cloth cover, and sturdy wheels at the corners, and you have a mobile table with generous room for coffee, snacks, tired feet, and more. This works better outside on a flat, smooth surface, but it is certainly not limited to that use.
A "Hybrid" Couch
Have an old couch that still has plenty of seat and back cushions in good shape? Salvage the cushions, throw out the rest of the broken-down old thing, and use super-strong wood glue or other adhesives to firmly attach a pallet base to it.
A Pallet Magazine Rack
Cut a pallet down to just two or three cross-planks. Then line its back with plywood and its bottom and sides with other pallet planks. Paint it and squeeze it in between a chair and coffee table, or attach it to a wall. It makes a simple and handy magazine rack.
A Pallet-Bed Swing
If you have a tall tree with a strong, horizontally aligned branch, why not turn your pallet into a swing? It's much more fun and creative than a hammock or a tire swing. Just firmly connect two pallets with sturdy two-by-fours running the length of both of them at each end and at one or two points in the middle. Connect ropes at each end, and properly tie and align. Throw on a rightly sized mattress and bedding, and relax and swing in a unique way.
A Rustic Outdoor Barbecue Zone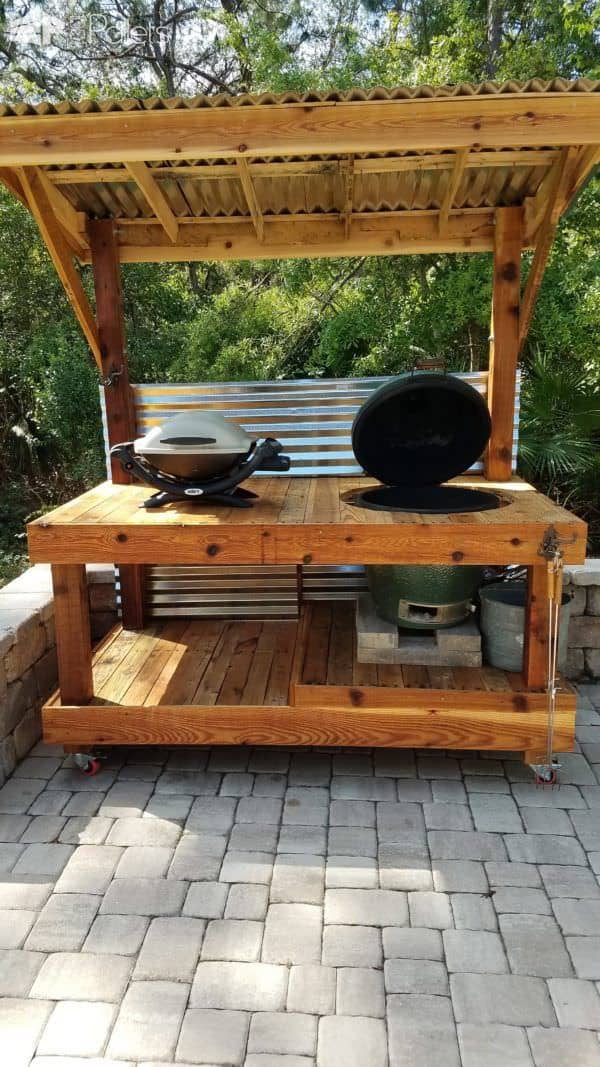 Build a bar-like table with vertically aligned pallets strung together and topped with a one-by-twelve or other board that is wide enough. Dismantle your pallets so you can build small, square stools out of the pieces, cut to size. Make a table for holding your grill creations and other picnic foods, and the scene is complete.
Pallet-sourced Book Cases
Tear apart your pallets and organize all the like pieces together. Make a careful plan, and be willing to splice where necessary to get to the required length. Use plywood to hold it together tightly, but the sides, shelves, top, and bottom can all be formed with pallet wood. Bright paint and strategically placed caulk will also contribute to holding things together and making it amazing.