Bike storage can be challenging. They usually end up in a sloppy pile in the corner of your garage. Not anymore! Check out these 14 Ways of Reusing Old Wooden Pallets as Bike Racks to solve your bike-storage woes!
Due to the shape and form of a wooden pallet, it's the perfect raw material to make a straightforward and cheap bike rack. The slats of the pallet are spaced far enough apart – but not too far apart – to hold a bicycle wheel. We've compiled some ideas we've found on the 'net to show you how people used old pallets and repurposed them into various bike racks. No more excuses for scratching up those expensive investments! No need to buy an expensive bike rack! You could transform Wooden Pallets as Bike Racks in minutes and for FREE! Not bad, huh? Read on, fellow crafters…
Clean up your porch using Wooden Pallets as Bike Racks:
Wooden Pallets as Bike Racks using two pallets – via Recyclart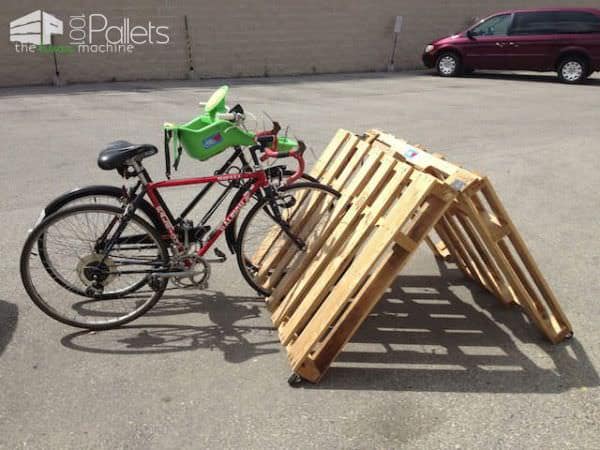 Portable bike rack made out of 2 upcycled pallets with wheels - via The Haas Machine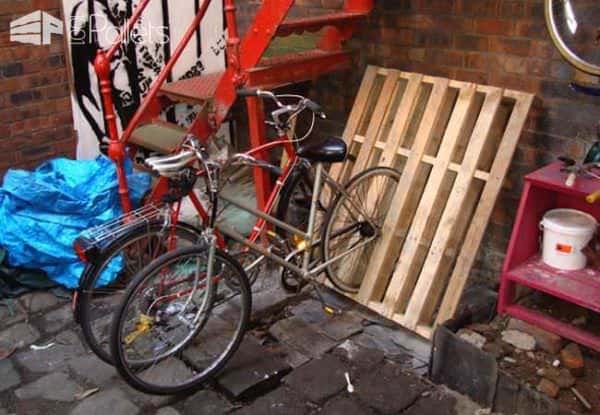 Lean a pallet against a wall, whether in your garage or in the garden, and that's it, you have a bike rack - via Bob Vila
Another simple bike rack for your garden made from the top of a repurposed pallet and two supports that lift one side from the ground.
Another way of using Wooden Pallets as Bike Racks is with a pallet positioned vertically. This one is very stable!
And you thought small spaces were significant problems for bike storage. You only need a small pallet to make good use of those extra few feet of space in the garage or carport. This little rack is just right for two bikes.
Nice looking pallet bike rack installed on a terrace - via Cheap Pallets
Handy ideas for your yard or kid's play area: Wooden Pallets as Bike Racks that are simple designs:
Another very simple bike rack - via Abadeu
Petite pair of pallets for a perfect shop parking area :)
A simple pallet placed vertically with a couple of metal brackets to prevent the pallet from falling - via The Rebuilding Center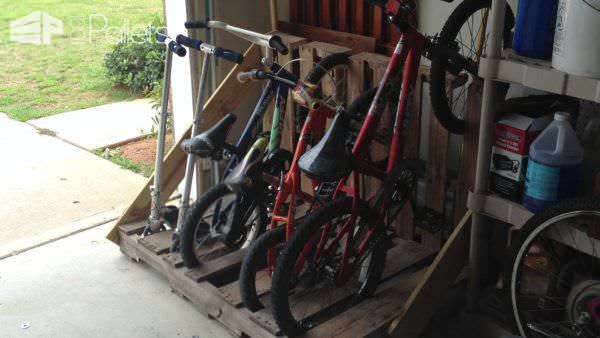 Two pallets nailed together at a 90-degree angle with some extra deck boards installed from corner to corner diagonally. This is perfect for using Wooden Pallets as Bike Racks to Organize areas!
You can also make a vertical bike rack fixed on a wall to hang two bikes like this one - via Recyclart
Another vertical pallet bike rack to hang a bike on the wall (with two hooks for hanging the bike) - via Handarbeiden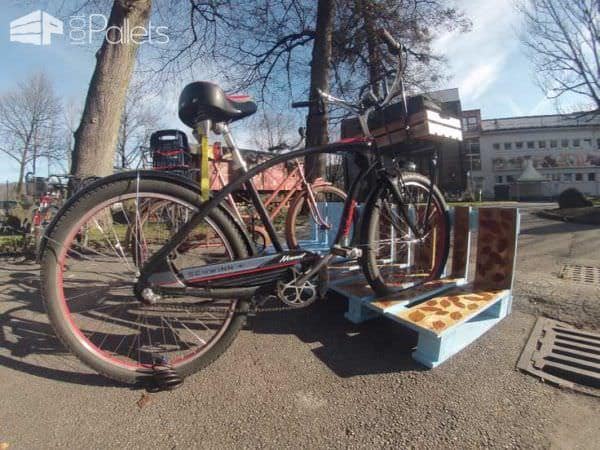 A customized and painted version of a bike rack :) - via Ale Landa
So why are you still sitting here reading? We've shown you 14 ideas using Wooden Pallets as Bike Racks! Go on out there and organize your bikes - and be sure to submit your ideas to us too!