There is nothing as exciting as making your own pallet bookshelf. The idea of having to use a few pieces of wood and end up with an incredible design is breathtaking.
You're in college, and getting space to fit a bookcase might not be easy. Don't worry, just improvise. There are plenty of beautiful bookshelves designs online you can use as inspiration. If you feel like getting creative, you might as well come up with your own custom design.
This means you need to set some free time when you can assemble your shelf. This might be challenging when you have school work and essay writing assignments to take care of. The whole point is to have fun. You can take this up as a solo project or round up your friends and make it a group activity as you catch up.
We have rounded up a few bookshelf ideas that will add a beautiful element to your dorm room. By the end of this article, you will know how to assemble your own pallet bookshelf for your dormitory. 
Feel free to make your own personal additions that fit the theme of your room. Okay, let's get started, but first let's see the importance of a pallet bookshelf.
Why you need a bookcase?
Are you trying to figure out why you need a bookcase in the first place? Let's help you out.
Apart from the obvious fact that you will use your bookcase to store your books, it serves as a great piece of art. Yes! With the right construction and design, you can have a stunning looking shelf that's a great artistic piece.
What better way to get practicality and beauty from one item? Just by having your book collection on the shelves presents an elegant look to a piece of furniture that might appear rather dull.
Having a well-decorated shelf can make your dorm room appear colorful and vibrant. The good thing about all this is that you have the freedom to make your own bookshelf that suits your personality. You can paint it with contrasting colors or let it bear a vintage style that brings an original, fresh style to your space.
Use your ingenuity to make it perfect. Now that you know why you need to get your bookshelf, it's about time we explore 2 different interesting, yet simple designs you may try.
Design 1: Freestanding shelf
If you love recycling, then you will definitely be excited about this design. You get to re-use pallet wood to come up with a functional bookshelf suitable for tiny spaces.
This is what we intend to build: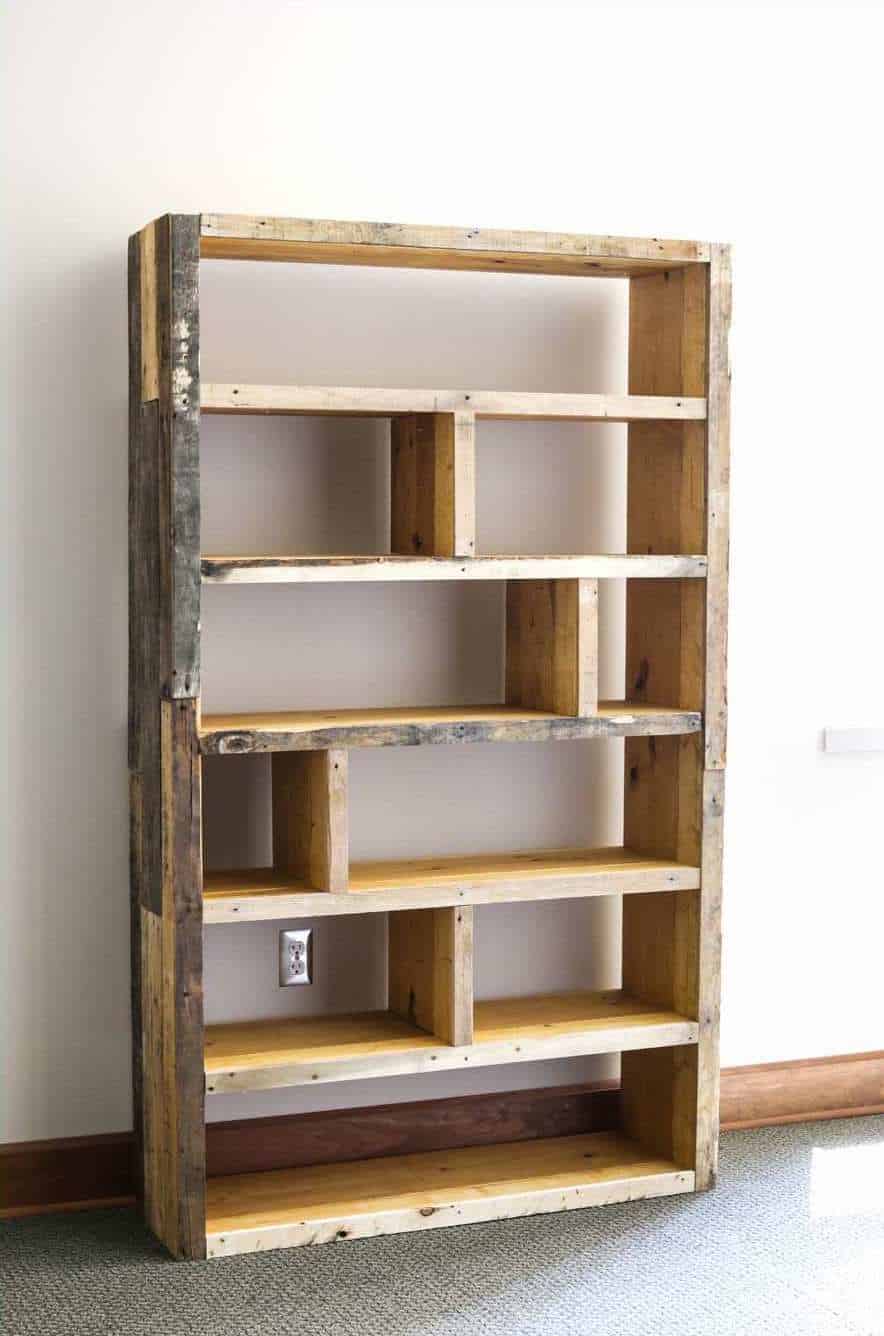 To get started, you need to get your hands on certain tools.
Measuring tape
Safety gloves
Sandpaper or a power sander tool
Nails
Glue
Hammer
Pallet planks
Saw
It's not unusual that you won't have pallet planks lying around waiting for a construction project to come up. You can get your hands on wooden crates and use them instead.
This is a simple project that you may complete in a few hours. The safety gloves will prevent injuries that might come from wood splinters. Again, it's always good to be cautious.
Use the measuring tape to determine the size of the space you have in your room
With that in mind, measure the planks and use the saw to cut them according to the desired lengths. Writing down the measurements helps in maintaining the right proportions.
Remember, you need bottom support and the side planks. Make the bottom ones wide enough to support your books.
Pallet woods usually have a rustic look. You can wash the planks to get rid of dust. Again, this is an optional stage, and it all depends on the final look you are going for.
Use sandpaper or the power sander tool to smooth the wooden surfaces. You can skip this step if you are into a rustic, vintage appearance.
With the planks in the required size, now you need to start joining them to each other. To make it sturdy, use nails together with glue.
If you need to paint your bookshelf with different colors for each section, this is the best time to do it. Otherwise, keep joining the pieces until you have a complete structure.
In our example, the shelf does not have a resting backboard, but you can install one if you like. It's all about making small modifications that make your project unique.
There you have it, a complete shelf with just a couple of items in hand.
Decorate your bookshelf
Just because you have a bookshelf does not mean you are restricted to use it for books only. You may use your self-standing pallet bookshelf for your books or anything else you have in mind. Be creative. Adding a small flower pot might give it a cool look.
You may use any decorative pieces you like to give your shelf a bit of character. Use light objects that will not destroy your shelf or destroy its stability.  Use figurines, plants, jars or even small baskets.
If you find it interesting but can't seem to get the time for it, get help to reduce your workload.
Design 2: Wallhanging
You have books, but you don't know where to store them. We have you covered. Instead of spending your money-making unnecessary purchases, get a few wooden pallet planks, and you'll have your own dorm bookshelf.
Below is a picture of the shelf we have in mind:
With this design, you can have a stunning shelf that gives off an antique feel to your room. As usual, we need to get our tools ready. You can refer to the previous design on the list of tools you can use.
If you're up for it, you can make either of these designs or even both. Let us save you the pain of having to search for your books with bookshelf ideas with pallet wood frame.
Now that you have a freestanding shelf, let's build a wall hanging one.
Measure the surface you want to hang your shelf on.
Using the saw, cut the bottom pieces. Use the measuring tape to make sure they are equal sizes.
Make the back piece bigger compared to the bottom pieces.
Hammer the back to the wall.
Use nails to join the sections to the back piece.
In this example, we have four ledges. You may improvise and make more if you have space and necessary materials.
Decorate your bookshelf
With those few steps, you have a complete shelf at your disposal. One important thing to note is that wall hanging shelves tend to be less strong as compared to freestanding ones. This means you need to mind the weight of the books or items you store there.
Instead of reaching for the heavy encyclopedia, put small, lightweight books like novels or magazines. You may use different types of decorative materials as well. Think of it as wall art and a storage unit at the same time.
Get yourself some candles or a picture frame. This wall hanging bookshelf is a great addition to your dorm room and only take a short time to assemble it. Now you have no reason to have your books scattered everywhere in the room.
Conclusion
What makes a pallet bookshelf an amazing storage unit is because it takes less time to make it and saves you money. You can save your coins and still get to have a beautiful, functional storage unit for your books and other items.
Let's not forget that it's a great space saver. We know how crowded dorm rooms can get, and you need a small bookshelf that will not occupy the whole room. Use your ingenuity to create more compartments and sections if you need to.
It's an inexpensive way to get decent storage space as you may use scrap pallet boards. You can take up this project on one of your slow days and come up with different styles that fit your personal taste.
Happy building!