Today, we are happy to announce the launching of our Christmas contest! We have reworked the way of running our contests to give you more interactivity (& fun), and now votes are allowed, the winner will be chosen by the pallet community! Participation in the contest is open to everyone; you can submit up to 5 pictures of your work, share your work with your social networks and ask your friends & family to vote for your project!
For this contest, the theme is general and around what you have made with recycled, upcycled or repurposed wooden pallets. The prize for the winner is a Dual Headed Pallet Dismantling Bar™ from our partner Cargo Cycles, and we also have a prize for the second place, a Single Head Pallet Dismantling Bar™! Nice gifts for pallet Crafters! :) We would like to thanks our partner Cargo Cycles for those nice prizes!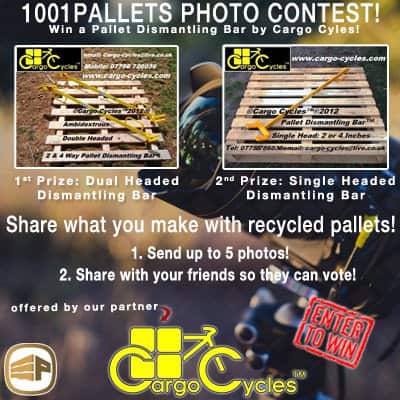 Note: The prizes will be sent freely to the winners to US lower 48 states, Canada, UK & NI and Europe. If you win the contest and live in another country, you will have to pay for the shipping costs which is still a huge saving.
The Rules:
Now it's your turn, play & win :)
The contest is now over. Thanks to all the contestants!