Summer is here (almost) which means you should be looking forward to lazy weekends lounging around your beautiful green lawn. Pool parties, barbecues, and other backyard activities are only possible during this gorgeous warm weather ― and when you have some outdoor pallet furniture to relax on. Fortunately, if you can't afford lawn furniture, you can use any of these pallet projects to build your own inexpensive and attractive couches and chairs where you can soak up the summer sun.
Pallet Modular Seating
Modular seating is one of the best options for lawn furniture. You can move elements around and recombine them as necessary to accommodate your lounging needs. However, most modular seating is not entirely DIY-friendly ― except this pallet project from Shanty 2 Chic. Simple, striking, and perfectly sensible, this set will look beautiful on your fresh summer lawn no matter how you configure it.
Pallet Table Set
Eating outdoors is du jour in the summertime, but most people like a table and chairs when they dine. Thankfully, this fantastic table and chair set from Bridgman require only two pallets and some glass. The glass top adds an outstanding visual effect that highlights the wondrous material of the furniture ― while providing some useful storage space. You can paint your table set any color you wish, but we prefer to let the natural colors of our pallets shine.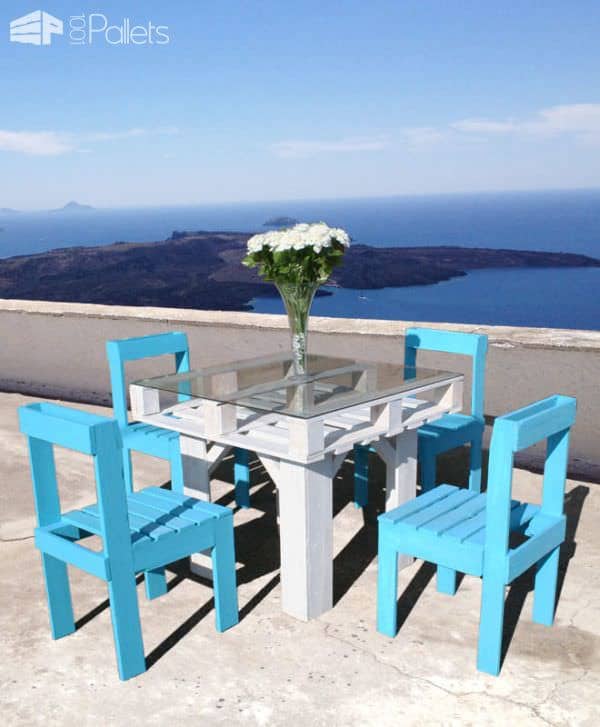 Pallet Daybed
When the weather is warm, naps are mandatory, but no matter how healthy your grass is, you would be much comfortable dozing on a day bed. This project from Lovely Greens proves that it can't be easier to transform pallets into a comfortable place to rest and relax while you look over your lovely lawn. You can find a suitable mattress or foam topper at IKEA for relatively cheap, or you can ask family and friends for comfortable cushions they aren't using.
Pallet Chest
Lawn games are a vital element of summer fun, but when the fun finally ends, you need a place to stash the toys and gear. Fortunately, you can save yourself the eyesore of typical plastic storage bins by building this beautiful rustic chest from Tee Diddly Dee. High and resting on casters, this chest can accompany you while you pick up lawn darts and Frisbees. The design features wheels, which allows you to take the chest off your grass when it's that time of the year to apply lawn fertilizer to keep everything green, or the weather has turned stormy, and you want to protect the chest from damage.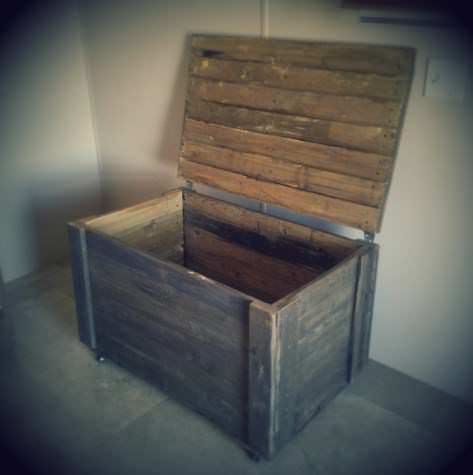 Pallet Bar
When you are outside and need refreshment, you can move on to this bar from A Mitten Full of Savings. Thin enough to fit nearly anywhere but chic enough to stand out as a lovely piece of furniture, this bar is the perfect addition to any space. As demand grows, outdoor bar furniture is increasing in price, but crafting your bar from pallets is an inexpensive way to have a long-lived refreshment stand. Now all you need is a reliable cocktail recipe for your backyard parties. Need inspiration for a pallet bar, check out these 45 amazing pallet bar ideas!
Pallet Swing Chair
Sometimes, you don't want to be on your lawn ― you want to swing just above it. When you feel the need to swing, you definitely want to have this adorable pallet swing from The Bold Abode. Mixing elegance and durability, this swing will complement your lush lawn perfectly. However, you must be confident in your patio roof's ability to suspend it, or else your swing might just become a chair. If you want to build a cool pallet swing, check out our free PDF plans & guide and start right now your pallet swing!
Pallet Adirondack Chair
This chair from Casvandigoor on Instructables could not be easier to make. All you need is a crowbar, a staple gun, and a single pallet, and you will be lounging in comfort all summer long. During deconstruction, you must be careful not to damage any of the pallet's beams, as they are all essential in the structure of the chair. When complete, you will hardly believe the chair came from recycled materials!
Pallet Potting Station
You rarely want to do your gardening on your lawn, where loose soil and debris will mar the spotless green grass. Thankfully, Better Homes and Gardens provides a beautiful solution with this potting bench made from pallet wood. Here, you can stash all your everyday equipment ― like trowels, gloves, and extra pots ― so you have a convenient place to garden while the weather is good.