"I'm bored! There's nothing to do," you hear, despite the cool toys wall-to-wall in the kid's rooms. Solve that problem while getting them some fresh air with these 10 Kid-Friendly Pallet Projects to make summer fun! Be sure to supervise the children with any power tools, chemicals and proper use of safety equipment.
Put those phones down; have family fun with these Kid-Friendly Pallet Projects that are perfect for parties, too!
How about a set of Pallet Stringer Stilts? These would take very little effort to make. Use a jigsaw or band saw. DEFINITELY be sure to supervise the older kids and do the cutting for the younger kids, please.
Stilts could be easily made from pallet stringers. Just sand everything smooth and cut the stringer down, so it's a kid-friendly grip size, and then stand back and let the fun begin.

Can you see the stilt shape already present in the pallet stringer boards? This project would take a very little cutting, and then put the kids to work sanding the stringers down. Be sure to either drive any cut-off nails deeply into the wood or pull them out to protect little hands. Make sure the kids wear protective play gear with this idea, though.
How about a DIY Tic-Tac-Toe game? You don't even have to make the fancy box! You could just simply fabric paint the board onto an old towel! Sand down pallet blocks and then paint the patterns (or use stencils). Paint an old tabletop with the board pattern or build a little box like this one has for easy storage.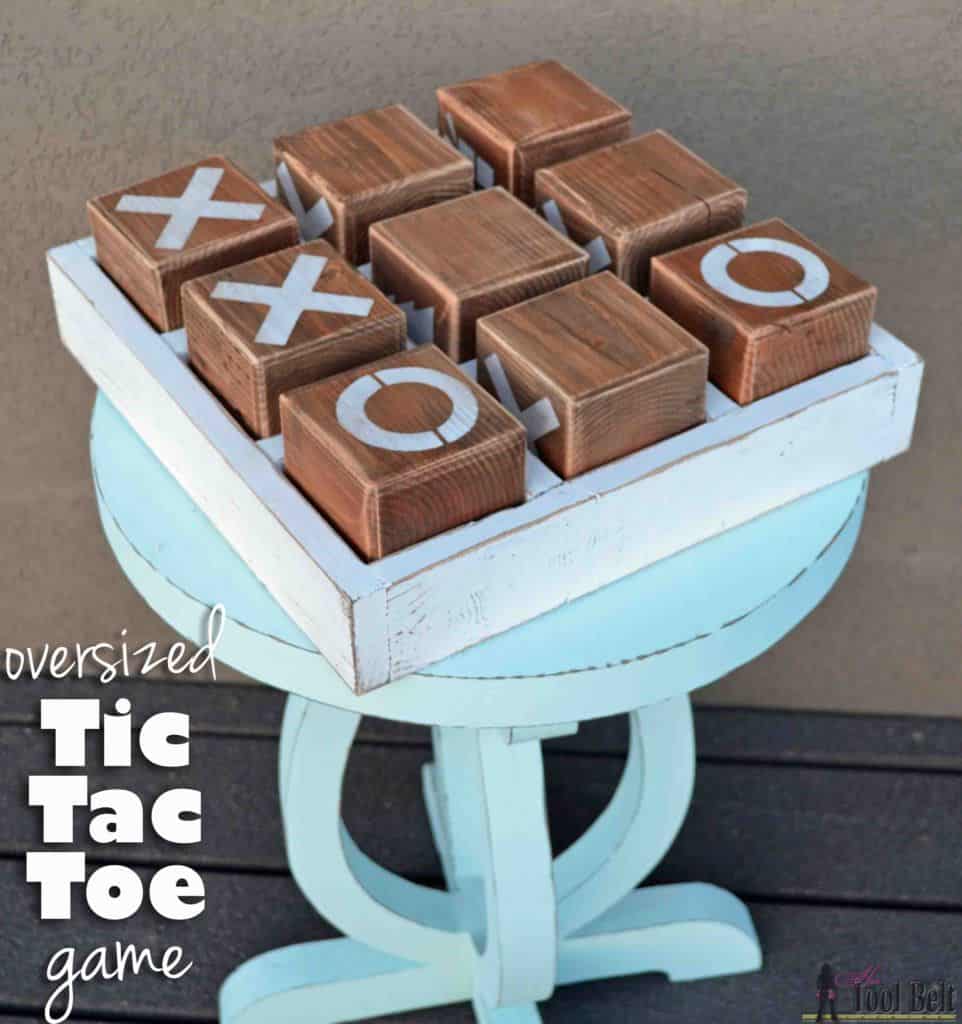 Make a yard Jenga-style game – Kid-Friendly Pallet Projects that even the adults will love! Another project perfect for those stringer boards – and they're naturally irregular to start with! With summer parties, wouldn't a game like this giant Jenga game be a hit for the family? And it's simple, too!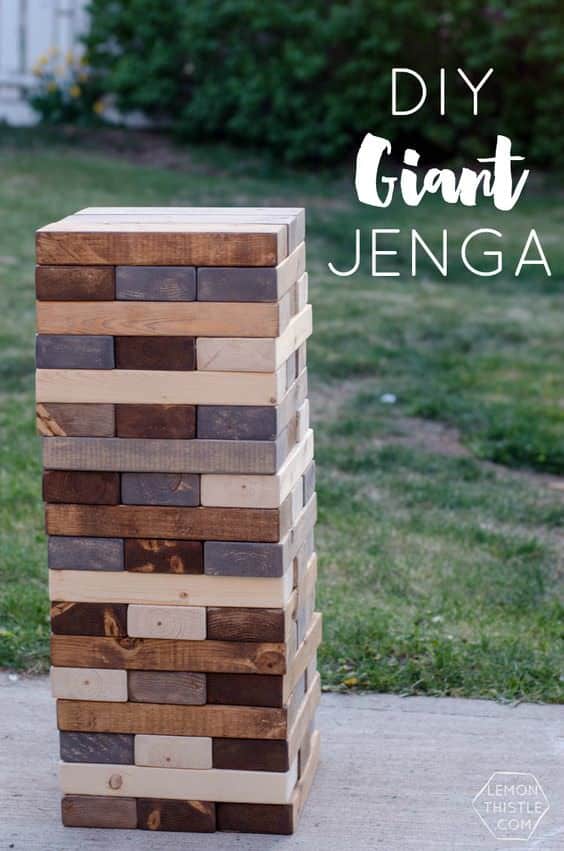 Make a giant Kerplunk game! This would be great for parties, too! You can purchase the wooden dowels at any home center, along with the small bit of wire. The rest could be made from pallet wood. The table doesn't have to be very heavy; just strong enough to hold a little weight without wiggling when the kids play.
Outdoor Yard Dice are fun and educational when they have to add the totals – truly Kid-Friendly Pallet Projects! This couldn't be easier! You cut the pallet blocks loose, and have the kids sand them and paint them while you plan your party!
Giant Outdoor Dominoes are beautiful and fun! And Kid-Friendly Pallet Projects like these are great for the adults when the kids go to bed! Giant dominoes will keep their math skills sharp all summer, and be great for the adults when the kids go to bed.
Giant Scrabble Tiles will keep them sharp on spelling and vocabulary over the summer! You can use pallet deck boards – the tiles will be a little smaller, but you won't have to buy more expensive wood. Be sure to supervise the adults when they've had a few adult beverages. The words quickly become naughtier!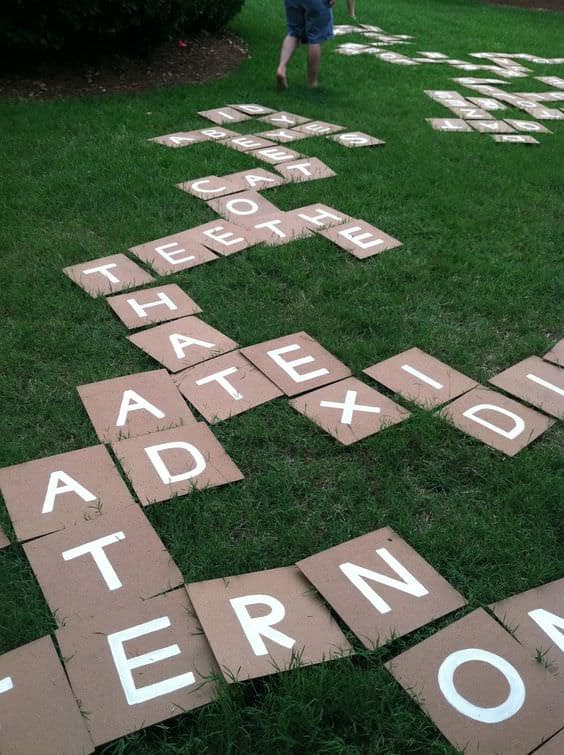 Or, Outdoor Boggle! Another fun family or party game, and these are simple to make too. You don't even have to have the fancy display board if you didn't want to.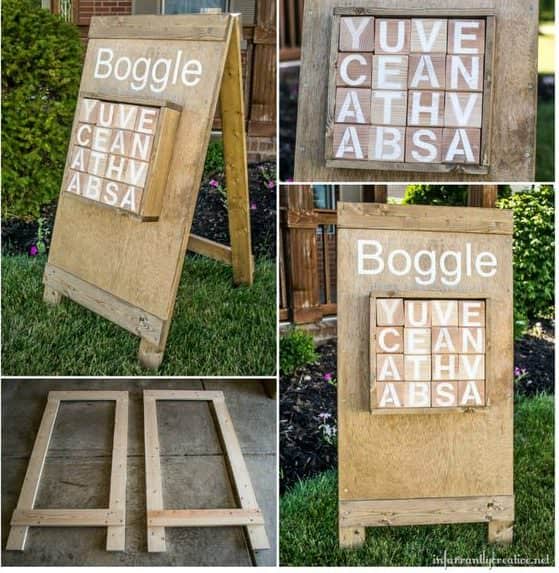 Now, this is a great example of Kid-Friendly Pallet Projects! Make a classic Wooden Birdhouse and teach them a little about nature! This fun and easy project will have you face-to-face with the kids — without the phones!

Make a Tennis-Ball Toss Game! Use pallet wood to make the frame, and drill holes in a few sets of tennis balls. Use scrap rope to save money!
Save money for the holidays and make Outdoor Yardzee Game sets for gifts! Elevate them by drilling and using wood plugs and copper inlay!