Put those electronics aside and have a family fun night with this Yardzee Pallet Dice Set, complete with an upcycled, 80-yr-old oak storage bucket and acrylic, reusable scorecard.
Yardzee Pallet Dice Set:
I made this dice set from pallet blocks and did a contrasting wood and copper-trimmed inlay. This was a gift for a friend with young children, and this drove many product decisions. I used ONLY heat-treated pallets, PureColor's sustainable, kid-safe stains and sealers. Finally, I used Howard brand Feed-N-Wax to protect the dice, since it only contains bee's wax, carnauba wax and orange oil.
Kicking the bucket:
Next, I made the storage and shaking/tossing bucket from upcycled painter's easels. I found these in the wood-recycling pile at a local community college, and they were approximately 80 years old! I thoroughly sanded them, cut them to length, and used a bit of pallet plywood to create the circular base. Next, I put the slats around the edge of the circle with finish nails, and a hidden wire was installed through the rim. Additionally, I used copper pipe strap and made handles from more pallet wood scraps. I installed the handles with four hex bolts, eight washers, and four nylon washers total. Finally, I stained and glazed the bucket and handles using Pure Color stains & sealers in French Oak, Lava, and Marsala.
The scorecard & lid:
I made the scorecard from a piece of acrylic. I hand-etched it in French with a rotary tool and a diamond tip blade. Additionally, I made the lid from pine, poplar and oak pieces, and dowelled them together. I used locking hooks and eyes to secure the lid in place for storage. Plus, hang the lid up while in use. Use dry-erase markers and easily keep score and reuse it over and over. I stained the scorecard for ease of reading with PureColor's "Inkblot" stain.
Want a set of your own but don't want to make it? Contact me!
If you are interested in ordering a set, please feel free to contact me. The prices are based on options/complexity (with inlay or without, with storage bucket or storage box, with or without an acrylic scorecard, etc.). Email me at 1001pallets.heatherstiletto@gmail.com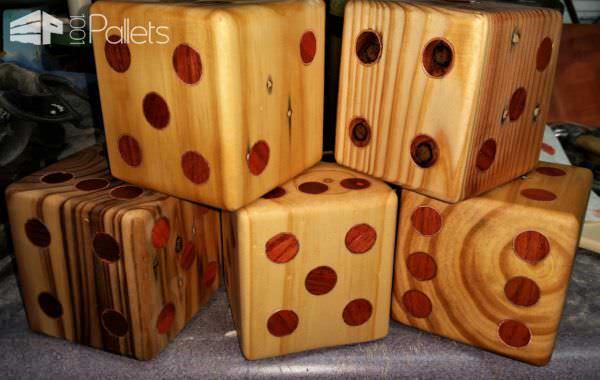 One good outdoor project deserves another – what about a cool Playhouse?