The biggest challenge with woodworking is to start and finish your first project. That is why it's better to begin reading a book if you are a newbie in woodworking. In this list, we have collected the top 9 books to get you involved in the process of woodworking. 
"Woodworking for Beginners" — Darren Jones
This book helps you to start with the basics. You will learn about the difference between materials, how to use tools, and samples of beginner's projects.
With this book, you will get to know woodworking better step by step. Also, you can find their simple patterns to try and create your piece of art. If you even want to sell your works, this book helps you with trading tools.
"Woodworking for Dummies" — Jeff Strong
The popular brand "For Dummies" created the book to gear you up with the right tools for adding color with stains and paints, putting safety first in your workshop, using adhesives and glue, smoothing it out by sanding and filling, working with wood joints, and protecting your work with topcoats. "Woodworking for Dummies" teaches you how to organize your craft plans for a piece that'll reflect your personal touch. The book helps you to: measure and mark your wood, choose and use sharpening tools, distinguish among saw designs, hone in on hot melt glue, get down to the nitty-gritty on nails, apply water-based polyurethanes, and speed things up with new frame joints. 
Sale
"Woodworking Basics: Mastering the Essentials of Craftsmanship" — Peter Korn
"Woodworking Basics" presents an approach to woodworking that has proven successful for hundreds of people. Peter Korn's learning method helps new woodworkers to find the right techniques from the beginning. More experienced woodworkers can use it to level-up the skills of making classic furniture as the key to fine craftsmanship. Korn describes two useful and attractive projects: a side table with a door and a drawer, and a small bench. He provides you the opportunity to practice skills and develop confidence with tools. You'll discover how to use woodworking machinery safely, use hand tools correctly, mill a board four-square, cut a mortise-and-tenon joint, and cut dovetails.
"Tree Craft: 35 Rustic Wood Projects That Bring the Outdoors In" — Chris Lubkemann
The five chapters divide the book into areas of your home where you can use the 35 stylish and practical projects. Aimed at those with a general appreciation of wood, and while the plans don't require a large amount of carving, these projects demonstrate that using natural pieces of wood can turn traditional things into unique and useful items with some creative tweaking. Recreating the beauty of nature inside your home is a great way to add warmth and rustic elegance to any decor.
"Woodworking for the Serious Beginner" — Pamela Philpott-Jones and Paul L. McClure
There is a lot of potential confusion and expense in the stage between having a strong interest in woodworking and building a functional workshop. "Woodworking for the Serious Beginner" will get you from the former place to the latter in the straightest and most economical line. Authors Pamela Philpott-Jones and Paul L. McClure give advice on which tools to purchase first, which tools not to purchase, how first hand and power tools work, how to clean and maintain them, how to avoid injury, and how to build necessary woodworking skills with well-diagrammed, detailed exercises. The beginning woodworking projects, explained in detail, fill practical needs such as a sawhorse, basic workbench, and table-saw accessories. Readers not only learn simple woodworking techniques but also end up with a fully configured workshop.
Sale
"Hammer Head: The Making of a Carpenter" — Nina MacLaughlin

This is the story of a young woman who quit her desk job to become a carpenter. Nina MacLaughlin describes the joy and frustrations of making things by hand. "Hammer Head" is filled with the wisdom of writers from Ovid to Mary Oliver and MacLaughlin's memorable accounts of her unforgettable teacher, working with wood, and unfamiliar tools. This is a passionate book full of hard work, bashed thumbs, sweat, and the importance of finding real sense in work and life. Anyone who has ever been dreaming of changing tracks will find this book inspiring and warm.
Sale
"Good Clean Fun: Misadventures in Sawdust at Offerman Woodshop" — Nick Offerman
In this book, you will get a variety of projects for every skill level. "Good Clean Fun" provides a step-by-step introduction to all aspects of woodworking, including instructions by the OWS woodworkers that are easy to follow; and, what's more, this teaching is augmented by mouth-watering color photos (the author calls it "wood porn"). Nick is also offering recipes for both comestibles and mirth, humorous essays, odes to his insights into the ethos of woodworking in the USA, woodworking heroes, and another assorted tomfoolery.
Sale
"The Why & How of Woodworking: A Simple Approach to Making Meaningful Work" — Michael Pekovich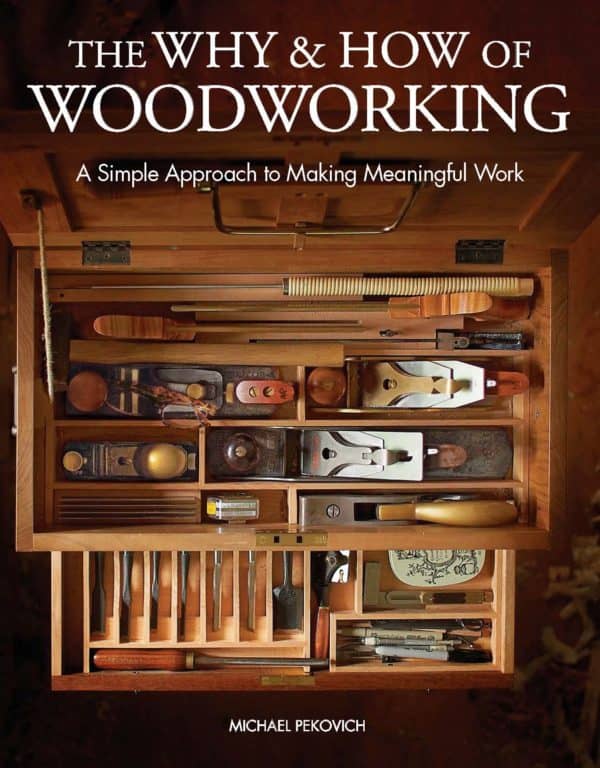 This comprehensive woodworking bible delves into the nature of wood and how its structure affects strength, workability, and other characteristics. We can see here how it shines a light on fundamentals like drying, bending, machining,  joining, gluing, and sanding, often accompanied by stunning macro photographs that zoom you into the meat of the matter. "The Why and How of Woodworking" explains the "hows" and "whys" after busting many long-standing myths and offers instructions on selecting and applying a wide variety of finishes.
"Animated Animal Toys in Wood" — David Wakefield
You are going to have a lot of fun if you start to learn woodworking with this piece of art. "Animated Animal Toys in Wood" helps you to choose among 20 projects that walk, wobble, and roll! Discover more with patterns and directions for making dinosaurs, sharks, ducks, turtles, wolves, frogs, hippos, dogs, and many more for you and your kids.
Final Words
We hope that these tangible takeaways in our book list will help you improve your skills in woodworking. The art of woodworking is a new way of making toys, designing furniture, upcycling, recycling, and gardening, which appears in many areas of our lives and creates comfort in our homes.