Winter is here, instead of buying a ready-made log shed, you may prefer to build it out of pallets. A wood store will provide ideal storage for your firewood to keep them tidy, dry and well ventilated.
If you start this project, remember to build one large enough to store at least one full load of logs. Another advice is also to consider dividing your logs into two different sections – one for seasoned wood ready to use and the other one with wood that requires further seasoning.
Beside the pleasure to build it, you can easily save several hundred dollars/euros/etc… Since log sheds can be found in this price range. Using 1 to 30 pallets, depending on the size of your log shed, here are below the best inspirations we found, with the links to sources when possible.
Log shed made out of 3 pallets
Log shed made out of 6 pallets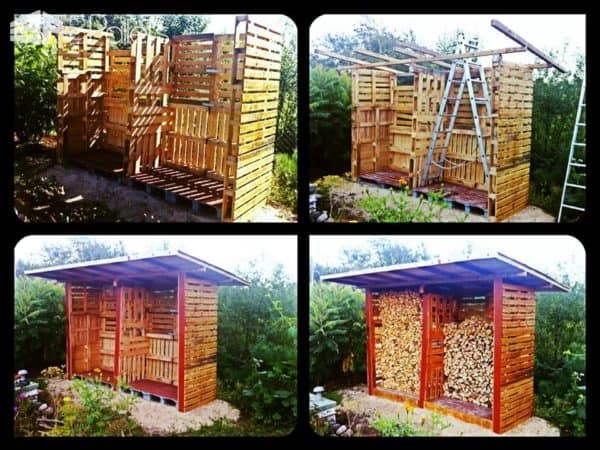 Firewood shed built from 21 Pallets + 3 OSB sheets. Roofing old ads banner. Total price $60.00 (not including paint).
Small Log Store and directions to make it
Simple blue painted log shed (source)
The pallet tardis firewood box, the most stylish firewood box out there!
Pallet garden shed for firewood made from repurposed wooden pallets.
Not a shed but a lovely firewood storage made from pallet wood!