This Spooky Pallet Lamp Trio, Scary Pallet Signs project was all made with reused pallets from a business nearby in Quebec city. I had lots of fun doing my lamps and scary signs for Halloween!
Spooky Pallet Lamp Trio, Scary Pallet Signs – the lamps
The lamps are all similar. First, I cut two pieces of deck boards to the length I wanted for the top and bottom. Next, I cut four boards for the sides of the lamp. Then I carved three different faces on one board from each lamp. I installed the four boards, butt-joining them, and nailing them together. Additionally, I attached the bottom to the four sides with more nails from the bottom. Finally, I attached different branches onto the lids by nailing them in place from the underside. I finished them off with various paints and sealed them with varnish. We used simple LED tea lights instead of candles for safety reasons.
The signs
I mounted five pallet boards together by attaching them to a scrap piece of board at the top and bottom. I did this for each of the three signs. Then, I had fun carving a scary pumpkin-style face into the first pallet sign. Next, I added a  single board at an angle on the second two signs to create a top hat brim. I painted different faces on the second two signs. Finally, I built a stand out of pallets for the third sign so I could place it prominently in my front yard. I applied varnish to seal the pieces.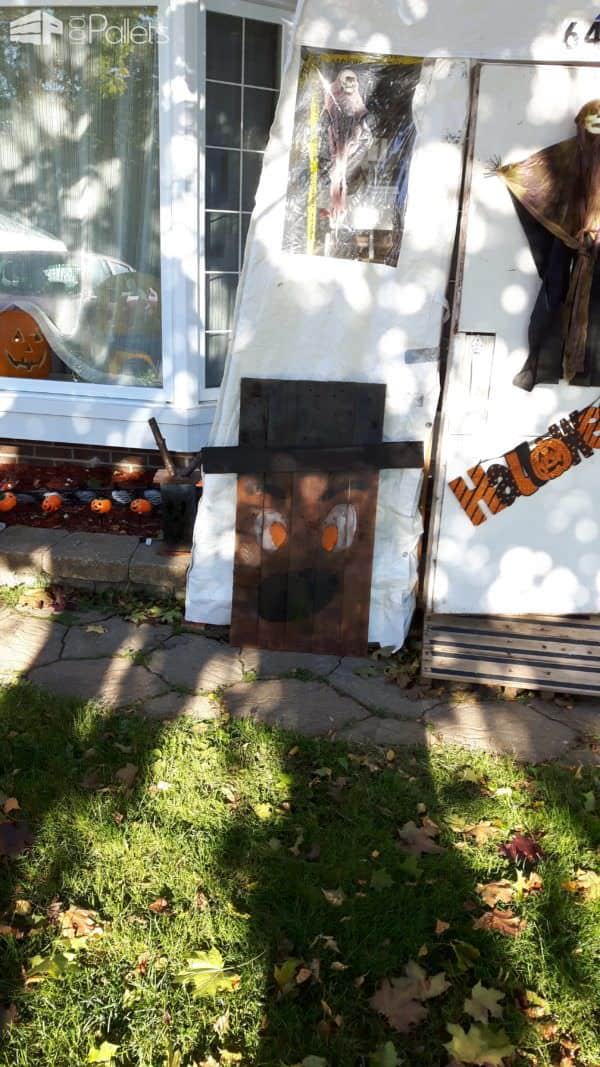 See these amazing Halloween pallet ideas for even more inspiration!