We only present projects made from repurposed wood pallets here, but what about plastic pallets? We see more and more of these types of pallets, and a question raised when seeing a plastic pallet is, could I reuse it, and what can I do with it?
Plastic pallet, what is it?
The plastic pallet is a plastic shipping pallet designed to rationalize the industrial handling, storage, and transport of goods. The usage is the same as the wood pallet; it is the plastic version of the wooden pallet.
Plastic pallets are the fastest growing alternative to wood pallets.
Plastic pallet, what is made of?
The plastic pallet is generally made of high-density polyethylene (HDPE) or polypropylene (PP). So more or less the plastic pallet is coming from petrol… It can also be made from recycled and recyclable plastic.
Plastic pallet, how it is made?
The pallet is a compact molded form manufactured mainly by high-pressure injection molding. It is carried out on huge injection molding machines with a closing force of at least 3,000 tonnes.
What are the advantages of plastic pallet vs wood pallet?
The main advantages of the plastic pallets vs wood pallets in relation to its original use are:
Waterproof, resistant to bacterial contamination, and does not absorb humidity ideal for food, paper, pharmaceuticals, and cement. The smooth surface of plastic pallets can be easily and thoroughly cleaned between usage. Plastic pallets are perfect for industries with regulatory and hygiene requirements such as pharmaceuticals and food and beverage.
increases handling safety because it is free of splinters, nails, screws, or chipping,
is lighter, which makes handling easier and reduces transport costs: about 6 kilograms for plastic compared to about 20 kilograms for wood,
Nestability: they allow a higher empty stacking – 45 pallets for plastic against 15 pallets for wood, saving precious space in a warehouse,
allows for a higher estimated number of rotations before scrap: about 20 for plastic versus about 8 for wood,
Long useful life (more than 10-year lifespan), 100% recyclable and can be ground up and turned back into a new pallet,
Usable in all climate conditions,
Resistant to acids, alkalis, fats, solvents, and odors,
Resistant to stress and shock,
Naturally, ISPM 15 compliant: can be used for domestic and export pallets overseas due to no interruption in delivery due to timber pallet regulation.
Cost-effective: as they are lighter than wooden pallets, freight rates are lower by road, sea, or air.
That's a bunch of advantages for the plastic pallets, but there also some disadvantages.
What are the disadvantages of plastic pallet vs wood pallet?
is more expensive to buy, in terms of price, durable plastic pallets often start in the $50 to $80 or more range while wood pallets begin in the $10 range for truckload quantities,
if plastic pallet cracks or breaks, repairs are not as simple because the material would have to be melted down and remolded,
Generally not suitable for storage on shelves.
So it looks like the shipping plastic pallet is the Holy Grail of the logistics and manufacturing companies… But the choice to use a plastic pallet over a wood pallet depends on the purpose of the pallet. If the pallet is used to ship goods overseas with a low chance of returning, the lightest and most economical cost alternative would be ideal. In this case, and considering the lower price of wood pallets, they will be preferred. However, if the purpose of the pallet is to be reused for multiple trips to the same stores or in your warehouse, the plastic pallet is a more economical choice, even if more expensive to buy.
Plastic pallet, are they good for DIY project?
Now that we have seen what a plastic pallet is, its advantages and disadvantages for the industry, the question we ask ourselves: Can I reuse plastic pallets for my DIY projects?
Let's get to the point; plastic pallets are much less convenient for DIYers to work with than wooden pallets. Indeed, these are not easily cut if you do not have the right tools, and they tend to break more easily. It is, therefore, much more difficult to use plastic pallets than wooden pallets for your DIY projects.
However, if you have recovered some plastic pallets, you can still use them as they are – i.e. without cutting – for some specific DIY projects.
Let's look at some examples of plastic pallet recycling we found.
Used to reconstruct building facade
Do you quickly need a permanent or temporary separation inside or outside your office? With the help of a whole stack of blue pallets, Berlin artists Anna Borgman and Candy Lenk from BORGMAN | LENK have created an installation for the Aquabit gallery in Berlin. There's even a sliding door! We think this is a very clever solution.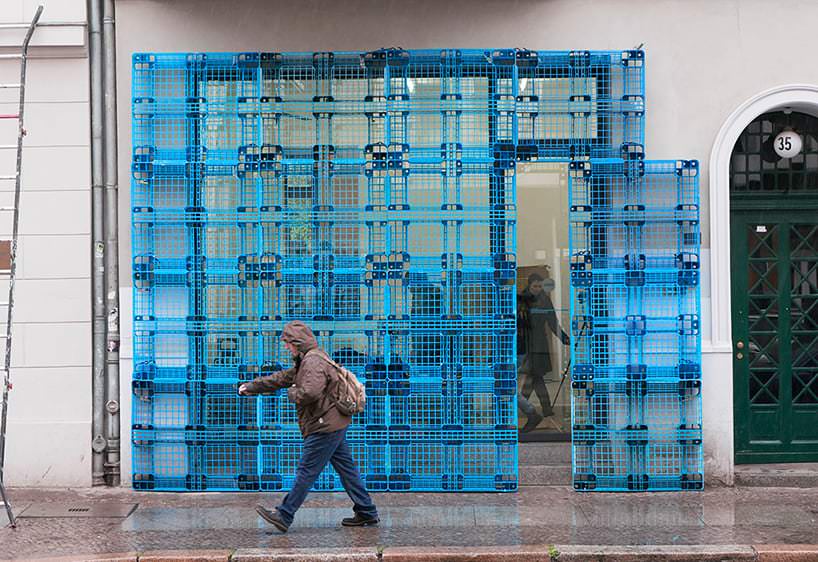 Used for a tectonic landscape
The tectonic landscape is the artificial landscape adapted to the exhibition space, Umi Hall, at the Daegu Art Museum in Korea. The new landscape consists of two- and three-dimensional layers, which contain the folded view of an overlapping natural landscape.
1,000 plastic pallets had been collected and formed in poetic space with different assembly logic for functional, spatial, and structural purposes. This work is the final version of consecutive pallet research that explored the relief with horizontal installation and the screen effects of vertical installation.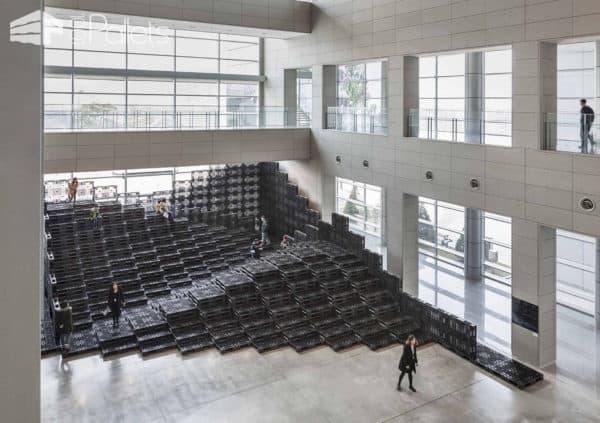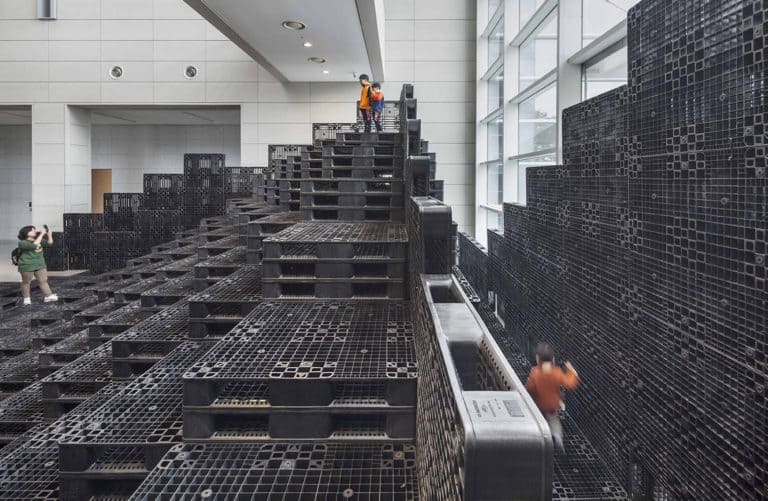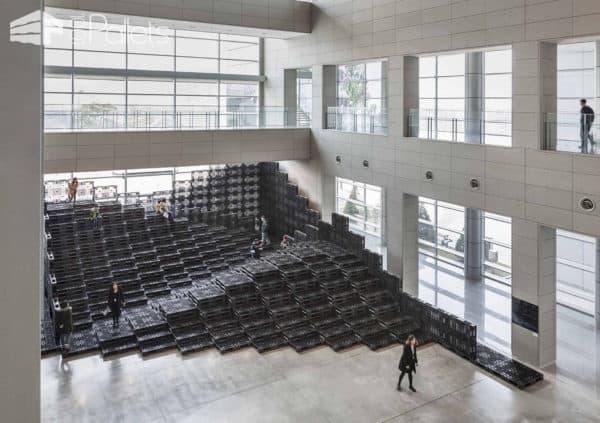 Plastic pallets as a deck for a patio
To build this deck, a total of 30 plastic pallets we used!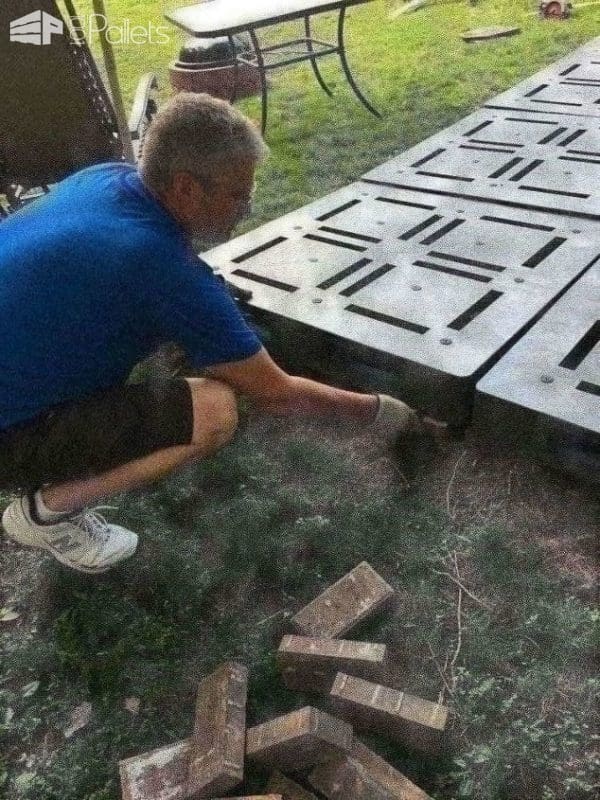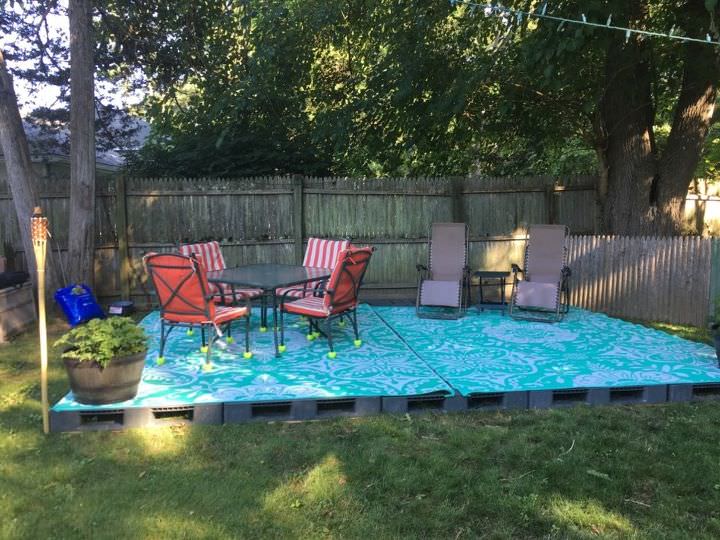 Garden bench from plastic pallets
This bench was made with the help of four plastic pallets, should be very quick and easy to assemble.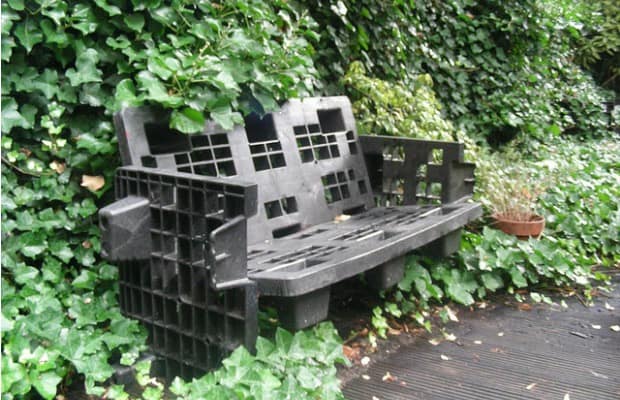 Plastic pallets raised floor
An inventive idea to use plastic pallets to built raised floors. In the living room, they are trendy after all, but not everyone has the time, the sense, and/or the financial means to install such a raised floor. Fortunately, with the help of a few plastic pallets, this is a lot quicker, simpler, and cheaper! Because plastic pallets are extremely sturdy, you can easily use them as a base for your raised floor. Lay a laminate or wooden floor over it, and then place your furniture on top of it. You can cover the side of your raised floor or leave it open so that the plastic pallets can still be seen. Choose your pallets in one color for a quiet result, or go for multiple colors to create some atmosphere in the living room!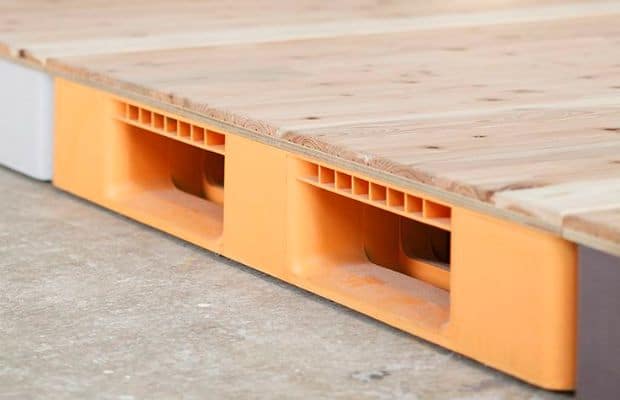 That's all we found as projects made from re-used plastic pallets! There are, therefore, very few projects made with plastic pallets. Plastic pallets are indeed much less easy to find than wooden pallets. Moreover, given their cost, logistics and manufacturing companies are careful not to lose them and recover them as much as possible for reuse as shipping pallets.
Have you made something with re-used plastic pallets, or have you found some ideas? Do not hesitate to share them with us; we are very curious about what people have made from plastic pallets!