I made this Pallet Wood Battle-torn Flag out of some scrap pallet wood deck boards. It features the natural split ends of some damaged pallet slats to simulate a tattered, battle-torn flag!
Use pallet scraps and damaged deck boards and make your own Pallet Wood Battle-Torn Flag!
This is a fun project to make, and uses those generally "unusable" boards with splits and broken ends. It highlights the rugged beauty of the damaged boards instead of just sending the boards to the landfill!  You can cut stars out of more scraps or purchase them from a hobby or craft center instead if you choose. I made this flag using six splintered boards. First, I very lightly sanded them, and trimmed up the edges of each board to make the width consistent and to provide for a tight fit. I attached them to a thin frame I built after fitting the edges tightly. You may need to gently hand-plane or sand the boards to fix any imperfections, or you can use fillers. I trimmed up the three sides with the table saw.
Use paint, stain, or a combination to obtain the level of color you want for your Pallet Wood Battle-Torn Flag!
Next, I stained the boards and after the stain was dry, I masked off the rows for the whitewash and blue fields. I applied the white and blue paints and allowed them to dry. In the meantime, I painted the stars white. When everything was dry, I glued the stars in place and then added a picture hanger onto the back of this piece.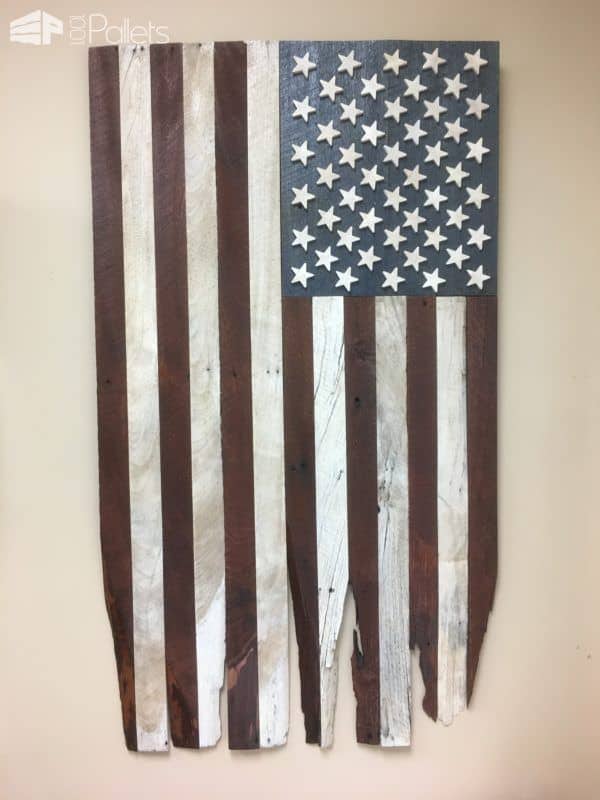 Make a set of Camo Party Chairs to go with this beautiful creation for your indoor or outdoor party decor! You can really show your patriotism with these Pallet Adirondack Chairs too!