Wooden pallets – as you may see by browsing this website – are used in a lot of different projects at home to make decorative pieces or to make furniture, wooden pallets could fit anywhere. All you need, it's some imagination, leisure time and a lot of fun. This time, we present you 25+ creative ways of recycling old wooden pallets into desks for your home office. Often, a single wood pallet is enough to realize a desk, but some of them are made from multiple pallets and looks like expensive, modern and design desks but, the truth is that they were built without spending too much money… they only needed times and inspiration from their crafters.
Check out these 25+ ideas below and inspire yourself for the future desk that you will surely make from a repurposed pallet, enjoy!
This pallet desk has a glass surface and looks very beautiful and clean. This desk fits conveniently into any modern home office.
This desk is made from recycled pallets. His work surface provides plenty of room to work. The interesting thing here is that the euro pallet has been disassembled first so that you can make the upper part.
Between the wood panels of this desk, there is enough space where you can store books or magazines. It consists entirely of a pallet and four wooden legs painted in red. (source)
Another option would be to remove the legs from the desk like this pendant pallet desk.
If you want a rustic style and worn, here is a desk for you!
Here's a neat idea for a simple looking desk with mounted rollers and a glass top, it is quite modern and unusual.
Have you many pallets to reuse? Then, you can build the most extensive working table and work with a large team.
It is a corner office from recycled pallets. Despite the pickling, the rustic appearance has retained.
Who said pallets weren't modern? Here is one of the easiest way to repurpose one single pallet for Nordic design. (source)
Design your desktop! First, make the palette clean by removing the color carefully. Then, you can mount the legs and attach them for stability.
It is an excellent conference table that fits perfectly for Office Use. Built of wooden pallets, this work table looks stylish and straightforward and contrasts to the rest of the decoration.
Here is another model of a small pallet desk with a glass top, which protects the wood surface.
With this small desk, we come up with the idea for cost savings. The brightly painted palette table fits very well to a nursery for example.
An unusual design for this stepped work tables. And so, you have a lot of space.
This desk is very convenient because of its attractive appearance and the extra space underneath.
Love the design of this unconventional pallet desk.
If you have imagination and a lot of old wooden pallets, you can experiment like this rustic looking desk!
This pallet desk idea is incredibly simple, space-saving, smart with its integrated bookshelves and economical. (source)
Pallet desk that is fixed on the wall and with a bookshelf, a good idea for those who don't have much space at home!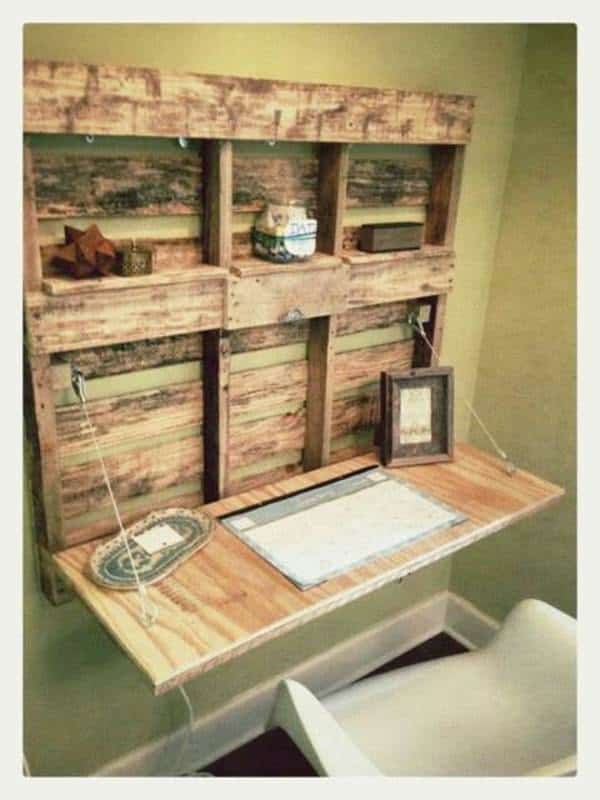 Desk made of four recycled wooden pallets.
Another saving space pallet desk! (source)
Another stepped pallet desk with it pallet stool. One side of the desk is directly fixed on the wall, which gives to this desk its modern style!
The desk can receive Computer, speaker & dry box suitable for photographers. (source)
Colored Pallet desk with a glass top and a magazine rack entirely made from recycled pallets! (source)
Writing desk for my house (or Office) made with recycled pallets wood. (source)
That's all folks for today! If you want more inspiration for your office from repurposed pallets, do not hesitate to visit our dedicated category! Have you made a desk from reclaimed pallets? Do not wait to share it with us; it will be a great pleasure to showcase it on 1001Pallets!