Today, we had the chance to ask some questions to Tim Steller, Crafter from Sarasota in Florida (USA) who specializes in making all kind of beautiful Artworks mainly from recycled wooden pallets; you can follow the work of Tim on its website: Steller Artworks. If you think you deserve to be featured in the next interview, please, drop us an email.
Tell us a little more about you? Who you are? Where are you from?
My name is Tim Steller and I am a 36-year-old pallet artist that lives in sunny Sarasota Florida. I enjoy my beach-style life with my lovely wife Ashley and my almost 3-year-old boy Camden. Along with our knucklehead dogs Angus & Maverick. They're goofy and lovable. Or for short we call them Gus and Rick.
Why do you craft?
I craft because, like most of us, I have an appreciation for wood and the characteristics it has and what it becomes. I love being able to look past pallet wood's original purpose and recreate something new. I also try to express myself with art into everything I make just to give it a new feel.
How did you learn to do wood crafts?
I learned to do wood crafts with a lot of trial and error techniques.  Actually, oddly enough, I got inspired from pumpkin carving. It's one of my favorite things. Then I remember, a long time ago, borrowing a friend's jigsaw and really got to know that machine so I went and bought my own and got to carving.
How long have you been working with pallets?
I've been working with pallets for about 2 years now and love them. They have the coolest, roughed-up look I can never recreate with chains or hammers. And when I find one by a dumpster it's even better because I know I'm giving it a better purpose.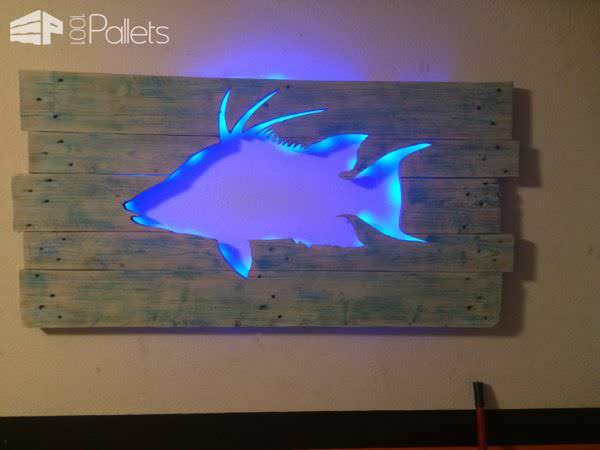 Why did you choose to work with pallets instead of purchased wood?
I prefer working with pallets for many reasons, but mostly because they already have wear and tear, and natural knots missing. Imperfections are perfect for me. I always try and keep the nail heads in my artwork to give it that raw look.
What are your can't-live-without essentials?
There's not a lot in my workshop I can't truly live without. My essentials list is short just because I hate being "attached" to any materials. But as far as for my work I can't go without my saws, power drill, hammer, crow bar, blowtorch, and sander. They're my hard workers. I also can't work without my wireless speaker. That's a must. But more importantly, my family keeps me going every day. They are my world.
Are there any brands that are your favorites?
For tool brands I love DeWalt, Rockwell and Black & Decker. For my wireless speaker, it's the JBL Flip.  It's the best out there.
How would you describe your crafting style?
My crafting style would have to be an "Island Lifestyle". I live by the beach and most of my artwork is sea life inspired. I have also done many custom pieces with other subject matter or styles, but I prefer the tropics.
Are there any crafters/artists/designers that you particularly look up to?
There are so many crafters out there that all inspire me to challenge myself and think outside the box and try to see things from different views. Too many artists to list but Dali has always been my artist I grew up studying and many tattoo artists that work with 3-D effects. It's amazing what they can do with a needle. Detail is the key to finer artwork.
Where do you do your wood crafts? How would you describe your workspace? How did you make your workspace more functional and/or inspiring?
I do all my wood crafting at my house. I converted my garage into my art gallery where I paint/stain and next to my garage is my car port that I use for my wood working. My workspace is not that typical as you will see everything from fine art to skulls on shelves and everything between. My work space is art to me. Organized confusion is the best way to describe it. I thrive on creative chaos. This makes everything so much easier, because everything I do is from my home. When I want to have family time, I just shut the garage doors, sweep up the car port, dust myself off and I rejoin my normal life.
What types of things inspire you?
Living down here in Southwest Florida, there is inspiration everywhere you look. You just have to be able to stop and look at it and appreciate it without feeling the necessity of taking a selfie to post up. It's just the lifestyle down here that I find inspiring. But I do also get inspired every time somebody says, "Wow, did you cut that out with a laser cutter?" Nope! Just my jigsaw and my hands made that piece.
Where do you look for inspiration for a new woodcraft?
I look at all kinds of artwork all the time and I get inspired from ideas and try to blend them. Also, a lot of times my clients from that past will order a new piece with a theme in mind and that will get me inspired/excited to try something new. Change is always fun.
When do you feel the most creative?
I guess I feel most creative late night, after the little one is down for the day. It's quiet, and I'm at peace. My toughest critic (besides myself) is my wife, but I'm glad of her input. It'll get me thinking of ideas – or rethinking them – and then the chemistry starts. I'll get the music playing and that's the perfect setting for creativity.
We live in such a mass-produced, buy-it-now society. Why should people continue to make things by hand?
One of my biggest selling features is that every piece is one-of-a-kind and can't be duplicated. But that's mostly because of the wood. They absorb differently and each has its own characteristics and that makes it unique. Just to know it was handpicked, broken apart, sanded, etc., is such a quality in itself. In other words you won't find my artwork on Amazon anytime soon.
What is your favorite medium to work in (other than pallets)?
I also love to work with other related arts such as sketching and painting but I I'm also a bartender at a busy marina where I get to be creative and use local ingredients to make some of the best cocktails in the SW Florida. This is a craft that is taking off around the world and I love being a part of that scene.
What are your tips for people who'd like to start crafting? What are your most important safety tips when woodworking?
Tips for beginners: Try to have fun and don't get discouraged with your first attempts. That's how you learn and the next will be that much better.  Also try to make a work space outside, not on your patio. The wood and tools will add up quickly and then your patio is a cluttered workshop with dust everywhere. Your other half won't be thrilled. Lastly be careful. Tearing apart a pallet is tough and dangerous, especially if you're using saws. Also, know your tools. Practice on something easy first. Pallets have split boards with sharp ends, large nails waiting to pierce you and they're heavy. If you can get that pallet home, then you're half way there. You can take apart an entire pallet with just a hammer. I've done that. But you can also learn dismantling techniques with saws, but once again, be CAREFUL! Watch some YouTube first.
What is your guilty pleasure?
Guilty pleasures would have to be collecting abstract art, my weird skull collection fascination, Halloween, horror films (old and new), Tattoos, loud music, Jeeps, boating, big dogs, and a few others.
What are some of your other hobbies or favorite things to do (other than crafting)?
A few hobbies I like to do are going to a certain beach with the family and collecting driftwood. I'm working on some cool table tops with using driftwood as the base.  Other hobbies would include football, basketball, and soccer to stay active.
What are some of your best tips for breaking down, prepping, and cleaning pallets before you build with them?
The first thing you need to know is if the pallet you found is free for the taking, or does the company recycle them?  If they do, you can't take that pallet. But there are plenty more around you can take. Next, make sure there are no chemical spills on it, like from a construction site. You don't want those. Once you break it apart you can either remove the nails by hammering them out in reverse or cut them off with a bolt cutter. Then it's time to sand. 80 grit works to get it down to smooth but finish with a 220.
Have you designed any special tools or jigs for wood crafts?
I don't have any hand-made tools I use but I have a variety of tools I use. I do like using my paints and stains for my projects and I make a lot of my own color combinations along with stain to give it a unique look. I try to imitate wood aging like barn wood or petrified wood.  I've used all kinds of brushes that I've made; even using an old sock!
What are some wood working skills you really want to learn?
There are endless skills you can use in wood crafting. This has been going on since the dawn of time, haha! I would like to start working with bamboo soon but that's an entirely different operation I need to learn.
What is the one project you're the proudest of so far?
I guess the piece I'm most proud of is my first one I ever made, which I still have. I have made many pieces that are hanging in million dollar homes as well as high-end restaurants and businesses and some of my favorites are the hammerhead shark, the hog fish, mermaid and the Marlin but my first one is my favorite. It's a very simple piece made of 7 boards with a song quote on it. I still think it's very cool.
What else would you like to share with the pallet community?
The one thing I can share is to keep thinking of the possibilities. Take a pallet and turn it around. You have a 6 shelf herb garden you can throw up on a wall outside. You don't need to hammer a thing. Just try looking at things from a different view. Pallets are adult-sized Legos for us to build with. The online fascination is growing each day and now people appreciate it because there's a story behind each one. Let's keep this movement going!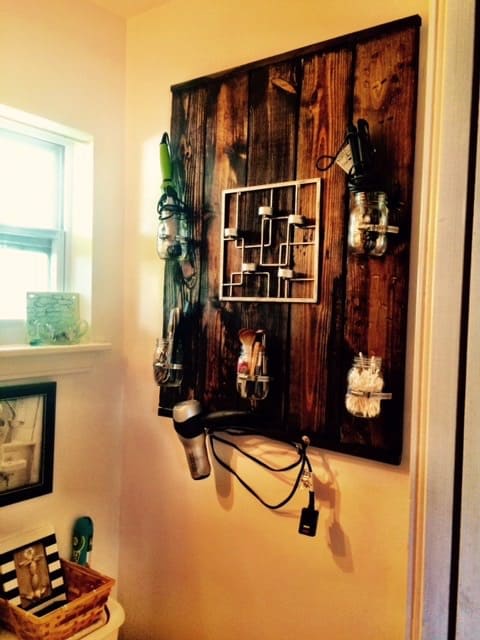 If you're ever in the Sarasota FL area, I am at the Siesta Key Farmers Market on Sundays displaying my art, and I would love to talk to you.
Editor's note: Thank you for your time and for sharing your story with us, and with our fellow Crafters. Your work is beautiful and inspiring to all of us, and we truly look forward to more from you in the future! Keep those gorgeous pieces coming!
Thanks Tim for this interview :)
To find more on Tim: Steller Artworks website.