Today, we had the chance to ask some questions to Robert Acosta, a Crafter from Stockton in California who specializes in making all kinds of furniture from recycled wooden pallets; you can follow the work of Robert on its Facebook Page: I'm not krazy I'm krafty. Robert suffers from a rare neurologic disease called Hemiplegic Migraines. Building crafts keep him feeling good and keeps his stress down. You will discover how Robert fights with his disease by crafting in this interview. If you think you deserve to be featured in the next interview, please, drop us an email.
Tell us a little more about you? Who you are? Where are you from?
Hi, my name is Robert Acosta born in Stockton California where I still live. I am married to a beautiful and smart woman and have 3 great kids. Working all my life as a mechanic and a salesman in the boating industry. In 2009 my life changed I had a stroke at the age of 39. It took me about 3 months to learn how to talk and a good month or so walking with a walker then a cane. About a month after my stroke, I started having these mini-strokes and after seeing many Doctors, Neuro's, and going to Stanford Hospital there was a Doctor that diagnosed me with Hemiplegic Migraines. This is a neuro disease that when having an attack it resembles a stroke. At any giving time or moment, I could have an attack. Due to this I cannot work. Being a man I took it very hard and got very depressed.
Why do you craft?
Due to my disease, I got into crafting to what I like to say keeping my "man card" and keeping my mind right. I started working in my garage with wood after my kids needed an under the bed dresser. I really have never done any kind of woodworking but said to myself I can build something. My issue is due to my stroke I really have a hard time reading and understanding woodworking plans. I can look at diagrams and pictures and build from there. Most of my work is from trial and error and very few plans.
How did you learn?
I pretty much taught myself how to build with wood and still learning techniques. From working in the boating industry I watched others working on the wooden boats and just figuring things out. I like to watch home channels as well which gives me ideas.
Since when are you working with pallets? Why do you choose to work with wooden pallets?
About 3 or 4 years ago I saw something on Facebook about how a guy made something from pallets. Since money was tight at that time buying wood was not in the budget so I thought well if he can do things out of pallets so can I. little did I know pallets are hard to come by. The grocery stores will not part with them. I always asked before just taking them and was told its actually stealing if caught taking from grocery stores. Finally found a place that gives them to me and my kid's school lets me have there's.
You suffer from Hemiplegic Migraines, how crafting help you to fight with this disease?
Suffering from Hemiplegic Migraines crafting as I said keeps my mind straight and just relaxes me. When I'm crafting I go to my garage put some music on and I don't think about what I can't do anymore but what I can do with my hands and wood. I tell myself every Moring in the mirror "I Got This".
Have you had to change how you do woodworking projects to accommodate your health issues?
There are times where if I feel tired or my head is starting to bother me I do need to put the tools down for a while. When I do have an attack I lose my whole left side and would not want to lose a limb lol.
What would you like to say to people who suffer like you from disease, what crafting could bring to them?
Suffering from a life-changing disease can be depressing but there is always something you can do, never give up. Crafting is something that brings my peace and independence again. So whatever you think you can't do just try it and say "I Got This".
How would you describe your style? Are there any crafters/artists/designers that you particularly look up to?
I really don't have a style other than I do like the rustic worn look, I just build it. The funny thing my wife will show me a picture and ask do you think you can build this. Hello yes, I can lol. She is my biggest inspiration and yes is behind most of my designs. She has the idea and I put together.
How is your workspace, how do you make it inspiring?
I do all my work in my garage and yes it is a mess but it is my mess. I have a 3 car garage one side sits our 67 mustangs the other side sits my utility trailer full of pallets and I have one section that houses my tools and projects. Love to have nice size workshop with all the latest tools but for now, I use old sears brand saws and lots of harbor freight tools nothing exciting but does the job. My dream workshop is to have a shop that when you open the shutters you look over the beach and ocean, so I painted a mural on my garage wall that gives me the feeling lol.
What sorts of things are inspiring you right now? Where do you look for inspiration?
Like I said my wife does a lot of inspiring, I also love to watch Fixer Upper with Chip and Joanne Gaines and Flea Market Flip on TV. Love the ideas and do use them for my projects.
When do you feel the most creative?
Feeling creative is kind of a pain sometimes, I can be walking thru the store and see something and say I can build that but would change this and that and make it do this, then start taking pictures of it and come home and put in my idea book.
We live in such a mass-produced, buy-it-now society. Why should people continue to make things by hand?
There is a lot of mass-produced furniture and décor out there and yes can be a lot cheaper than hand build. But there is nothing better than a piece built from someone with blood, sweat, and tears that they but their time and thought into. Plus most time better quality and with last longer than mass-produced.
What is your favorite medium to work in (other than pallets)?
Other than pallets I like to use knotty wood. I use common wood a lot due to the project I like to give the rustic old look. I have built a few things out of higher grade pine to give a clean look.
What are your tips for people who'd like to start pallet crafting?
Getting into pallet crafting just uses your imagination there is so much you can do if you just take a few minutes and think. Recycling wood is great and a lot of people appreciate the idea of recycling wood. Does take a lot of time, knuckle-busting, and lots of swearing but well worth it.
What is your guilty pleasure?
Some of my guilty pleasures are sitting watching car building shows, home channels, and drinking beer. Even thou I know I should get off the couch and do something there are times you just need to sit.
What is your favorite thing to do (other than crafting)?
Other than crafting I love to watch my kids play soccer and even coaching their team. Love to cook barbeque and smoked meats.
What project are you the proudest of so far? Why?
A few of my projects I'm proud of are my boy's closet doors, I did not use pallets but they came out pretty awesome. I made a chest out of pallets and added some cedar strips to give it a great smell. The kid's school had a crab feed so I make an Adirondack chair set and donated it. They auctioned it off and brought in $500.00. Also, my cousin wanted a balcony set for his condo that wasn't very big so I made an L shape bench and folding table all out of pallets.
What is one thing you'd like to add to your shop or tool collection? Why?
I would love to have a band saw added to my tools. I use ad jigsaw for most of my projects and clamping down to table cutting then having to move clamps to finish the cut. A band saw would be great just to cut the entire piece without stopping.
Looking back, what are things you would do differently on projects, or what do you feel are the most important things you've learned for future projects?
Looking back at earlier projects I really wouldn't change anything, to me that was my learning experience and it shows by how my projects have gotten better. Looking fwd. to future projects and seeing how different they come out.
Are there any safety tips or techniques that you feel the community should know – or maybe you wish you were told?
As far as prepping pallets for your projects, just remember to wear a dust mask. When pulling apart make sure the pieces with nails in them are turned pointed end down or put on your bench. You're going to get splinters so gloves are help all thou I don't like wearing them and some of the pallets are very heavy so if you need help lifting don't forget to ask. Nothing worse than wrenching your back and not being able to craft.
Anything else you would like to tell to pallet community?
I enjoy looking at all the projects people make from pallets; there are so many talented people out there. Keep up the creativity and be safe.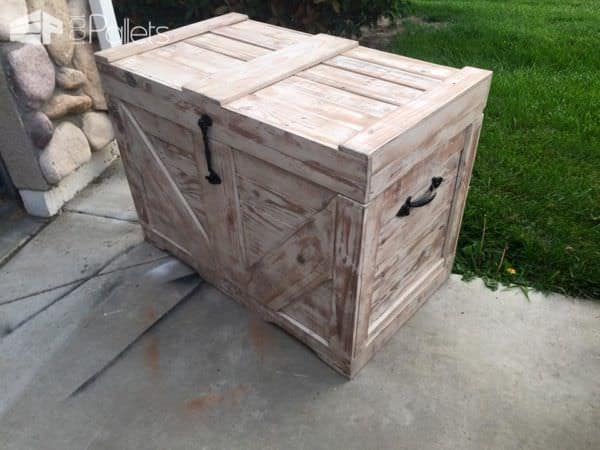 Thanks Robert for this interview :)
To find more on Robert: Facebook.