I consulted a lot of ideas on the Internet and then decide to make this Pallet Kids Bunk Beds with a built-in playhouse! This is my first time doing carpentry. I used two natural pallets, pallet stringers and 1×4″ boards. Additionally, I used 98 x 2000 x 1900 cm size bunk beds (my English is translated by google :) )
Have FUN and make your own version of this Pallet Kids Bunk Beds – and make the playhouse any style you wish!
First, you'll need several pallets. I'm estimating ten, but you may need more. I used two pallets on each end of the playhouse as sturdy structural components. Next, I connected the pallets along the bottom with 1×4″ boards, slightly wider than the bunk beds I had. I added vertical 1×4″ boards to the height of the playhouse and 2×4″ boards to make the upper bed frame supports. Then I filled in both the lower and upper bunk flooring and added more structural 1×4″ boards.
A bedroom to inspire the imagination! Make a Pallet Kids Bunk Beds and playhouse combo!
I framed out the walls and made a few windows for the kids to have fun in. The walls were covered with more deck boards. I trimmed out around the windows and added more framing supports for the beds. Finally, I sanded everything thoroughly and applied a light stain, followed by polyurethane. You can see the kids really enjoy it!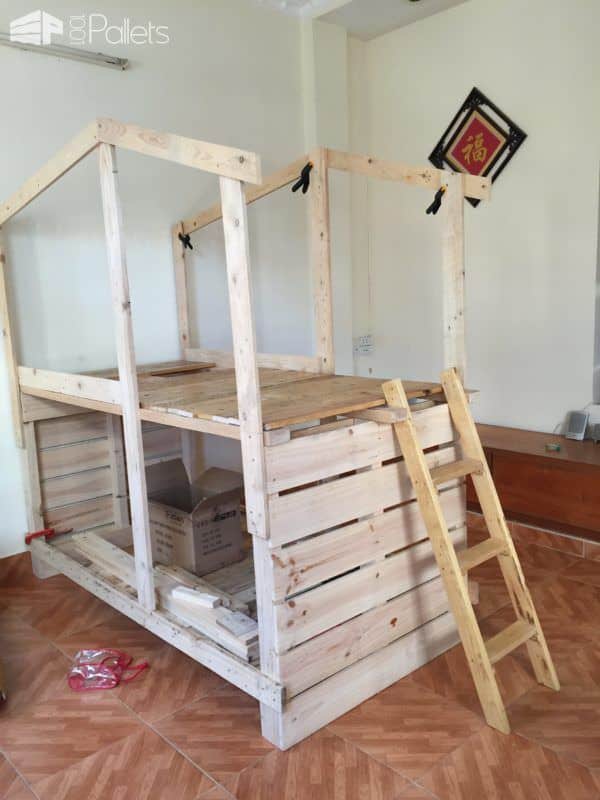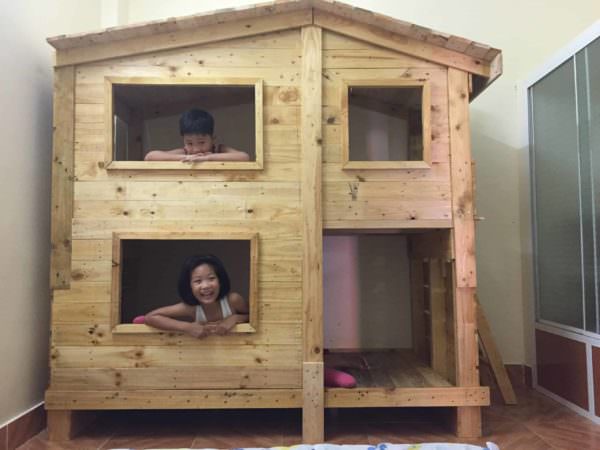 Terrific first effort – we cannot wait for more creations! Here's another fun idea for the kids!