We needed more prep space but didn't want to spend a lot. The obvious solution was to make our own Outdoor Pallet Kitchen Counter! What makes this project shine is the "new" surface I exposed on the deck boards. I used a vintage Rockwell 4″ jointer my sister found for me on Craigslist – for FREE.
Save money and gain space by making your own Outdoor Pallet Kitchen Counter from pallets!
I started with an extra-long pallet I acquired last year. I used Sarah James's method for breaking down pallets & removing nails.  First, I removed all the top pallet deck boards but left the frame connected. I planed them down and reinstalled them, fitting them tightly together to make a more cohesive top. I used outdoor brass star head screws for everything. Next, I used stringer boards from other pallets as the legs, side supports, and lower shelf supports. Then I covered the bottom shelf with more deck boards and secured it with the same hardware. I finished it off with a couple of coats of Linseed oil.
Transform a table into an Outdoor Pallet Kitchen Counter with a bit of hardware and a terra cotta planter!
I used a terra cotta planter as the sink basin. The PVC drain pipe happened to be the same size as the drain hole in the planter – talk about serendipity! I attach a drain hose to the sink to drain the gray water out to the lawn. We attach another garden hose to the spigot at the bottom of the fashioned faucet I created from space pipe fittings. I used Plumber's putty, Teflon tape, and PVC cement for various connections. We ❤️ our new outdoor kitchen counter. Final touches include a curtain rod & curtains to hide the lower shelf to store supplies out there if we want.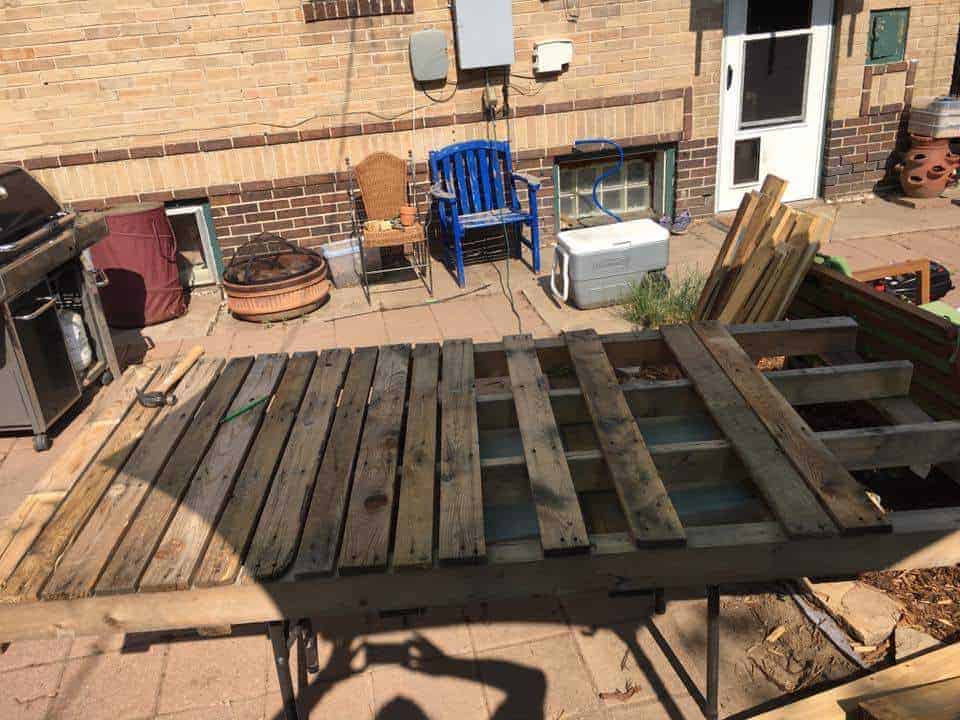 Doesn't everyone need a Viking Ship Fire Pit?