I created this pallet firewood storage cabinet after a long time trying out different solutions for firewood and kindling without ever being satisfied; I made the list of things that I wanted for this piece of furniture:
It must be easy to move (even when full) for cleaning

Compact

It must hold logs

Kindling and ignition aids should be readily available

It must be attractive

And of course, made from salvaged wood
Since my stove holds 33cm logs horizontally and 50cm vertically, the log door must be able to accept both. The area dedicated to logs is 55cm long and 35cm deep and 60cm high. The small wood part is 23.5cm wide by 30cm high and 35cm deep. We make two rows of small logs in front of each other. The remaining portion will be devoted to storage of ignition supplies, including matches and lighters out of sight.
Let's get started:
So here we go with two pallets of 1m x 1m20 dismantled for this project. The longest part was the preparation (planing, planing, and assembly of boards in trays via glued laminates). After I made the cuts, it took an hour for the build and the same for the finishes. Nothing complicated at the assembly, just screws and pocket hole. This piece of furniture is more of a meticulous job than a real technical job. The result seems pleasant to me anyway.
It has multiple functions – adapts the idea for your needs!
Read: Find firewood for sale
Range Buches En Bois De Palettes: Après avoir longtemps testés différentes solutions pour le rangement des buches et du petits bois, sans jamais être satisfait, j'ai dressé la liste des choses que
je voulais pour ce meuble

Il devait :

– Etre Facile à bouger, même chargé (pour le nettoyage)
– Peu encombrant
– Les buches, le bois d'allumage et les aides à l'allumage devaient être directement à portée de main
– Il devait être beau
– Et bien évidemment en bois de récupération.

Etant donné que mon poêle accepte les buches de 33 à l'horizontal et les 50 à la vertical, le porte buche doit être capable d'accepter les deux. la zone dédiée au buches fait donc 55cm de longueur sur 35cm de profondeur sur 60cm de haut. la partie petit bois fait 23,5 cm de large sur 30 de haut sur 35 cm de profondeur (on peut faire deux rangée de petits bois l'une devant l'autre). La partie restante sera consacrée à l'aide à l'allumage (allumettes + allumes feu). ces derniers étant peu esthétiques, ils seront cachés derrière une porte.

Nous voilà donc parti avec deux palettes de 1m x 1m20 démantelées pour ce projet. la partie la plus longue a été la préparation (dégauchissage, rabotage, et assemblage des planches en plateaux via lamellés collés). une fois les découpes faites, il a fallu une heure pour le montage et la même chose pour les finitions.

Rien de compliqué au niveau de l'assemblage, juste des vis et des pocket hole. Ce meuble est plus un travail de minutie qu'un vrai travail technique.

Le résultat me semble plaisant malgré tout.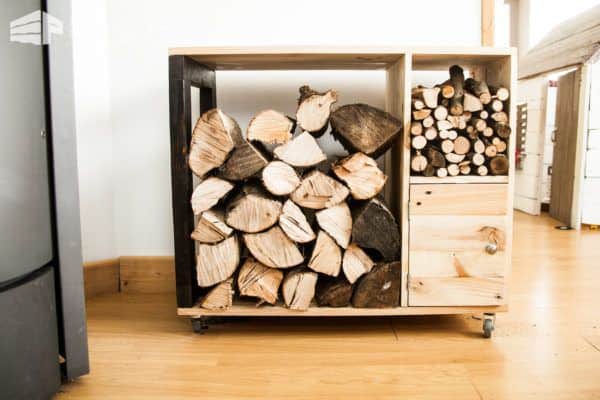 Turn wooden logs into a unique lamp! Create a cozy reading nook out of pallets.