I have wanted to make a new Pallet Computer Desk for some time to replace my undersized store-bought, low-quality desk. Additionally, I thought I would attempt my project with hand tools.
Make a Pallet Computer Desk for your home office!
This project has been a workout. With power tools, I think you could finish this project in a day. However, if you use hand tools exclusively, you must have the patience of a Zen Master. The longest part was cutting every board of the pallet wood planks, although drilling the holes took a very long time too! Come to think of it, the hand-sawing in general and overall assembly by hand took a long time!
This Pallet Computer Desk is also a design idea for a workbench or other work surface!
The measurements of my desk are 240cm x 70cm x 75cm tall, and 640mm from floor to frame to allow for leg clearance. Build whatever dimensions you like as my tutorial shows the process no matter what size you need. I drew up a diagram to show how all the parts go together. I use some photos and text in this tutorial, but I highly recommend watching the videos for detailed 'how to'.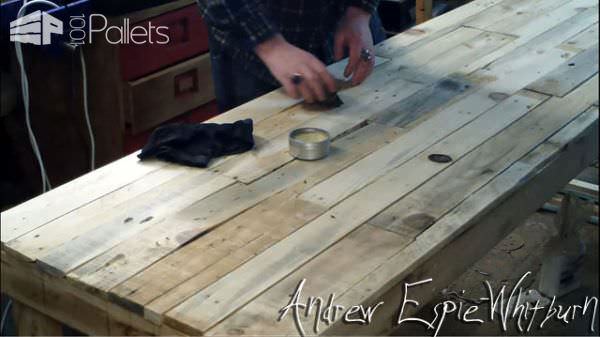 Make a Cardboard Laptop Stand!  Make Upcycled Desk Decorations!