Since I already built a bedroom set for my daughter, I made this Boy's Pallet Bed for my son! I wanted to try a modern approach, so I decided to create everything by glued laminate.
Use creative techniques on your pallet projects like what was used on this Boy's Pallet Bed
I made the box spring using a pallet measuring 260 x 120cm. I cut it down to cut in 200 x 90cm. Then, I made the headboard and the footboard using two glued laminated panels made from pallet wood. The sides are made in the same way, and the boards of finishes are boards recovered in a garden center. The barriers were when it was added later, following a fall of its owner. The only things bought here are the casters (including two with brakes to block the bed). I made the remaining parts of the bed with reclaimed materials. I spent more or less 20h spread over one month.
Comme je l'avais déjà fait pour les deux ans de ma fille (visible dans mes précédentes publications), j'ai créé cette fois ci un lit pour les deux ans de mon fils. J'ai voulu tester ici une approche + moderne. j'ai donc décidé de tout créer par lamellé collé.

Le sommier a été créé a partir d'une palette de 260 x 120 découpée en 200×90. la tête et le pied de lit sont quand eux deux panneaux de lamellé collé réalisés à partir de bois de palettes, les côtés latéraux sont fait de la même façon et les planches de finitions sont des planches récupéré dans une jardinerie.

Les barrières ont été quand a elle rajoutées par après, suite a une chute de son propriétaire.

Les seules choses achetées ici sont les roulettes (dont deux avec des freins pour pouvoir bloquer le lit). Le reste a été fait avec de la récupération. J'y ai passé plus ou moins 20h réparti sur 1 mois.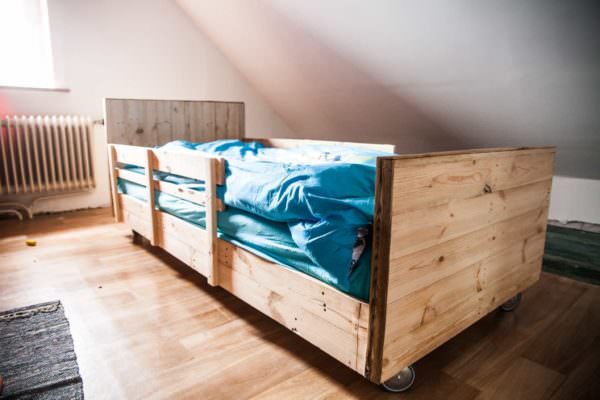 Beautifully done! But it won't be long before you need to think about Teenager's Bedroom Pallet Furniture! Use a Ladder to create Up Storage in your Kitchen!