This is so far my ultimate pallet project – a Creative Pallet Living Room Set! A friend gave me a few ideas and asked me to build her a living room set. Rustic! Yes! She needed a 70″ long entertainment center with an area for storage on each side and two shelves in the center.
Creative Pallet Living Room Set – Entertainment Center With Two Doors:
We used eight new pine 2x4s to build the frame. I used approximately 15 pallets to make the shelving and the outside boards. I used another pallet to make the doors. First, I recessed a slot into the framing to place expanded metal in for a more "rustic" look. I salvaged the metal from a trailer. No artificial rusting process was needed since it was already aged. I had some scrap copper sheeting that I cut and shaped to add a little more decor to the doors. I sanded it down after assembly. Then I applied a coating of homemade black tea stain using black tea, vinegar, hydrogen peroxide and steel wool to age the wood.
Creative Pallet Living Room Set – Coffee Table:
The design of the coffee table she wanted was specific. She wanted a wine crate style coffee table. I used approximately one pallet per crate and made a total of 4 of them. Each is butted together to form a square which left a hole in the center. I turned the odd space into a floral holder or just an extra space to set stuff into out of the way neatly. Finally, I used the same tea stain after sanding.
Creative Pallet Living Room Set – End Tables:
My next part of the building was the end tables. I constructed them entirely from 2×4″ boards for the structure and top. Then I used 1×4″ boards six inches from the bottom just to increase the sturdiness of the tables. Also, they were sanded, and a tea stain applied to it as well.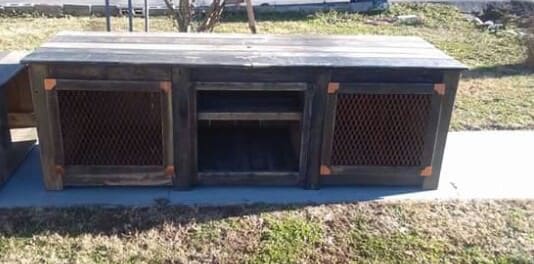 Great project, and great use of upcycled materials. For more ideas, check out this Project!