I made these sturdy little Cornwall Pallet Crates using upcycled pallets. They're a simple design, but very functional and sturdy, with a multitude of uses.
Have fun with custom stencils when you make your own set of Cornwall Pallet Crates!
You don't even need a full pallet to make these clever little wooden crates. You can use scraps and cutoffs! Involve the family and have the kids hand paint or help with the stencil process.
This is what I've used to build these crates:
4 pieces 12.5 inches x 2.5 inches for the sides,
3 pieces 12.5 inches x 2.5 inches for the base,
4 pieces 6.5 inches x 2.5 inches for the ends,
4 pieces 1″ x 1″ for the inside corner supports,
4 x 40mm wood screws
Method: Sand all the pieces smooth using 60 grit. Pre-drill holes in all 7 pieces that are 12.5 inches – 2 holes each end. Then it's just a matter of making to "frames". Place on from on top of the other – insert corner supports into each corner – leaving a space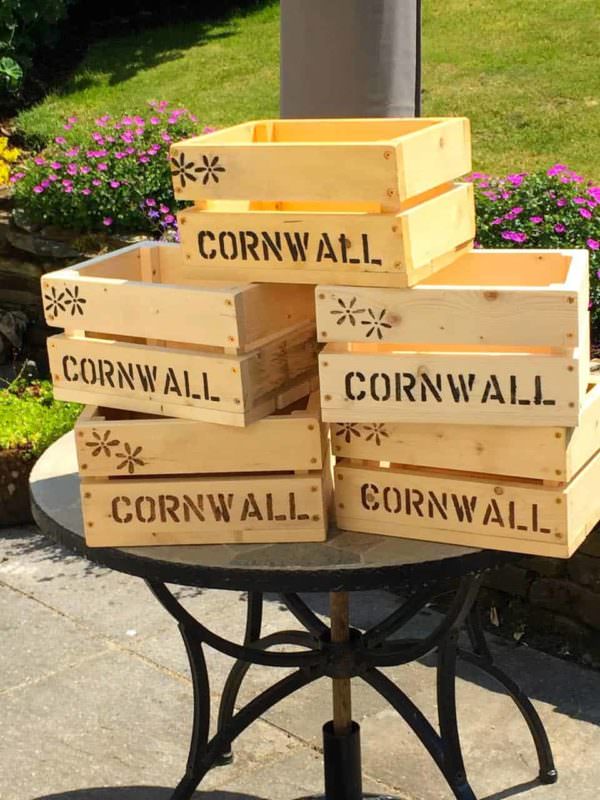 These boxes would be amazing organization and storage behind your own custom Car Bar! Create more functional space with this King-Size Loft & Ladder from Pallet Wood.