I made these Children's Pallet Picnic Tables to be 44″ long and 48″ wide from the outside of the seats. They stand 24″ off the ground with the seats 12″ from the ground. The tabletop, seats, and braces are made from recycled pallets. I used 3″ carriage bolts and 2 1/2″ wood screws.
Children's Pallet Picnic Tables create fun play spaces and handy overflow seating for family gatherings! Make your own today!
Make a picnic table that'll make your kids squeal with delight! There's nothing better to a child than having furniture sized just for them. It creates a bit of magic and inspiration. Plus, have them help you with the build – with staining or painting, or even sanding. Just be sure to supervise your little ones. We want to see another generation of Pallet Crafters! If you make your own design, please submit it!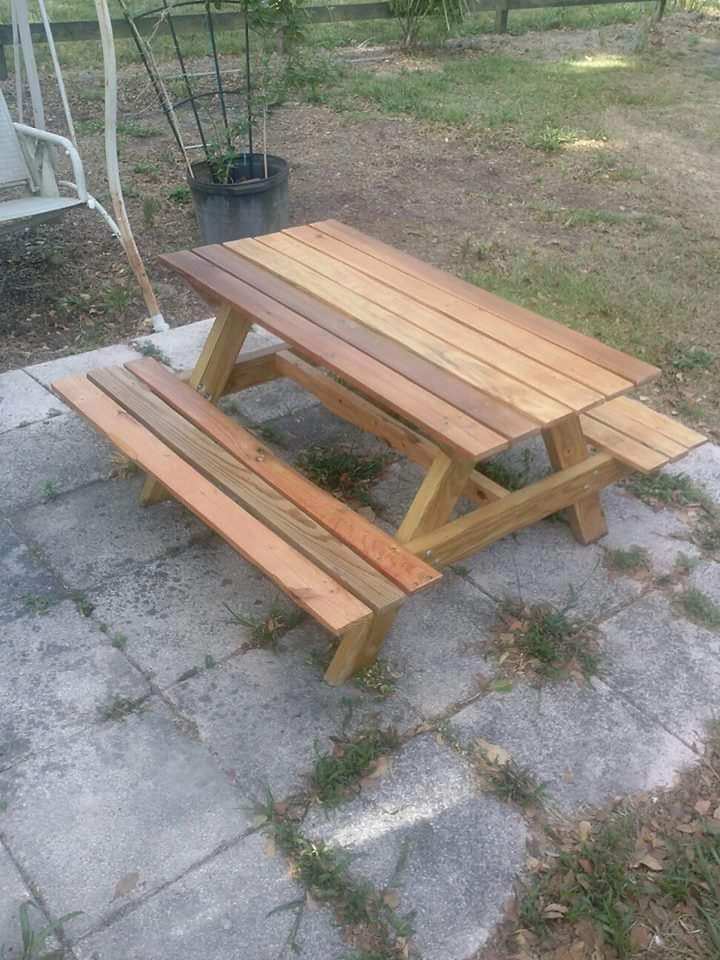 If you want to have some more fun, have the kids paint their own custom designs. Then, seal it to protect their artwork or years to come! Although there are no drawings or cut list for this project, we've found you a similar idea for DIY Children's Pallet Benches at a great blog site called DIY Needles and Nails. They provide a handy set of plans that will explain how to build it. Adapt the measurements to your children's needs. Now that you've made a bench, how about a Kid's Playhouse? Get them to turn the electronics OFF and enjoy the outdoors more with these creative ideas!