Here is a pallet hidden desk I made only from repurposed pallet wood and some MDF. I hope it will inspire other people to build the same.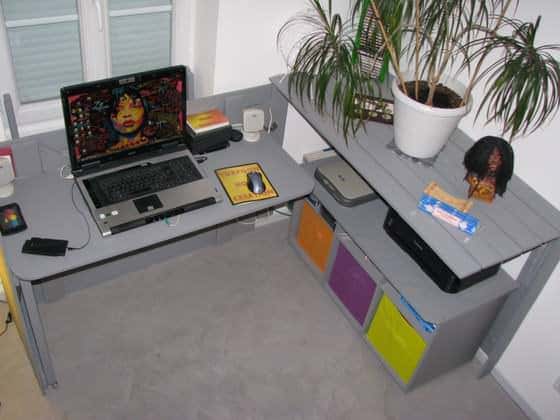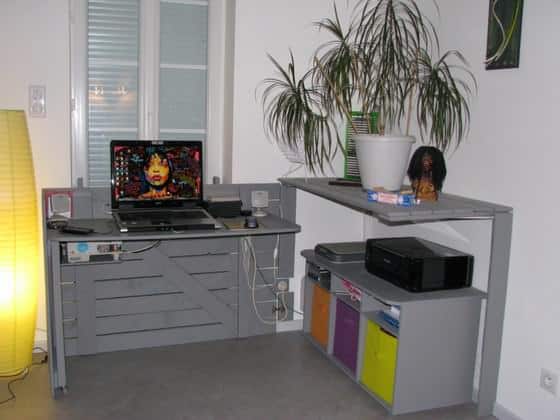 Following the success of this post, here is the tutorial to do it (Available at "Le coin des bricoleurs").
DOWNLOAD YOUR FREE PDF TUTORIAL!
Assembly of the different elements:
This desk consists of 3 different panels to build:
The first one is the upper tray, the one on top of the "box", which will accommodate a few decorative objects.
The 2 others will be assembled in L to support the desktop.
The assembly was carried out in the manner of "shutters", with a reinforcement in Z.
The boards used are battens, about 9 cm wide, and sold in length of 3m, for their lightness (a little more than 1cm thick).
Before the assembly step, I simply added a small layer of grey paint to match the other elements of the house…
Ce bureau est constitué de 3 différents panneaux à construire :
Le premier est le plateau supérieur, celui du dessus de la "boite" et qui viendra accueillir quelques objets de déco.
Les 2 autres seront assemblés en L pour venir supporter le plateau du bureau.
Le montage a été réalisé à la façon de "volets", avec un renfort en Z.
Les planches utilisées sont des voliges, d'environ 9 cm de large, et vendues en longueur de 3m, pour leur légèreté (un peu + d'1cm d'épaisseur).
Avant l'étape de montage j'ai simplement ajouté une petite couche de badigeon gris pour assortir le tout aux autres éléments de la maison…
The assembly can be done in 3 steps:
Place the upper tray on the wall using 2 cleats.
Assembly of the removable L-shaped part, and fixing of the worktop.
Junction of the 2 parts thanks to simple hinges + installation of the castors
You will see 2 small shelves hidden under the worktop, to accommodate the subwoofer for the speakers, as well as a multi-socket outlet for the various appliances… It fits with mini-cleats and a piece of wire!
Pour le montage, 3 étapes :
Le positionnement au mur du plateau supérieur à l'aide de 2 tasseaux.
L'assemblage de la partie amovible en L, et fixation du plan de travail.
Jonction des 2 parties grâce à de simples charnières + mise en place des roulettes
Vous verrez au passage 2 petites étagères dissimulées sous le plan de travail, pour venir accueillir le caisson de basse pour les enceintes, ainsi qu'une multiprise pour les différents branchements… Ca tient avec des mini-tasseaux et un morceau de fil de fer !
Assembly of the box (for the printer & paper):

This is an optional part and there is nothing very complex.
I made this small rectangular box in MDF, to store both small woven storage boxes, papers, and other odds and ends, but also to place my printer.
This one measures approximately 1m long for 40 cm depth, and of course, it is necessary to calculate the maximum height (printer included) so that this one passes under the tray of the desk when you close the box! To adapt according to your own equipment…
And it's mounted on wheels, so you can easily vacuum it underneath!
Alors là, c'est une partie facultative, il n'y a rien de bien compliqué.
J'ai réalisé ce petit caisson rectangulaire en MDF, pour y ranger à la fois des petites boites de rangement tissées, des papiers et autres bricoles, mais aussi pour y placer mon imprimante.
Celui-ci mesure environ 1m de long pour 40 cm de profondeur, et bien sûr il faut calculer la hauteur maximale (imprimante comprise) pour que celui-ci passe sous le plateau du bureau lorsque l'on referme la boite ! A adapter en fonction de son propre matériel…
Et il est monté sur roulettes, histoire de passer facilement un p'tit coup d'aspirateur en dessous !