I found three oversized pallets and turned them onto a Pallet Arbor with a 5-foot swing. These Pallets were 9,' and 12′ long by 5′ wide and each piece of wood was 3 1/2 to 4″ thick!
Find oversized pallets or upcycle old posts into an impressive Pallet Arbor and swing bench!
I don't have a power planer, so all planing is done by hand and on the table saw to get them as close to each other as possible. Nothing is perfect on my arbor, but that adds to the handmade charm. The arbor is 6′ 4″ tall and made entirely with wood from oversized pallets that I thought I was going to cut up for firewood. Next, I built the swing bench using regular-sized pallets, and they are either 4 or 5 feet. Previously I have done one 6′ swing, but it was a custom order for a client. I used a natural stain and seal. I try to keep the wood grain shown in all my work if the customer lets me. Typically, I only apply a UV-resistant outdoor sealer on unless requested otherwise. The only store-bought items are the hardware and some small decorative trim along the top.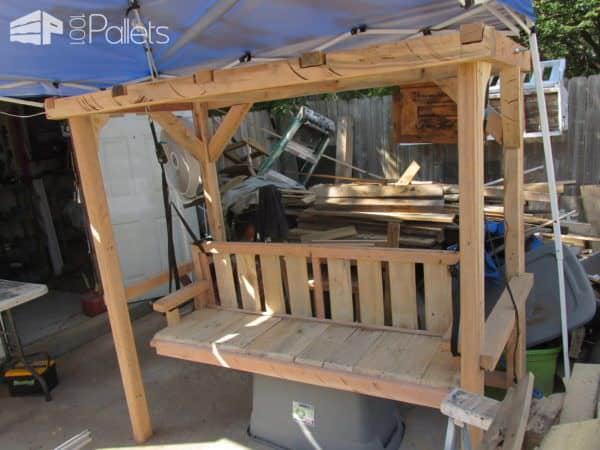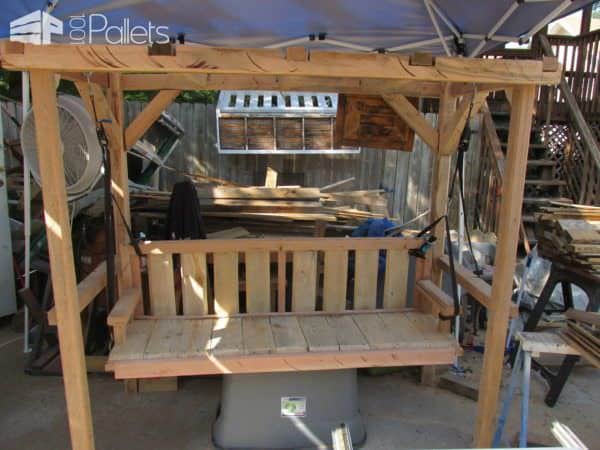 Turn wine bottles into industrial-chic sconces. Turn pallet scraps into sparkling stocking hangers!