Although the health benefits of growing food are numerous, there are times when people without access to a confined space for gardening. For those times, the perfect solution is to Create Your Own Pallet Garden! Pallets are flat transport structures that provide stability for handling and storing goods and are obvious to spot. With a few supplies and minimal skills, you can create a rustic pallet garden to hang flat on an indoor or outdoor wall.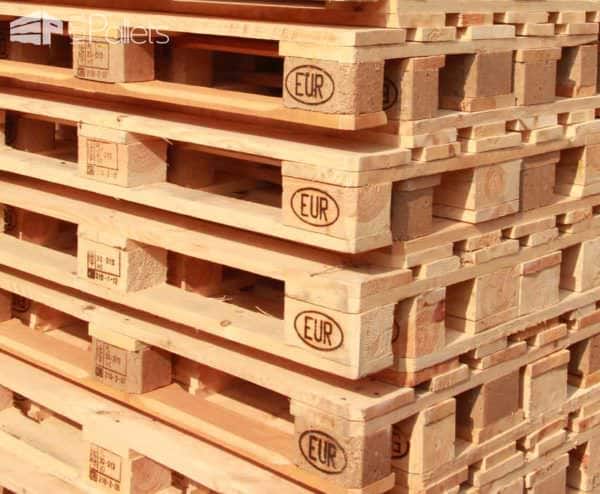 Gather the Supplies for your outdoor mini-oasis!
Instead of choosing outdoor garden planters, search for a clean pallet to refurbish from pressure-treated lumber, free from splinters, prongs, or stray nails. You can see our post on Pallet Safety if you have questions! You will also need:
four mounting brackets
landscape fabric
a staple gun
weather resistant screws (outdoor screws)
a drill
a thin sheet of plywood cut to cover the back of the pallet
Of course, you will also need potting soil and plants
Decide on the Placement!
Are your plants sun-worshippers or shy and like the shade? Plus, you need a sturdy place to secure the pallets!
After cleaning the pallet but before adding additional weight to it, a level is helpful for ensuring proper alignment. After choosing the ideal placement location, install the brackets for holding the pallet in place. Doing this first will allow you to slide the pallet between the mounting brackets and into place easily after adding the soil and plants.
Secure the Backing Material!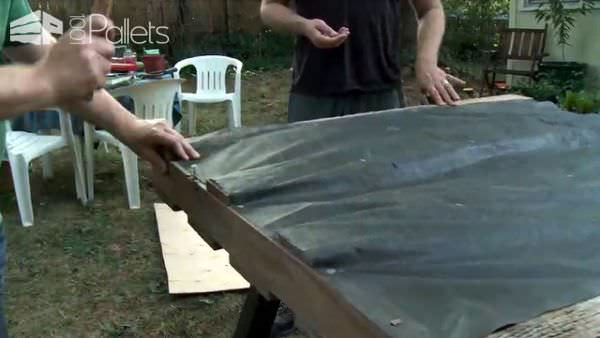 Place the pallet on a flat surface with the back facing up. Next, cut the fabric to size and cover the bottom. Pull the material taut and secure it with nails or staples.  A variety of pallets already has wood on the bottom, which helps prevent the soil from overflowing. If you prefer, just affix extra wood to the close the underside if a base piece is not already in place. Now is an excellent time to fasten a piece of plastic to create a waterproof barrier. Lastly, secure a thin piece of plywood over the cloth or plastic with nails or staples.
Plant Your Garden
Fresh veggies, herbs, or even flowers and succulents! Create Your Own Pallet Garden exactly the way you want!
After securing the fabric, you're ready to flip the pallet over and load it with high-quality potting soil. NOTE: Before planting, tilt the pallet nearly vertical to allow the dirt to settle. Continue to add soil until the pallet rows are full. Finally, pack your plants into your new pallet garden, positioning them, so their root balls are secure between the slats. After all the plants are in position, add additional soil if necessary. However, wait to add water. Otherwise, it will be tough to hang. When your plants are in place, slide the pallet garden into the wall brackets, and prepare to improve your overall well-being.
Caring for Your Pallet Garden
You've worked hard to Create Your Own Pallet Garden; now how to care for it for long-term enjoyment!
Now that your pallet garden is complete and in place, it is time to water the soil. Whether your garden contains greens, herbs, or edibles, continue to monitor it closely over the next few days, adding soil and water as necessary as the plants establish their roots and the dirt continues to settle. Water your garden frequently as the roots fill out because plants above the ground tend to dry out quickly.
WOW – looks like a lot of FUN and would be a terrific kids crafts idea! For more outdoor ideas, check this Planting Table out!