To make some more space in my utility room, I wanted to make a Tilt Out Pallet Garbage Bin. I wasn't sure if I could make it, so I started with a simple sketch.
Tilt-Out Pallet Garbage Bin – great for craft rooms, man caves, kitchens and more!
For the frame, I used some lumber 4.5cm  x 4.5cm, but all of the rest is just plain EPAL pallet wood. First I made the frame,  joining the corners with pocket holes. Cutting the boards of pallet wood to length for the back and side panels was not that difficult. I needed the cabinet to be 88cm high total, to be flush with the existing cabinet in my utility room. If the pallet wood is 2cm thick, the frame has to be 86 high… so I'll see.
Some handy assembly tips for this Tilt Out Pallet Garbage Bin:
Lesson learned: first make the front panel, with the hinges and horizontal support for the garbage bag. Then go ahead with closing the frame sides, back, and top panels. I managed to make it fit anyway, but it wasn't easy. I installed a little handle on the inside the be able to attach the bag, and a handle at the outside, so I can open it easily. Maybe next time I'll try to install an extra support somehow to hold the bag open at all times. Remembering a DIY video that explained you should use a little rope to make sure the front panel doesn't fall open all the way I copied that idea. The finish on the wood was done with Woodlover's teak-oil spray. I just like the color of it, and it makes the wood look really authentic. After all,  I think the result may be seen. It's far from perfection, not as flush as can be, not as right as can be, but that fits in the concept of using pallet wood I guess ;-)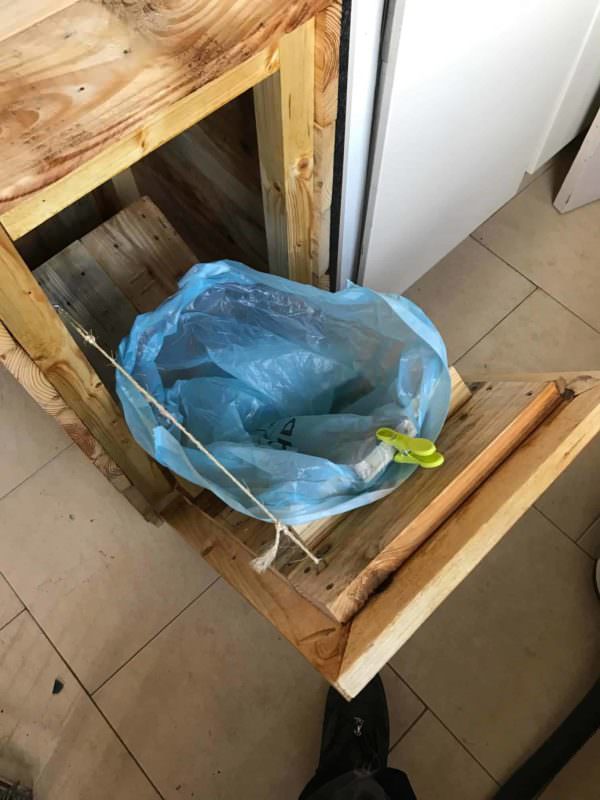 Nice job! Here's a Pallet Work Bench if you need more work surfaces!