I made this Pallet Living Room Set using about 15 pallets. I finished it out in Greek colors using good-quality exterior paint. It is a simple idea, but with a couple of things that I think set it apart.
Make your own Poolside Pallet Living Room Set, or use it anywhere you need a beautiful garden lounge set!
This set is composed of a long sofa, two loveseat-sized seats, and a roomy coffee table. I made the bottom portion of the sofa using six pallets. I stacked them two high and then secured them together with screws. Next, I stacked the three sets side-by-side and attached them with more deck boards. You can adapt the size to any length you want, and the easiest way is to cut them at a center stringer set, leaving sets of blocks intact. I filled in the gaps on the top deck with extra deck boards. You may have to trim some boards down to fit the way you want. To complete the side and back, separate the upper and lower decks, leaving the top deck intact. Secure those to the sides and back of your couch with more screws. Additionally, secure the sides to the back.
This Poolside Pallet Living Room Set is adaptable – and make it party-ready with a set of locking caster wheels!
To create the loveseats, repeat the process as listed for the sofa, use one stacked set of pallets, or cut them down further for individual chairs. Attach the sides and back like for the sofa and secure everything with screws.  The coffee table is also a stacked set of pallets, but to prevent hitting your legs on the pointy corners, I cut them down with a power saw. Round them over as much (or little) as you want. Finally, stain or paint everything (or seal it with an outdoor UV-resistant polyurethane or varnish), and add cushions to your liking!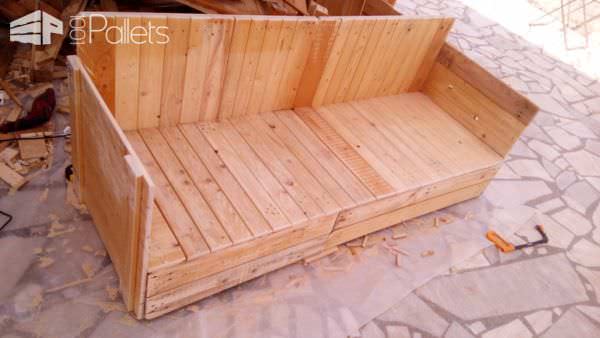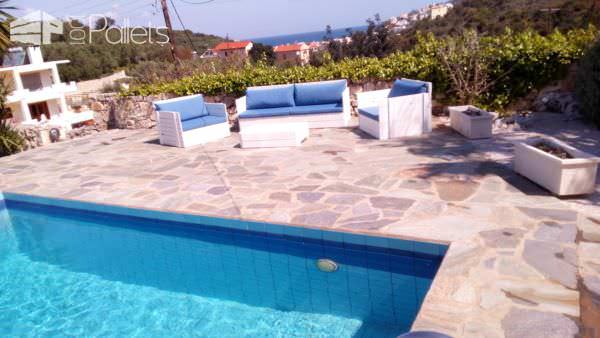 With a great sofa set like this, you'll need an excellent little Garden Shed to store the cushions over the winter!