We made this Deco Pallet Chest with three drawers and two open shelves that hold metal baskets. We used industrial-feel drawer pulls to complement the tone and accessories.
Use industrial drawer pulls to change the look of a Deco Pallet Chest
First, we assembled the basic structure of the chest, sanded and painted it with a first coat. Next, we installed the shelves and drawer supports. We sanded and painted those areas too. We used 1 cm thick melamine boards for the drawer bottoms, but everything else features upcycled lumber. After applying paint to the drawer faces, we lightly sanded them to give a weathered, worn effect. Finally, we sealed the piece with an application of clear satin varnish. Add industrial-style drawer pulls, and this project is complete.
This Industrial Deco Pallet Chest With Metal Baskets gives your loft a unique feel!
Pour commencer la structure est montée, poncée et mise en peinture avec une première couche. Les étagères et supports de tiroirs sont ensuite installés, poncés et reçoivent aussi une première couche de peinture. Alors les tiroirs sont assemblés, le fond de tiroir étant réalisé avec des planches mélaminés brut de 1 cm d'épaisseur. Les faces des tiroirs sont après peinture poncées pour donner un effet usé. Une fois l'ensemble peint le tout est recouvert par une couche de vernis satiné transparent.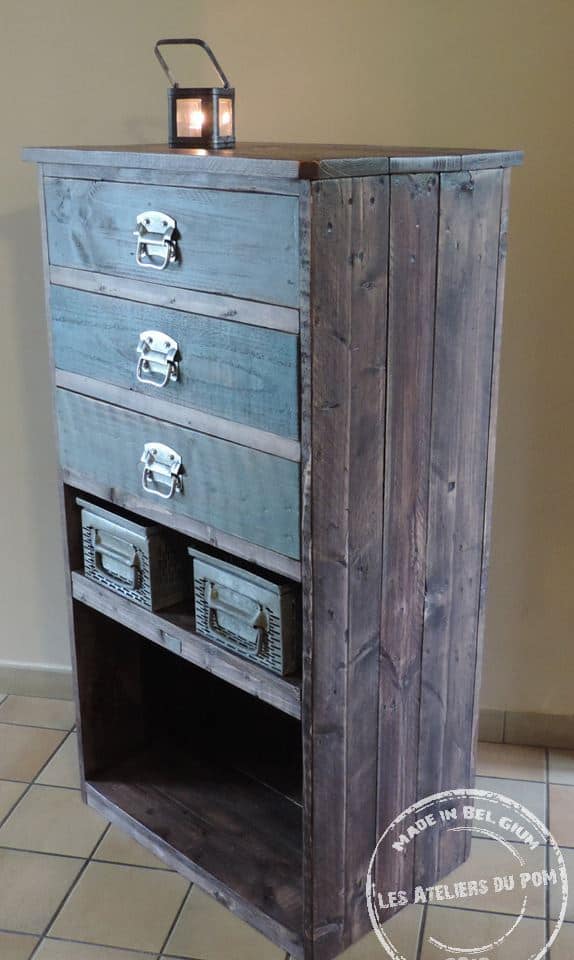 Make a custom Pallet Photo Clock!   Have you ever seen a Disposable Office?