The saying goes, "Happy wife; happy life." This is definitely true when you make her a set of these Adjustable Pallet Loungers!
Create comfortable, inviting outdoor living spaces with these Adjustable Pallet Loungers.
First, I broke down one industrial pallet and one regular pallet. I used the two extra-long pallet stringers from the industrial pallet to form the chaise lounge frame. They measured 76 ½". I cut and placed three 2×2's at 22" beginning at the bottom at a distance of 23 ½" to form the frame of my lounger. Next, I used some 2 x 2" pieces that I cut to 56 ½". I installed them to run along the inside of the beams as support for the deck boards. I measured and cut at 24 inches for my top. Then I screwed the 2 x 2"s to the inside of the support beams to add extra support for the outside plus I screwed in the deck boards to the frame, spacing them 1" apart until I reached the end of the 56 ½" long  2 x 2"s.
Making the extension armbar for the Adjustable Pallet Loungers
Next, I used the remaining deck boards and attached the 2 x 2" pieces to form the backrest.  I used two 3 ½" hinges and attached the backrest to the base of the lounger. I cut two pieces of 1 x 2"s 11 inches long to use for my extension arms that'll be part of the backrest support. Then another piece was cut at 21 1/2″ to be used as the lock bar for the backrest. I cut cleats into two 2 x 2"s to catch the lock bar and attached to each side of the top of the lounger base. I used 3 ½" carriage bolts in arm extensions. Finally, I painted the lounger with a good-quality exterior paint. I placed it poolside where one happy lady was glad to have a place to rest and recline while watching her grandchildren.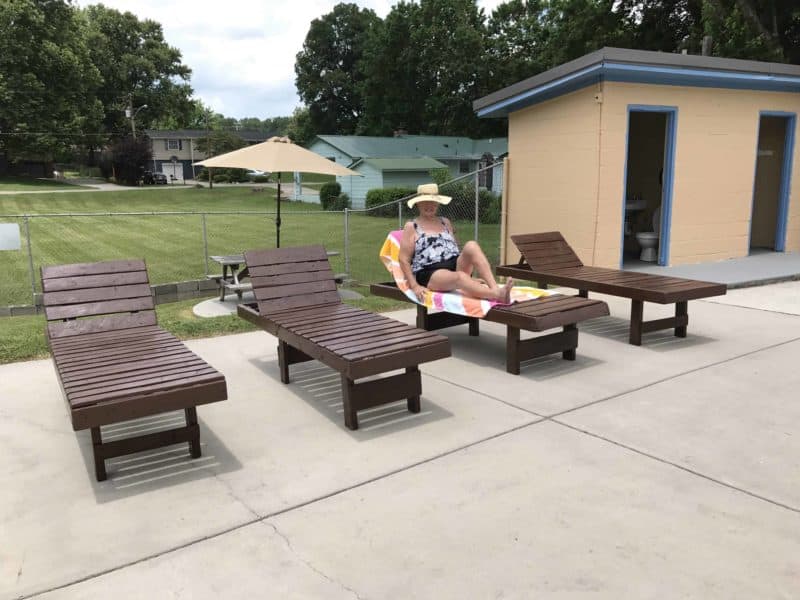 Now all you need is a Pallet Outdoor Shower setup to wash off after playing in the pool! Add some Kinetic Artwork to your home decor!