This adorable little Outdoor Pallet Lounge is the perfect small and flexible pallet lounge for the garden. Wheels on the pallets allow you to rearrange the sections quickly all over the garden.
Make a flexible and adorable Outdoor Pallet Lounge for your outdoor living areas too!
We used a Euro pallet and two smaller pallets. I built this project so that the backrest is removable. We made the seat rest using a small mattress and materials from a Swedish furniture store.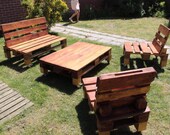 Lounge in palette EPAL 4 pieces
Living outside or inside out, sturdy, made EPAL pallet déclinable in several colors.This Lounge is made of a coffee table 120 * 80 a 120 * 80 bench 2 seats +/-60 * 80Can add wheels on each piece ...
Now check out these outrageous Upcycled Metal Sculptures!