What is the size of a standard pallet in the USA?
In the United States industry, the standard size wooden pallet is 48" x 40." The information below is simply a guideline for the most common pallets employed today. Of the top pallets used in The United States, the most popular is the Grocery Manufacturers' Association (GMA) pallet, which makes up about 30% of all new wood pallets produced in North America. The ISO also recognizes the GMA pallet footprint as one of its six standard sizes.
What is the size of a standard pallet in my region?
Do you know that the sizes of the pallets vary across regions in the world? If you live in America, there a lot of chance that the pallet you'll found will not have the same size as someone living in Europe or Australia for example. Even if pallet sizes vary considerably between the different countries in the world, much progress has been made regarding standardization and reusability. This was necessary as increased global trade necessitated the need for standard pallet dimensions which are now reflected in the ISO Pallet list. Of the many different pallet sizes available, the International Organization for Standardization (ISO) has approved six pallet dimensions which are now widely used around the globe, you can check the ISO Pallets Dimensions table below, but we also added the differents pallet sizes & dimensions available in the main geographical regions of the world.
North America Pallets Dimensions?
•

•

•

•

•

•

Dimensions, in (W x L)
Dimensions, mm(W x L)
Industries Using
48 × 40
1219

×

1016
Grocery as well as many other uses
42 × 42
1067

×

1067
Telecommunications and Paint
48 × 48
1219

×

1219
Drums
40″× 48
1016

×

1219
Military and Cement
48 × 42
1219

×

1067
Chemicals and Beverage
40 × 40
1016

×

1016
Dairy
48 × 45
1219

×

1143
Automotive
44 × 44
1118

×

1118
Drums and Chemicals
36 × 36
914

×

914
Beverage
48 × 36
1219

×

914
Beverage, Shingles, and Packaged Paper
35 × 45.5
889

×

1156
Military 1/2 ISO Container
48 × 20
1219

×

508
Retail
Australian Pallets Dimensions?
•

•

•

•

•

•

Dimensions, in (W × L)
Dimensions, mm (W x L)
Region Most Used
45.90 × 45.90
1165 x 1165
Australia, New Zealand
European Pallets Dimensions?
•

•

•

•

•

•

Dimensions, in (W x L)
Dimensions, mm(W x L)
EURO Pallet type
31.50 × 47.24
800 × 1,200
EUR, EUR 1
47.24 × 39.37
1,200 × 1,000
EUR 2
39.37 × 47.24
1,000 × 1,200
EUR 3
31.50 × 23.62
800 × 600
EUR 6
ISO Pallets Dimensions?
The International Organization for Standardization (ISO) sanctions six pallet measurements, detailed in ISO Standard 6780: Flat pallets for intercontinental materials handling-principal dimensions and tolerances.
•

•

•

•

•

•

Dimensions, in (W × L)
Dimensions, mm (W x L)
Region Most Used
48.00 × 40.00
1219 x 1016
North America
39.37 × 47.24
1000 x 1200
Europe, Asia
44.88 × 44.88
1140 x 1140
Australia
42.00 × 42.00
1067 x 1067
North America, Europe, Asia
43.30 × 43.30
1100 x 1100
Asia
31.50 × 47.24
800 x 600
Europe (fits many doorways)
Another Table with international sizes of pallets in millimeters:
•

•

•

•

•

•

•

•

Product name
L x W x H in mm
L x W x H in in
Major Countries Available
Timber Block Pallet North American Standard (48 x 40 inches)
1219 x 1016 x 141
48 x 40 x 5.55
USA, Italy, New Zealand
Wooden Pallet
1200 x 1000 x 162
47.24 x 39.37 x 6.38
Most European countries, Latin America, United Kingdom, India, New Zealand
Wooden & Metal Pallet
800 x 600 x 163
31.50 x 23.62 x 6.42
Most European countries, United Kingdom, South Africa
Wooden Pallet
800 x 600 x 166
31.50 x 23.62 x 6.53
France
Wooden Pallet – 3 Runner
1200 x 1200 x 154
47.24 x 47.24 x 6.06
India, China
Wooden Pallet – New Zealand standard
1200 x 1000 x 140
47.24 x 39.37 x 5.51
New Zealand
Perimeter Wooden Pallet
1200 x 1000 x 154
47.24 x 39.37 x 6.06
India, China
Timber Half Pallet
1220 x 508 x 128
47.24 x 20 x 5.04
Canada
Bearer Pallet
1200 x 1200 x 150
47.24 x 47.24 x 5.90
Namibia, South Africa
Bearer Pallet
1500 x 1200 x 176
59 x 47.24 x 6.13
Namibia, South Africa
Wooden Pallet
1200 x 800 x 144
47.24 x 31.50 x 5.67
Most European countries, United Kingdom, South Africa, India
Wooden Pallet – Australian Standard
1165 x 1165 x 150
45.87 x 45.87 x 5.90
Australia, New Zealand
Pallet Mercosur
1200 x 1000 x 145
47.24 x 39.37 x 5.71
USA, Argentina
Wooden Pallet
1000 x 600 x 162
39.37 x 23.62 x 6.38
France
Plastic Dolly
600 x 400 x 173
23.62 x 15.75 x 6.81
Austria, Switzerland
Plastic Pallet – New Zealand standard
1219 x 1016 x 144
48 x 40 x 5.67
New Zealand
Plastic Display Pallet
600 x 400 x 145
23.62 x 15.75 x 5.71
Most European countries
Plastic Display Pallet
1200 x 800 x 160
47.24 x 31.50 x 6.30
Belgium, Denmark, Finland, France, Germany, Ireland, Netherlands, Portugal, Spain, Sweden, United Kingdom
Blue Shield Plastic Pallet
1200 x 1000 x 150
47.24 x 39.37 x 5.90
China, Thailand, South Africa
Plastic Pallet – 3 Runner
1200 x 1000 x 150
47.24 x 39.37 x 5.90
China
Plastic Pallet
1165 x 1165 x 150
45.87 x 45.87 x 5.90
Australia
Automotive Pallet – US Standard
1166 x 1242 x 152
45.87 x 48.90 x 5.98
USA, Canada, Mexico
Automotive Half Pallet
100 x 600 x 144
3.93 x 23.62 x 5.67
Most European Countries, Brazil, Argentina
Automotive Pallet
1200 x 1000 x 144
47.24 x 39.37 x 5.67
Most European Countries, Brazil, Argentina
What is a pallet?
A pallet is a flat structure that is mainly used for shipping and transport of goods around the world. If you want to learn about why pallets are invented, do not hesitate to check our article on the history of pallets!
Pallets allow commercial goods to be shipped in a stable fashion by giving them support so pallet jacks, forklifts, front loaders and other jacking devices can lift them. If you are a professional and needs some advice on plans to buy your pallet jack, check out our article: "Everything You Need To Know Before Buying A Pallet Jack!."
Pallets allow for efficiencies in storage and handling. They can also be used in many creative ways when reused as we show you every day on this website! :)
Most pallets manufactured in the world are made of wood, but you can also find pallets that are made of:
plastic
metal
paper/cardboard
The different material based pallets:
THE WOODEN PALLET
This is by far the most common pallets. Here are some general information about wooden pallets:
In the USA, the standard size of wooden pallet is 48″ x 40.",
Typically, the wooden pallet consist of three of four stringers that support deck boards, on top of which the goods are placed,
Most of them are made from "waste" lumber, which may not look good for furniture grade wood, but are just as strong as good looking lumber,
Saddles foam and protective supports,
When made from "waste" lumber, they don't reduce natural foliage as no trees are cut to make them,
Timber pallets are reusable and recyclable; they can be reused in new pallets or beautiful objects if you follow all the ideas we provide at 1001Pallets for pallet recycling ;)
Pooled wood pallets are durable, cost effective and environmentally sustainable,
Cost-effective, reconditioning quality options are an advantage of wood pallets:

Grade #1A "Super" Heavy Duty Pallets: Hardwood construction, 5 bottom boards, for rackable pallets and one-way or return shipping,
Grade A: hardwood/softwood mix, 5 bottom boards, repaired with plates (no stringer inserts), for rackable pallets, and one-way or return shipping,
Grade B: hardwood/softwood mix, repaired with stringer inserts, for rackable pallets and one-way shipping.
Pallet wood is treated to be more durable and to protect it from insects. If you need more information on pallet safety, check out our article: "How To Tell If A Wood Pallet Is Safe For Reuse?"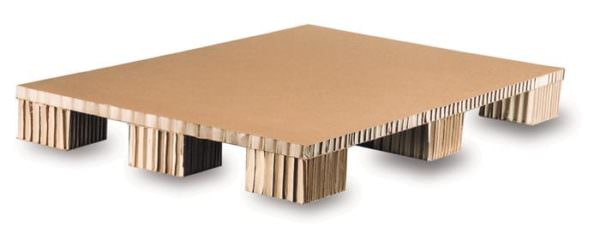 THE PAPER PALLET
Paper pallets are also referred as "eco pallets." They are made from corrugated fiberboard, partial wood decks or engineered with laminated paperboard (the more robust are made of paperboard composite honeycomb).
The Advantages of Paper Pallets:
Lighter weight than wood or steel, approximately 10kg lighter than a wooden pallet,
Thinner than wood, more products shipped on a load, it means a higher cargo weight,
Ideal for one way non-returnable,
Disposable & Recyclable,
Very flexible to adapt to special transport needs,
Meet Integrated Pollution Prevention Control (IPPC) requirements,
Avoids the export restrictions on wooden pallets (ISPM-15 exemption for international shipments), and reduces delays for shipping to foreign countries,
No fumigation or certification is required,
Environmentally friendly,
Clean and dust free,
Ability to maximize truck space by using pallets that are the exact size required,
Low profile design possible, geared to reduce cube utilization while in shipment,
No nails or wood splinters, no mold, no fire retardants,
Promotes safer handling,
High strength up to 1.0 ton,
Suited for clean room environments in medical, pharmaceutical and non-wet food applications. Free of contaminants, they comply with phytosanitary ISPM regulations governing export shipments without the need for additional treatment and replaces heat-treated pallets,
Simple design and offer the possibility of printing identification or RFID for enhanced marketing advantages.
The Disadvantage of Paper Pallets:
Susceptible to moisture (unless coating added),
ISPM-15 compliant wood pallets can be cheaper
Paper pallets do not match strength and stiffness of comparable timber pallets (in order to rack them, IKEA had to upgrade their warehouse racking to fully support them,
Not durable,
Lack stiffness compared to most other pallet materials.
Paper pallets continue to evolve, as new designs result in better performing paper pallets, and new water resistant coatings help with moisture while not impeding recyclability.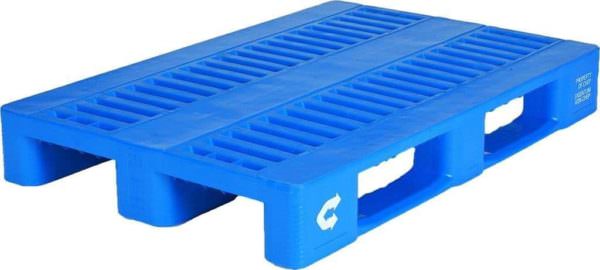 THE PLASTIC PALLET
Made from recycled and recyclable plastic,
Long useful life, 100% recyclable and can be ground up and turned back into a new pallet,
More than 10-year life span,
Safe to handle; no screws, nails, splinters or chipping,
Usable in all climate conditions,
An effective reusable plastic pallet program can reduce costs, drive sustainability and optimize a company's supply chain,
Resistant to acids, alkalis, fats, solvents, and odors,
Waterproof, resistant to bacterial contamination, and does not absorb humidity ideal for food, paper, pharmaceuticals, and cement,
Resistant to stress and shock,
Easily stacked, handled and cleaned (hot washed, steam cleaned or chemically sanitized) to remove any bacteria,
Naturally ISPM 15 compliant: can be used for both domestic and export pallet overseas due to no interruption in delivery due to timber pallet regulation,
EURO pallet dimensions available,
High loading capacity and anti-slip surface,
Lightweight (from 5.5 kg for a standard 1200×800 mm), yet durable to protect your shipment while on the way to its destination.
Plastic Nestable Pallets:
Ideal for domestic and export pallet use,
Ideal for pallet stacking: manufactured for light, medium, and heavy-duty applications.
Plastic Rackable Pallets:
Allow for easy pallet handling and pallet stacking,
Will save space,
Allow a 4-way entry,
Can be manufactured using a fire retardant blend,
They are durable, nestable, lightweight, easy to clean, FDA/USDA approved, fully recyclable, slip-resistant surface.
Plastic Stackable Pallets:
Available in one-piece, two-piece assembled and welded styles,
Designed for handling and shipping heavy product loads in warehousing, processing and manufacturing environments,
Static load capacities up to 30,000 lbs,
Ideal for stack loading, conveying systems, distribution centers, and static storage,
Economic, environmental, and efficient alternative to wood pallets or skids,
Easy cleanable and available in FDA approved materials,
100% recyclable,
Available in footprints from 32″ x 38″ to 48″ x 72″,
Consistent tare weights allow better inventory control,
Compatible with many palletizers, depalletizers, automatic strapping equipment and high-speed automation systems.
Disadvantages of Plastic Pallets:
If a plastic pallet cracks or breaks, repairs are not as simple because the material would have to be melted down and remolded,
More expensive compared to wooden pallets,
Generally not suitable for storage on shelves.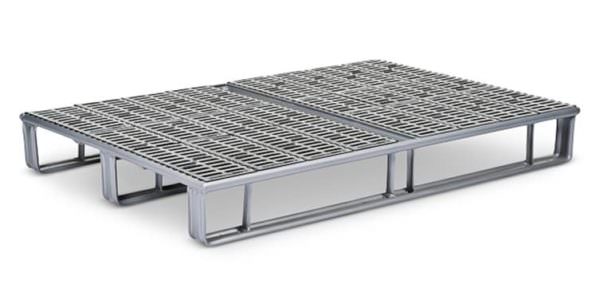 THE METAL/ALUMINUM PALLET
Often have removable beams (can be used for firewood),
Fireproof and rust resistant,
Free of bugs and other pests,
They do not splinter like wood pallets,
Designed to last a long time and maintain structural integrity,
Ideal for sensitive storage use,
Meet ISPM #15 international shipping standards,
62 lbs, yet edge support rack capacity at 3,500 lbs,
A static capacity of 40,000 lbs and dynamic capacity of 10,000 lbs,
Almost full top side coverage,
Pallet jack capable for more flexibility,
Cleanable,
100% recyclable – green for the environment,
Offer tremendous ROI (Return On Investment) for companies in the food products, storage and distribution, chemicals and related markets, they are appropriate for food and chemical industries because they are easy to clean offering high sanitation,
Price point is less expensive than a comparable plastic alternative,
Offers advantages of capacity, usability, and recyclability,
By purchasing metal pallets, you save on:

Repair and maintenance expense
Product damage and breakage
Plant cleanliness
Related material handling cost saving (i.e.: less damage to conveyors and forklift wheels, etc.)
Fire and safety expense
Aluminum Pallets:
Will not rust, rot, warp, or burn, therefore giving a better ROI,
Fireproof quality may lower insurance rates,
Stronger than other pallets now being used such as wood and plastic,
Reduce product damage and are lighter than some wood or other metal pallets, therefore reducing shipping cost,
Are stackable for space-saving efficiency,
Require virtually no maintenance,
Last for years and can withstand extremes in temperatures,
Ideally suited for closed-loop and automated retrieval systems,
Lightweight, durable, repairable and 100% recyclable,
Can be customized.
The main disadvantage of metal/aluminum pallets is they are heavier in weight compared to other pallets, so they cost more to transport.
Are we missing some information? Do you have more information on the different sizes of pallets or different kinds of pallets? Do not hesitate to contact us and we will update the article accordingly.