Enjoy the winter and snow with a selection of Pallet Sleds that you can make! Use the sleds for playtime, winter chores, and home decor! Check out these ideas and don't stay indoors! Get outside with these sleds and make outstanding memories with the family!
Pallet Sleds: for decoration, chores, and playtime
Create slippery surfaces for your sleds upcycling items around the house, available reasonably at yard sales, used stores, and online sales sites. Chair mats, cut-up trash cans, old snow skis, water skis, and snowboards make great slippery surfaces! Attach with stainless steel screws and glue! A few upcycling ideas for slippery bottom surfaces: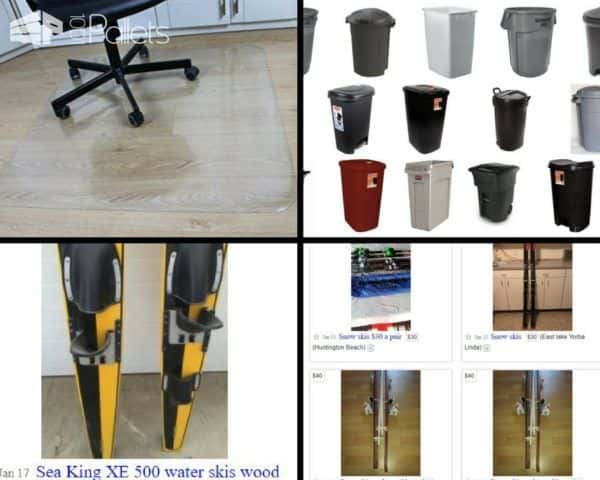 Simple Sled idea
To build this simple sled, modify one pallet by removing the bottom deck boards, trimming a curve on the stringers at the front, and add plastic for a slippery surface. Cut up an old plastic trash can, or a chair mat  (used to protect hardwood floors). Another slick idea is to upcycle old snow skis! Purchase them from yard sales, used stores, and your online marketplaces. Drill a hole in the front deck board and attach a rope!
1/2-Pallet Sled
Quickly turn one pallet into a 1/2 pallet sled:
Find a pallet!
Cut the pallet in half along the center stringer board.
Use leftover pallet wood to fill in the gaps on top.
Remove the bottom deck boards.
Drill a hole for a tow rope.
Curve the ends. Sand it to avoid splinters, and optionally, apply ski wax along the stringer boards.
Decorative or functional sled – you decide
Here are the step-by-step instructions to build this functional sled:
Cut two stringer boards to the length you desire. Shorter sleds are more maneuverable and lightweight for younger riders.
Cut a front curve and back curve as shown.
Sand five to seven deck boards.
Cut two pieces to span between the stringer boards See the rows of screws to indicate the approximate space. Be sure these two boards don't touch the ground, or they'll slow your sled.
Lay out the boards for the seat with the top side facing down. Install the two spanner boards to join the seat together.
Install the seat on the stringer boards.
Cut one more deck board for a place to put your feet.
Drill a hole at each end and loop a piece of rope through. Tie knots at each end to create a handle.
Paint, stain, seal and wax your Pallet Sleds. Enjoy!
Build a pallet & plywood sled or toboggan
This toboggan-style sled uses bent plywood to create a curved front. You can find videos that demonstrate wood-bending techniques.
Another version of a sweet reclaimed lumber sled
This reclaimed lumber sled design is very straightforward and does not have to be perfect for hours of fun for the kids (or big kids).
A cool version of a pallet sled with a metal plate base
A vintage sled that could be built from pallet wood
Have you been craving your very own vintage sled, but need a more wallet-friendly version? Check out this easy tutorial by LZ Cathcart and build a vintage sled like this one. You can use reclaimed pallet planks for the top of the sled.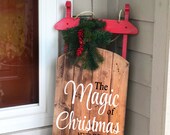 Large Wooden Christmas Sled, Personalized Sled, Decorative Wooden Sled, Holiday Porch Decor, Outdoor Holiday Decor,
Large 3' Wooden Sled, Decorative Wooden Sled, Personalized Wooden Sled, Holiday Porch Decor, Outdoor Holiday Decor, Christmas Sled, Porch Sled Our Holiday Sled brings that vintage touch to your H...
Build a decorative sled
Check out this tutorial at HGTV and learn how to repurpose an old wooden pallet into a charming vintage-style sled.