Why live with a boring, unfinished, or poorly drywalled garage that's really an eyesore? Clad your garage walls and create this Super Pallet Garage! Now, all you need to do is build a pallet bar, and this bad boy becomes a full Man Cave! This project took about 85 pallets and a lot of precious time! Between finding matching widths, thicknesses, and cutting lengths to fit, this project probably took me about 2-3 months to complete. However, IT IS WORTH IT!!
Super Pallet Garage:
First, obtain 85 or more pallets, depending on your garage size.  Next, break down the pallets carefully to save as many intact boards as possible. I planed the boards to a uniform thickness but tried to leave as much character as possible. Then, I installed the boards onto the walls with nails or screws as needed. I pre-marked the stud locations on the ceiling and floor with masking tape. We staggered the joints because we thought it looked better.
Next… to seal, stain or anything else? We haven't decided. But we're very happy with our unique and good-looking Super Pallet Garage.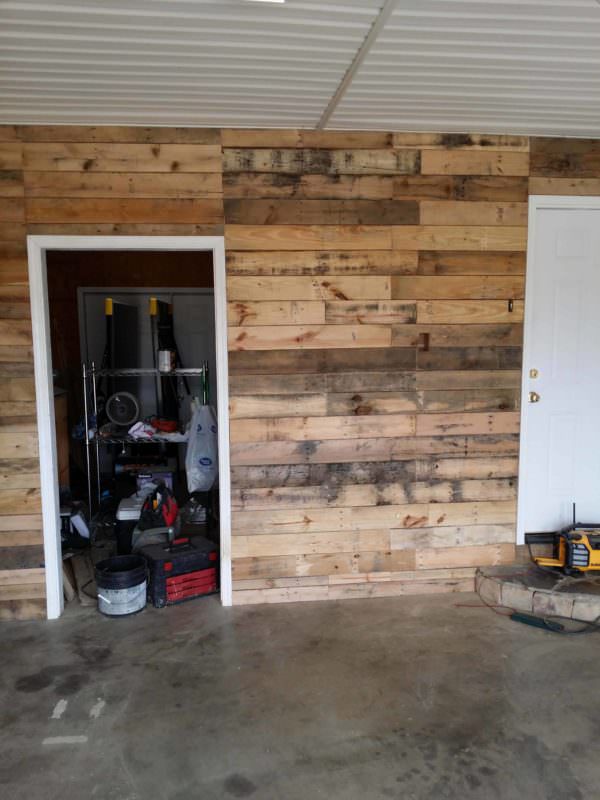 Get more inspiration with our 16 Beautiful Pallet Wood Wall Ideas!