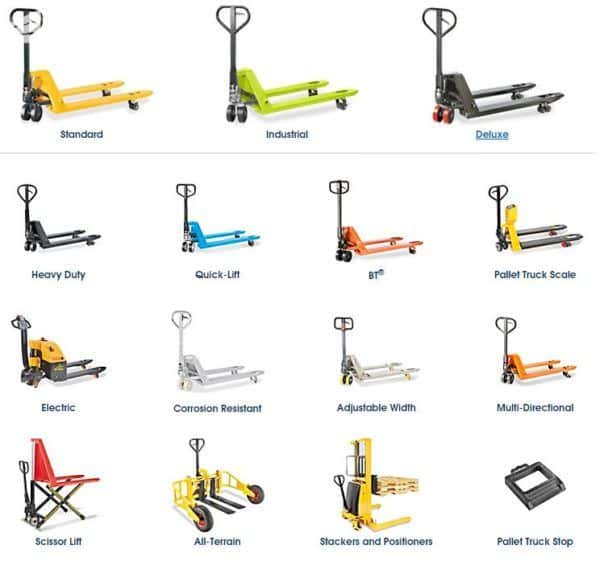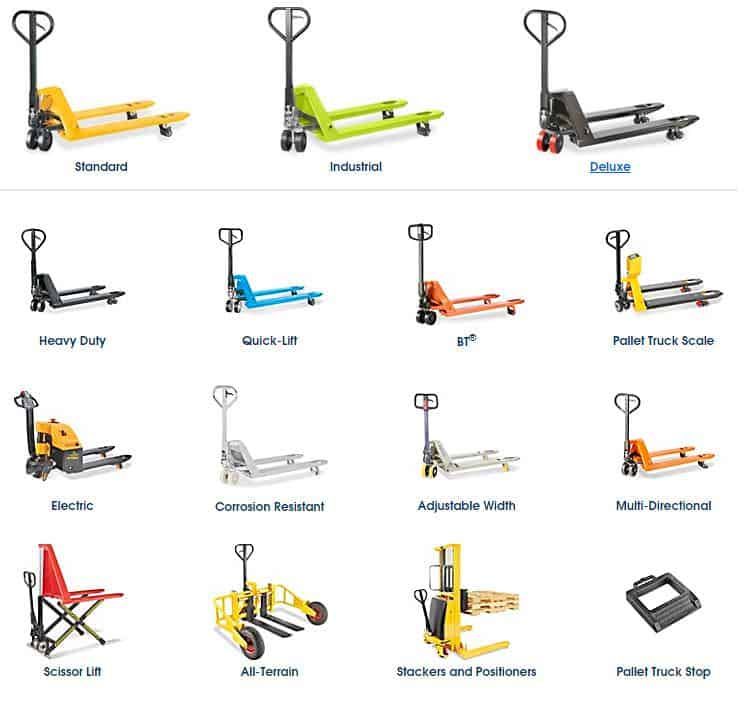 If you come across this page, it is probably that you are a not a handyman but rather a professional who is looking for real plans to buy his Pallet Jack. You're in the right place. If you already know which Pallet Jack to choose but want to find a provider in your area, then we recommend you to browse this site that sorts suppliers with a number of criteria including geographic area or country.
If you are looking for more general considerations, you will find some items that will inform you below.
What is a pallet jack used for?
A pallet jack, also known as a pallet truck, pallet pump, pump truck, dog, or jigger is a tool used to lift and move pallets. Pallet Jacks are the most basic form of forklift and are intended to move heavy or light pallets within a warehouse.
What are the different types of pallet jack?
You can distinguish:
Manual pallet jack, hand-powered and most commonly seen in retail and personal warehousing operations. It can carry a load up to 5,500 lbs (2500kg). This type of pallet pump is a low lift sort used to move palletized-loads over small distances. The first one seemed to appear in 1918 as featured in the image below (Source: Popular Science Monthly. Vol. 93 no. 6 Dec1918). Early types lifted the forks and loaded only by mechanical linkages. More modern type uses a hand pumped hydraulic jack to lift.
Powered pallet jacks,

 

also known as electric pallet trucks, walkies, single or double pallet jacks, or power jack, are motorized to allow lifting and moving of heavier and stacked pallets. Some contain a platform for the user to stand while moving pallets. This kind of pallet pump is ideal for warehouses where heavy palletized loads that weigh more than 5,000 lbs are handled. The electric pallet jack has the load lifting capacity of up to 6,000 lbs. They are best for use on loading docks and staging areas. Some of them can even lift much more.
How much does a pallet jack costs?
The standard pallet jack is the "5500 lbs (2,5Tons)": see picture above. The first prices start at 250$ on Amazon while there seems to exist low-cost ones from 119$ on Alibaba.
How wide is a standard pallet jack?
The North American industry seems to have 'standardized' pallet jacks in several ways: Width of each of two Forks: 7″ Fork Width, i.e. The dimension between the outer edges of the forks: Available as 20¼" (51.4 cm) and 27″ (68.6 cm).
How do you raise a pallet jack?
To raise the forks, push the actuating lever down and pump the handle up and down until the pallet has reached the desired height. A clearance of one inch between the floor and pallet is usually sufficient to move the load. To move a load, engage the actuating lever in a neutral or middle position.
What NOT to do with your pallet jack!