Bigger isn't always better. Why not create a fun outdoor easy DIY project: This simple pallet bar is perfect for your deck, backyard patio, or garden area?
You can build this pallet bar in about two hours!
In two hours, along with two pallets and a few miscellaneous supplies, you'll have a mini party-bar that you don't have to elbow up to! And the best with this pallet bar is you don't need to dismantle the pallets ;)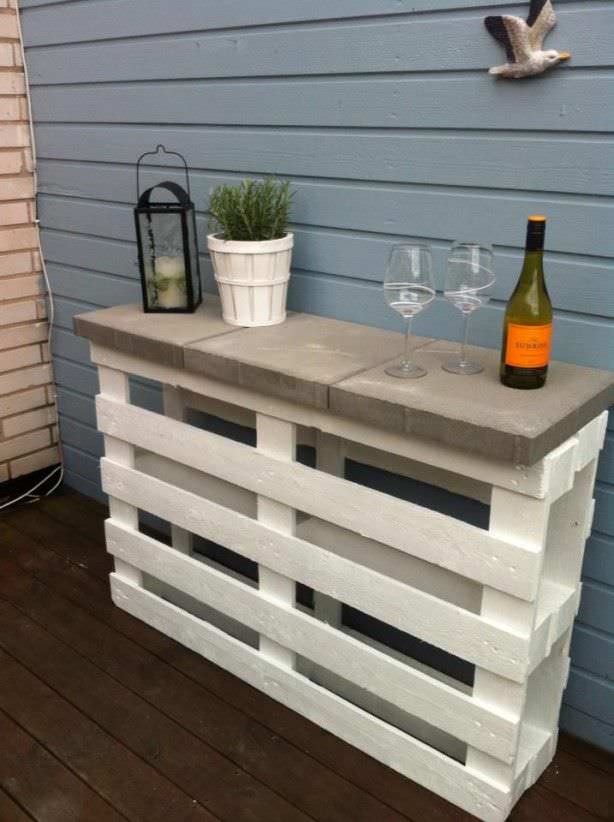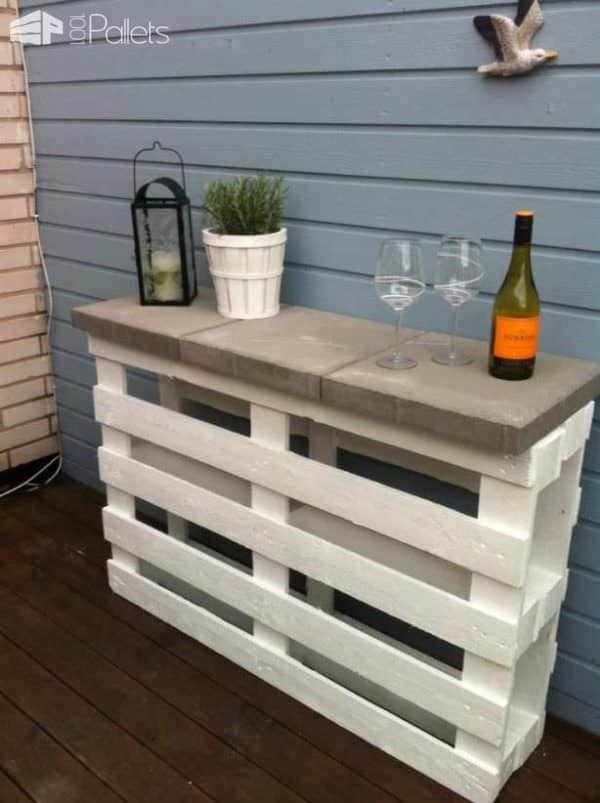 No products found.
Step-by-step instructions to build this pallet bar:
What You'll Need:
Two wooden pallets (same size!)
1″x3″x12″ board cut into four equal pieces (optional as reinforcement when screwing pallets together) – or use a scrap pallet board and cut four pieces from it
Drill
Lightly damp rag(s) to remove sanding dust
Sandpapers or palm/random-orbit sander
4 to 8 screws (minimum three screws per set of outer boards)
Good quality exterior paint/primer combo
Paintbrush
Cotton applicators or a small hobby paintbrush
Dropcloth to protect your patio
Gloves
Two clamps (or a friend willing to help hold the pallets together for you)
Three paving stones (or more, depending on the size of pallets and choice of stone pavers)
Heavy-duty construction adhesive suited for both concrete and wood.
Preparation & Painting:
First, find two pallets. Please don't take them without asking first. Remember, some stores do participate in recycling programs themselves, and it's always polite to ask! See our page for places to get pallets for free.
Next, sand both pallets down fairly smooth to remove splinters; check out our best wood sanding tips. They don't have to be perfect because you'll paint them to protect them from the elements. Remove the dust with the lightly damp cloth, and paint both pallets thoroughly. Remember: encapsulate them to protect them from the elements, so it is important to paint them before joining them. Allow the coat of paint to dry. Apply a second coat per the manufacturer's directions (some may have you lightly sand between coats). Cut a 1×3″ board into four pieces (optional reinforcement), lightly sand, and paint those simultaneously.
If you are not sure about how to paint your pallets, check how to paint pallet wood.
Assembly and finish:
Clamp the two pallets together. Pre-drill the screw holes; you intend to prevent the boards from splitting. Attach the two pallets using the four wooden strips and fasteners (optional). Now, paint any decorative touches you want on your pallet bar (such as your family's name or the bar's name) in whatever color you like. Next, Dry-fit the tiles. Once you have them fit your liking, lift one, generously apply the construction adhesive to the pallet's surface, and firmly press the paving stone back in place. Repeat on the remaining pavers.
And if you can't make it, you can also find pallet bars and shelves on Etsy. And follow check out this article for plenty of other DIY pallet bar ideas.
Here is a video that will show you how to make a bar like a picture above. The video does not use reinforcing wood strips.